Hillel Halkin's Sour Grapes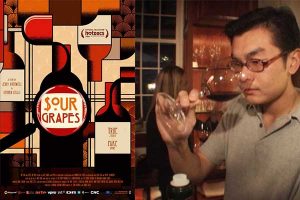 Wine grapes come in distinct varieties. There is no reason that sour grapes should not do the same. Hillel Halkin has uncorked his style of their juice with a splash in The Jewish Review of Books. This is no occasion for a joyous "bottoms-up." He is unfair to Israeli democracy, to Zionism, and to Judaism. Most of all, he is unfair to himself.
Halkin, an outstanding intellectual figure through decades of recent Israeli history, is all in favor of the first two. He believes that democracy, however, has been mortally wounded by the recent election, and that Zionism is breathing its last, having been done in by Judaism.
"No, it's not the end of Israeli democracy," writes Halkin of the new Netanyahu coalition. "But it is the end of an Israeli consensus about what is and is not permissible in a democracy." He doesn't quite say what unmentionables the right will be responsible for in the future that will bury democracy. For the moment, he is unhappy about bills that will allow reprobate characters and felons like Bibi and Deri to remain in power (as if the left produced only saintly figures); that the coalition includes two parties of haredim (the folks who don't serve in the army or earn a living, but try to take as much from the government as they can get their hands on), one of Religious Zionists ("hypernationalist and Jewish supremacist in its attitude toward Arabs"), and a fourth led by a Kahananik more extreme than the other three. And then there is their intention to emasculate the Supreme Court by restricting its powers – the powers usurped from the people by Aharon Barak's engineering of what is roundly regarded as the single most activist court in the world, which arrogated for itself to pass judgment on absolutely everything and make all legislation conform to its sense of morality.
But perhaps things will get better? In time, the political pendulum eventually swings back. Not going to happen, Halkin says. "The rascals will probably win [future elections] by bigger margins than they won this one, which was close. This is in part because they have the demographic winds at their backs. The current ultra-Orthodox birth rate in Israel is twice the modern Orthodox one, which is a good deal higher than the nonreligious one…The currents driving Israel steadily rightward will persist.
(For the record, it is not just haredim whom he dislikes. About religious Zionists, he has this to say: "Modern Orthodoxy, though it took part in Zionist construction in Palestine, contributed relatively little to it or to Israel's creation.")
So there you have it. Israeli democracy is imperiled by haredim having too many children, and then having the temerity to vote. Who gave those rights to them? What kind of democracy is that?
Halkin does not have to search long for the chief culprit for this mess:
When you can think of no rational reasons for hope, you turn to irrational ones. The steady drift toward religion in Israeli life in recent decades, so opposed to the trend in Western countries, is directly related to the Israeli-Palestinian impasse…I do not pretend to know whose side God is on, or whether he takes sides at all in such matters…There is something, however, that I do know. Zionism aspired to wean the Jewish people off the belief that G-d was on its side and could be relied on to rescue it from its predicaments—that it should rely on G-d rather than on itself because it was G-d's chosen.
Halkin writes to an old friend, an anti-Zionist who was finally fed up enough with Israel to move to Portugal. That friend, with whom Halkin formerly debated, found vindication for his contempt of Zionism in the results of the recent election. Halkin mostly agrees, but has reservations about the lesson to be learned:
You put the blame on Zionism, and I put it on Judaism, of whose fantasies and delusions Zionism sought to cure us only to become infected with them itself. Zionism wanted to make us a normal people. It failed and grew warped in the process. 
We sense that Halkin at 84 is having a hard time – as do most people – dealing with human mortality. Looking back at the ideas and dreams that animated him, he cannot find their realization today. Looking ahead, he cannot find the people or the will to fulfil them in the future. And so he writes to his old friend:
We're both old now. Neither of us will live to see the end of this. I will die, anguished, in my country and among my people, and you will die, tranquil, among foreigners in a foreign land.
Halkin would rather die anguished in his country, than tranquil among strangers. Why can he not see the majesty of that statement? His dismissal of Judaism, irritating and pathetic as it is, will affect no one. But his despair about his own self is a human tragedy still in the making. He is selling himself hopelessly short. For decades, he enriched the lives of countless Jews with his thought and his magnificent translations of works important to the diverse tastes of our fractious people. He should be taking immense pride in what he has given this great country, even if it is not heading in the direction he anticipated.
We can wish him an ad meah v'esrim – till 120 years. Perhaps in the years ahead, he will come to realize that his core commitment was to the fact of Israel's existence, not to a set of suppositions on how that country would operate. He will open his eyes to what he should see around him: a country whose citizens report one of the highest rates of life satisfaction on the globe – despite the kvetching. He will see a country where that is evidenced as a lone reversal of the rule that people have fewer children as their lot improves economically, not more. He will see a country where people routinely help strangers, even if they drive like maniacs. He will see a country that takes pride in itself, standing out in a world of anomie and indifference. He will see a country that is determined to remain the nation-state of the Jewish people, and has the conviction and resources to do so, with the help of Hashem.
Zionism didn't disappear. It morphed into a new variety, indeed stripped of some of the old encrustations. The new Zionism, in a word, is the idea that the largest Jewish community in the world is entitled to safety and security and will be defended on our own terms. It does not stand as a counterforce to the old Zionism, but is a healthier outgrowth of it, accommodating far more adherents. Halkin should great the new baby with joy, rather than mourn the passing of its ancestors. If he is not a parent of the new arrival, he is still a godfather.
If he reconsiders his vitriol about Judaism, he might realize that Judaism is a boon to Israel's existence, not its bane. He might accept what so many thinkers have said – that a people needs a strong ideal or belief system function cohesively, and that everything in Jewish history pales in that ability relative to our self-understanding as the Torah's mission. Recently, Aharon Barak himself, after a particularly stormy interview with a haredi publication, agreed to don tefillin and recite the Shma, with tears in his eyes. After that, anything is possible.
Perhaps Halkin will even find a way to make peace with his great-grandfather the Netziv and his legacy. We will cheer him on all the way.