Were We Wrong About Chabad?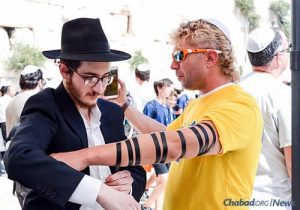 For decades, Chabad's want-to-wrap-tefillin legions made us feel uncomfortable. More bluntly, we mocked them.
To be sure, that was only half of the picture. We openly admired Chabad's mesiras nefesh, and their very real love for all Jews. Parts of their modus operandi, including the tefillin thing however, just struck us as goofy. We couldn't relate to hundreds of people spending all that time just trying to put tefillin on bemused non-religious Jews. Just how important could that single moment be? If anything, it seemed to violate our sense of the extreme kedushah of tefillin. We didn't buy into the idea that acquiescing one time to humor a guy in a Fiddler On The Roof outfit would erase a lifetime of ignoring the mitzvah – something no one thought was his fault in the first place, having been disconnected from Torah for generations – and save him from the Talmud's description of the fate of those who did not wear tefillin. Lots of wasted energy there. Better that the folks who manned the booths should be in the beis medrash.
Looking back at recent events in Israel, it appears that we were all wrong. So wrong, that perhaps we should be reevaluating how we do what is popularly called "kiruv."
Hardly a day passes without some new anti-religious outrage going viral on social media. The context within which the shocking episodes is embedded is even more lamentable. People who have lived here for decades say that the hatred of charedim and Yiddishkeit itself has never been so palpable. The mayoral race in Tel Aviv pits a long-standing anti-religious mayor against a challenger who declares himself to be even more anti-religious. Both campaign openly not only against Chabad "missionaries," but all forms of introducing religion to their proud, secular redoubt in Tel Aviv. Residents vow to keep out a wonderful dati-leumi yeshivah with a proven track record of care and respect for their neighbors. A different dati-leumi yeshivah – this one in Yerushalayim – sees a large demonstration outside its doors, claiming that all that is wrong with judicial reform owes to the fanaticism, racism, and messianism that is taught in their beis medrash. It's not a pretty picture, especially during the Three Weeks.
But wait. This is only where the story begins. What strikes me as even more important is the extent of the backlash against these expressions of contempt for Judaism. Secular broadcasters donning tefillin, live on camera. Leftist journalists speaking of the horror of watching Jews voice contempt for their legacy, and for other Jews. Chabad tefillin stands reporting overflow crowds, and secular Jews volunteering to help them with their work. The pushback against the extreme seculars is usually – if not always – accompanied by appreciation and adulation for Chabad. Parts of the non-Chabad charedi press – not usually given to praising Chabad – comment on the goings-on by depicting the Chabad foot-soldiers as allies in a common cause.
The rest of us were wrong all along. We neglected to see what Chabad was really accomplishing with their tefillin booths. It had little to do with tefillin, and everything to do with conveying a simple but powerful message: We love you as brothers and sisters. You are worth our investing our time, energies and lives. Whatever you think of your level of observance or non-observance, we think that your being part of our people is important. Yiddishkeit belongs as much to you as it does to us.
That is what people have absorbed for decades. In part, it worked because more and more people travelled to parts of the world where their needs were catered to by selfless Chabad shluchim, who demonstrated their love for the Jewish people by devoting their lives to it.
The rest of us ignored Chabad's model and created a competing one, which created a teshuvah revolution that changed the face of contemporary Orthodoxy. It operated on very different principles, and reached a very different audience. It offered classes, lectures, explanations, inspiration, and answers. To be sure, we learned that we had to be genuine in our concern for others, and effusive in our warmth. But we were interested in verifiable results: how many became Shomrei Shabbos in a given year. One major figure in Bnei Brak was quite explicit. Any kiruv that didn't result in assuming the yoke of mitzvos was worthless.
What we built was an unqualified success – at least to the people it reached. Its products, and their children and grandchildren, fill our shuls, our schools, and our batei medrash. May the work of kiruv organizations continue to touch the neshamos of more and more Jews!
But it is a changed world. The vast majority of non-Orthodox Jews outside of Israel have assimilated even quicker than our own prophets of doom predicted. They don't even have fond memories of grandparents who were somewhat observant. The religion of a growing number (Jews always need something to believe it) is wokeism; they have no room for G-d or even for Israel, except to distance themselves from it. We proceed at our own peril if we ignore the success of Chabad with its program for making other Jews feel important as Jews. They are the only ones who had a strategy of how to reach Jews who had no connection to observance at all. Outside of the frum population centers, they are the only act in town. We gave up on the Jews who live there, because we know we can't survive without a minimum amount of frum infrastructure. Chabad didn't and doesn't demand that, and they are saving innumerable Jews from throwing in the towel.
I write all of this with firm bona fides as a "snag," (as Chabad calls misnagdim), in no danger of going over to the Chabad side ideologically.
The good news is that the events of last week demonstrated how different Jews in Israel are from their cousins abroad. The backlash against the demonization of Judaism – may it continue to grow – tells us that we must make some adjustments in relating to our brothers and sisters who are not frum. Our form of kiruv should continue; we should also continue to take pride in the enormous contributions of our chesed organizations – which have also been spotlighted as part of the pushback. But we must find ways to interact more with Jews outside of our community, whether it is on the bus, waiting on line at stores, or shopping in the malls. Simply engaging in conversation with people whom we care about because they are our flesh and blood. Break down barriers. Erase stereotypes. It all starts with one-on-one interaction.
And thank Hashem for Chabad having opened our eyes to the opportunities in front of us.