The New Jew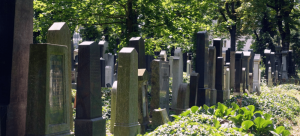 No big deal, they said. The new Pew Report offered few surprises. The 2013 report showed an American Jewish community looking like a patient with multiple systems failure; the current report showed vital signs setting off more and more monitors. The patient, however, has not yet flat-lined. A painfully tragic report – but nothing we didn't expect.
It took the war in Gaza to help us conceptualize things, to realize the qualitative differences that had taken place in recent years.
We've watched in shock and pain as Jewish Quislings have aided and abetted the enemy. The 1000 Jewish employees of Google who demanded that their company issue a statement in support of the Palestinians, and cancel contracts with the IDF. The scores of non-Orthodox rabbinic students who declared that Israel is an apartheid state, and demand it be held accountable for its crimes.
Fifth columnists are as old as the Exodus and the eirev rav/mixed multitude that kept plaguing the Biblical Israelites. We're used to self-hating Jews who turned on their former co-religionists – the Pablo Christianis and Johannes Pfefferkorns who reinvented themselves as Christians to find fame and money, by marketing hatred of Judaism and persecution of Jews. That was blatant self-interest at work there.
We've seen fifth columnists like the Yevsektsia after the Russian Revolution go after fellow Jews with particular ruthlessness and ferocity. Devotion to a cause, i.e. the Marxist dream of a non-religious but messianic redemption of mankind, was at work there. (When the Bolshevik dream turned into a nightmare, it consumed them as well.)
We've suffered from the self-haters, the Ken Roths, Shlomo Sands, the IfNotNow'ers, the expat Israeli leftists who support BDS. What's at work there is wanting to convince non-Jews that they (who have no connection with Jewish practice or thought) are the Good Jews, while the Bad Jews are the ones loyal to the Jewish history that they are ashamed of and wish to distance themselves from. Jews have had to deal with the loathing of their neighbors for many centuries. Most were able to reject the charges of the haters as pure fabrication. Others, however, bought into them. They subconsciously reacted to the anti-Jewish hatred by agreeing with it. All those non-Jews can't be all wrong, they thought! We Jews must have done something to bring it on, and we'll only be treated like everyone else when we own up to those sins and repudiate them. So it turns out that a different form of self-interest is at work there.
We are now suffering from a wave of general indifference or hostility to Israel from a significant part of the American Jewish community. Certainly not a majority, or anything close. But enough that politicians fully understand that support for Israel – that once was a make-or-break issue for Jewish voters – is no longer quite so important. They can kowtow to the Squad without losing all that many Jewish votes.
What's behind the evaporation of Jewish interest in what was once the quintessential Jewish issue? What is really at work here?
Nothing. The nothing that was the Judaism that they were taught – or weren't even taught that. Younger Jews simply have not been given enough reason to identify with Israel, Jews, or Judaism. Instead, they've filled their heads with images and impressions from CNN and MSNBC. Judaism has become entirely irrelevant to their lives. They have become, attitudinally, non-Jews. It is not self-promotion, nor ideology, nor trying to sanitize their Jewishness in the eyes of others. None of the above. We have got to realize that a sizeable minority of our people – and an even greater part of our young people – do not react in any manner or form as Jews. The New American Jew does not reinterpret his Judaism, does not channel it into some Jewish cultural pursuit, does not rebel against it, does not even ignore it. You can't ignore what isn't there. The space within that was occupied in the case of their parents with something Jewish-sounding is now filled by whatever occupies the minds of other Americans.
How did this happen? The Lubliner Rov said it best. "I will remember My covenant with Yaakov, and even my covenant with Yitzchok, and even my covenant with Avraham will I remember, and I will remember the Land."[1] The preferred covenant that G-d calls on to find merit for His people is the bris of Torah, the province of Yaakov. That bris produced Jewish merit for millennia. Jews bought into Torah – those who learned it and practiced all of its tenets, and those who wished they had learned it. Alas, after some time, Torah lost its grip on a large number of people. Hashem still found merit in Yitzchok's bris, that of avodah. Even those distant from Torah built their shuls and attended from time to time. With the passage of time, this too waned. The third bris, that of Avraham's chesed, kicked in. Otherwise non-practicing Jews still distinguished themselves in their care for their coreligionists. They contributed mightily to Jewish (and general) charitable efforts, as their expression of the Jewishness they still valued.
Those days belong to generations past. Although the Lubliner Rov didn't say this, the continuation of the verse points to yet another way that Jews expressed their Jewishness, and stayed connected. "I will remember the Land." Building up Israel, supporting it, cherishing it, added a few more decades of attachment to the idea of a Jewish people.
However, that has run its course. According to Pew, only 48% of those aged 18-29 say they have an emotional attachment to Israel, and 51% say they have little or no such connection. Having reached the end of the line, is it any surprise that only 34% of young people say that having Jewish grandchildren is important to them? Could we expect anything different from a group in which 41% call themselves unaffiliated with any Jewish religious denomination, and 40% say they are not Jewish by religion at all? We are looking at "Jews For Nothing."
Here is another way of looking at it. In the Torah-abiding community, we dare not give up on any Jewish neshamah. We couldn't if we wanted to; the Torah doesn't allow it. Decades ago, however, to engage in any conversation with Jews outside the Orthodox community, we had to learn the vocabulary of those who vocally decried and denied our definition. Those Jews had to develop competing definitions of Jewishness. Increasingly, those definitions punted to the individual: a Jew was one who identified with Jews or Jewishness. Full stop.
Most, however, recognized that this was too broad a definition. (Humanistic Judaism did accept that definition. No conversion necessary.) It was so disconnected from a Jewish history of thousands of years, that it did not satisfy. It needed to be tweaked.
One tweak seemed to me like the next best definition to the real, halachic one. I don't remember who was responsible for it; perhaps readers can help. This is how it went: A Jew is someone who identifies with the Jewish people – past, present, and future. It considered more than the present, the leanings of the moment. To be Jewish, one had to value, cherish, identify with the rich legacy of the past.
One also had to see himself sharing Jewish destiny in the future. A Jew had to buy into a Jewish future, and see themselves as identified with, and committed to it. For a while, Jewish continuity became the mantra of Federations.
That, however, is gone. It is relevant only to increasingly smaller parts of the community pie. With trepidation for uttering such words, it is not accurate to refer to "Jews For Nothing." Rather, according to the definition that has undergirded non-Orthodox Judaism for decades, far too many of those today should be regarded as "Ex-Jews." Moreover, it is not only the "Jews For Nothing" who have become Ex-Jews. Those who still have some attachment of Jewish culture of the past and present, but no plan at all for the future, are effectively no different.
Bernie Sanders has no Jewish children, no connection to Jewish life, and freely devotes his energies to undermining the largest Jewish community in the world. He is an ex-Jew. Former Clinton aide Sidney Blumenthal did more than end a Jewish family line that survived many centuries when he married out. He sired Max, a non-Jewish son with a Jewish name who is one of the worst purveyors of Jew-hatred on the internet. Ex-Jews and non-Jews. Or maybe we should call them un-Jews.
Briefly, then, the New Jew is actually (again, in non-halachic terms) simply an Ex-Jew. And they are joined by significant numbers of those who were let in by Reform's patrilineal definition of Jewishness decades ago. The children and grandchildren of those, along with the non-Jewish spouses of Jews who continue to artificially swell the claimed number of the Reform movement, add to those who will call themselves Jews, but aren't – not in a halachic sense, and not even according to the competing definition.
What's the takeaway? Some are saying that we have to do more to send more life-vests to those already cast into an ocean of non-Jewish turbulence. That is true, but we shouldn't be naive. Most of us no longer share a common vocabulary with other Jews, no matter how eager we are. For decades, we could speak with Jews who had given up Jewish practice, because they still bought into the morals and ethics of the Torah. The parts of the Bible that they agreed with, they still affirmed as somehow Divine in origin. That disappeared with their embrace of gay marriage, unrestricted abortion rights, and the replacement of G-d with tikkun olam. Today, Orthodox Jews are separated from the non-Orthodox not only by observing Shabbos, kashrus, etc., but in our basic moral instincts. With Israel no longer acting as a communal glue, what is left to converse about? Movies? Celebrities? Certainly nothing Jewish.
To be sure, we will continue kiruv efforts – but with a caveat. There are some kiruv organizations and personalities who are still doing terrific work, especially on campus. (Even their work will become more difficult. The Conservative movement used to be an unwitting feeder into organizations sharing authentic Torah. It is very unlikely that it will be around at all in a decade.) Those kiruv organizations that have shown impressive results will continue to attract funding. The others are going to face serious questions about cost effectiveness, relative to other communal needs. The days are probably over in which a young man on the way out of Kollel could tell himself that if he was not cut out for the rabbinate or the classroom, he "could always do kiruv."
We must press those sincerely interested in Jewish continuity, including Israel's government, to invest in programs that do address the future, i.e. those that bolster the Orthodox community. It is a community that has flaws and challenges, but is the best – really, the only – hope for a Jewish future outside of Israel. Shoring up that community, in both its Modern Orthodox and haredi iterations, will produce loyal Jews for the future. If the anti-Semitism genie cannot be stuffed back into its bottle, it will also produce tens of thousands of olim.
I believe that the Torah community will be able to stand up proudly before the Divine Throne when Hashem asks if they did what they could to rescue Jews on the way out. They will point to the legions of baalei teshuvah they saved from the brink by supporting kiruv efforts. I'm not sure they could have done more. Is there then nothing more to be tried?
Chazal say about Avraham "bechah chosmin./with you we conclude." While we usually see this as a reference to the conclusion of the first berachah of the Amidah, we could see it as referring to the end of history. Chazal also teach that Avraham established his fame by issuing a coin. According to one opinion in the gemara, one side of the coin depicted a young man and a young woman; the other side, an old man and old woman. The idea seems to be that the bond between Avraham and Soro did not change when the marriage was old and weary. Taken all together, Chazal may be saying that at the conclusion of time, when all other Jewish themes have lost their traction, what will attract people to authentic Abrahamic monotheism is the strength of Jewish marriages and Jewish families. When all else fails, we can show off our family life, and bring others into it.
One group has been quite successful at this. Chabad set up shop in places the rest of us won't go, especially smaller communities away from the centers of Jewish life. When they move in, they do so for life, not for the duration of a contract. They open Chabad houses that treat the people who enter as part of a larger Jewish family, while having the shliach's family (their children) assist in the effort. They often preach very little about observance. Yet some people pick up the bigger message and increase their observance, while others at least continue to connect with the Jewish people – as their family.
Arguably, Chabad developed this model first, and took it on the road. There is no reason why others cannot do the same, and make the concluding act of our outreach message the beauty of the Jewish family, on the granular level, as well as the bigger one of a global Jewish family.
Optimism aside, it is not reasonable to assume that we can, bederech hateva, prevent the loss of hundreds of thousands of Jewish souls, c"v. We will continue to suffer from the depredations of Jews who in effect are already lost – the large number of Ex-Jews in our midst.
We must be prepared to live with a riff on Pfefferkorn's "Who afflicts the Jews is doing the will of God, and who seeks their benefit will incur damnation." It has now become "Who afflicts the Zionist entity and the Jews is doing the will of sacred intersectionality, and who seeks their benefit will incur cancelation."
Hashem Yerachem.
Vayikra 26:42 ↑