From Yom Yerushalayim to Meron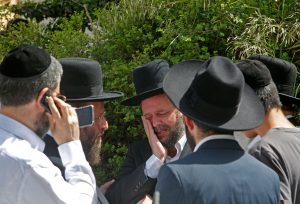 As a woman in a shiur I gave on Shabbos put it, Yom Yerushalayim, sadly, has become the exclusive province of the Dati Leumi community here in Israel. Secular Jews have lost interest; charedim never got fully behind it. Truly disappointing. Yom Yerushalayim – however it is celebrated – or not – should be a day of pouring our hearts out in gratitude to Hashem for the events of June 1967. Those events changed not only the map, but the flowering of what today is the largest Jewish community – and largest makom Torah – in the world.
Customary wisdom assigns two chief reasons for the specialness of Yom Yerushalayim. The first is physical survival. The Arabs believed that the fledgling State of Israel could be "pushed into the sea." Documents left behind during their unplanned, hasty retreat showed that they literally meant, in some cases, to murder every Jew – men, women, children – that they could find. Trenches were dug in public areas for the burial of the thousands of dead civilian casualties that the authorities anticipated in face of the impending invasion of the united Arab armies. Jews around the world waited to hear whether the story of a Jewish homeland after 2000 years of exile would end quickly and tragically.
It didn't happen. We survived, b'chasdei Hashem. It would be cause enough to remember that a huge number of Jews could have been killed, and were brought back from the edge of distraction.
But much more happened. Maharal explains the curious practice of reading the Megillah twice. Once for Hashem saving us from extermination. A second for His elevating our status. The Jewish community at the time was despised and downtrodden. It emerged after Haman's execution as a respectable and respected group.
That occurred in June '67 as well. After assuring our survival, it was as if HKBH had leaned down from heaven and put a big smooch on our collective forehead. We tripled our size. We won the admiration of the nations, at least for a while. And we returned to our holy places in Shechem, Hebron, and, of course, in a united Yerushalayim.
That divine kiss launched the Teshuva Movement. It steadied the uncertain stability of the Jewish State, still in its infancy. It led to the transition from a third-world backwater to a first-world power. We went from a shaky Jewish start-up to Start-Up Nation. And it brought the steady influx of Jews who propelled the incredible expansion of the Torah community to what no one (except, perhaps the Chazon Ish) ever dreamed could be possible.
Two strong arguments for stopping on Yom Yerushalayim and thanking Hashem.
It did not end there, I believe. At the beginning of Bechukosai, we read, "I will place My mikdosh among you…I will walk among you."[1] The Sforno explains that "walking among you" implies to various places. Hashem's presence will not be limited to a mikdosh or mishkan, but His presence will be sensed wherever Jews live, fulfilling His plan to be King over the entire world. Their tzadikim/righteous ones will evidence His presence; everywhere will be His mikdosh. In other words, while we are desperate for a return of the beis ha-mikdosh (and found the return to us of its remnant in the Kotel in June '67 to be an enormous source of continued inspiration), there is something even greater (in one regard) beyond that: bathing the entire world with a sense of Divinity.
June '67 was a clear milestone in that direction. It enabled a combination of Jewish pride and prosperity to drive the twin engines of the growth of a Torah community, and a secular community with a can-do attitude. But we haven't arrived yet. While we are admired for attracting venture capital, high-tech, medical breakthroughs – and the presence of tech giants like Google and Intel – that is not the achievement with which we can be content. Start-up Nation is a step that is important only if it can lead to Holy Nation.
That's where Meron comes in.
I'm not going to fix blame, or provide the reason why Hashgacha allowed this terrible, terrible tragedy to occur on Shimon Bar Yochai's special day. I find it as repugnant to load all the blame on the charedi community as I do to assign it none of the responsibility. I most identify with a few lines in Rabbi Pini Dunner's important essay:
To be perfectly honest, I have no idea why this terrible event happened, nor whether any of these lofty theological proposals carry any weight. The one thing I do know is that what happened in Meron last Friday wasn't a hurricane or an earthquake – rather it happened as a result of human negligence. And just as Pharaoh was punished for perpetrating the horrific ill-treatment of Jews in Egypt, despite the fact that the Egyptian slavery was decreed by God centuries earlier, so too, those who bear responsibility for the conditions that resulted in 45 deaths in Meron don't get off the hook by slipping under the radar, nor by claiming amnesty because it only happened as a result of God's decree. And let me add this, for good measure – if we are not willing to hold these people accountable, then it is not only they who are guilty, but we are guilty too.
If I have to chose between assigning no guilt to spreading it widely, it is a no-brainer. If we examine the multiple failures, we have a chance at preventing the next one.
That said, the disaster in Meron was not the only failure of the previous year for charedim. Three times as many deaths from COVID for people over 60. Incomparably more than the same cohort, even in places of large population density. One out of every 100 charedim 60+ died. That is the same percentage as Israeli deaths in the bloody War of Independence. All while the eyes of the world were focused not on the majority that complied with health directives, but on the all too large and visible minority communities – both in Israel and abroad – who dangerously and arrogantly ignored them.
Dickens' oft-quoted "It was the best of times; it was the worst of times," does not describe 2020 for the charedi community. Plainly put, the past twelve months was the worst of times for the reputation of charedi Jews, both in Israel and in the US and UK. Full stop. There were some remarkably positive developments – the blood plasma project instantly comes to mind – but they did not put a dent in the negative attention, in the horrible instances of chilul Hashem that did not endear Torah Jews to the larger world. The year did not get us closer to what the Sforno envisioned, where people could point to the genuine righteousness spread throughout the Torah community.
Then came Meron. To be accurate, then came the reactions to Meron. In them, both we and anyone looking in found some measure of that tzidkus. The friction between secular Jews and charedim which had hit a new nadir (as the entire economy took a hit from the lockdowns necessitated by charedi askanim insisting that charedi communities could not be saddled with restrictions unless the whole country was) hit the pause button. The entire nation mourned. Secular Jews in Tel Aviv waited for 90 minutes in the sun to give blood, and had to be turned away because so many came. Every sector of the population pitched in within minutes of the tragedy.
The real turnaround, however, occurred during shiva. People from all walks of life found the urge within themselves to make pilgrimages, not to the kever of R Shimon, but to the bereaved families. They brought nichum aveilim to those whom they thought they had no connection with, and were received appreciatively and warmly. Moreover, they came to offer chizuk, and received a large dose in return.
We read and reread the stories of the precious souls we lost. But we may have overlooked an entire dimension of the tragic episode The messages broadcast by the families of the victims were beyond remarkable. It is if HKBH had engineered into the tragedy the ability of the families to generate enormous kiddush Hashem. The families offered messages of brotherhood, of unity, of acceptance. Above all, they were an open window into the larger-than-life emunah and bitachon/ belief and faith of ordinary charedim. The world – which was watching and listening – got a glimpse of what the Sforno was talking about.
Maybe what we learned was that if and when we learn the full extent of failures that made Meron inevitable bederech ha-teva, we will discover that they had to do with issues of power and privilege, something that assuredly is not a charedi or a Jewish problem alone, but a universal one. We will appreciate that Lord Acton's "power tends to corrupt, and absolute power corrupts absolutely" certainly applies to the charedi community, alongside all other groups. We will learn how the charedi insistence on isolation creates suspicion of science and any outside authority – leaving them easier to be controlled (or silenced) by the power brokers.
But we have also learned already that there are beautiful aspects of charedi like that others have under-appreciated. And some charedim have seen the beauty in the souls of secular Jews they had written off as "the other."
Perhaps all this will drive forward the process set in motion 54 years ago in Yerushalayim. We are quite some distance away from achieving what the Sforno wrote about. Yet, amidst the wreckage of Meron, we find ourselves a significant step closer. May it be His will that the process will continue only in a single direction.
Vayikra 26:11-12 ↑