Parshas Vayechi – The Real Man in the Moon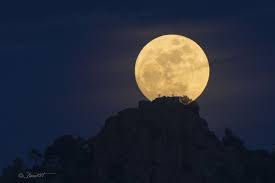 In a good example of Talmudic humor, Rav Nachman reacted to Rav Yitzḥak's recounting of what Rabi Yochanan said, that "Our patriarch Yaakov did not die," with a wry question: "So was it for naught that the eulogizers eulogized him and the embalmers embalmed him and the buriers buried him?" (Taanis, 5b).
The way to understand the contention that Yaakov didn't die, I think (and it's borne out of the verses quoted in that Gemara), is that he lives on — as the patriarch whose children, all of them, became the progenitors of Klal Yisrael — through the eternal Jewish people.
The Midrash in Vayeishev, commenting on Yosef's dream about the sun, moon and stars bowing to him, has Yaakov wondering, "Who revealed to him that my [secret] name is 'sun'?"
It's interesting to reflect (pun intended) on the fact that the moon — the symbol, in its waxing and waning, and in its role in the Jewish calendar, of Klal Yisrael — reflects the light of the sun.  We reflect Yaakov, are the continuation of his life.
Even more interesting, according to the Tikkunei Zohar, "the image of Yaakov is carved out [i.e. visible] in the moon."
© 2020 Rabbi Avi Shafran