Malicious Misrepresentation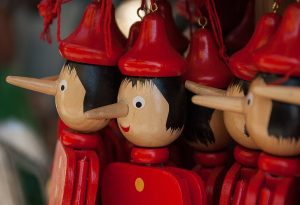 I have no beef with anyone who wishes to take issue with anything I've written.  But I do object to the publication of something that blatantly and irresponsibly misrepresents what I have written.  Like this recent piece in the Forward, ostensibly responding to an earlier one I wrote in the same medium.
If you read my essay, you will see that nowhere did I argue or insinuate, as Mr. Nosanchuk claims, that that "only Haredi Jewish leaders can speak for our city's Jewish community."
Nor does associating me with "violent attacks against journalists" have any respect for truth. In fact, it insults it. I have publicly and repeatedly condemned (in print and on-air) all such behavior, and didn't reference it at all in my Forward piece, since it was irrelevant to its thesis.
And if Mr. Nosanchuk wishes to attribute to me the claim that Orthodox "practice of Judaism requires an exemption from public-health restrictions," he really should be required to show where I have ever written such a thing.  I have not. What I did write was that New York Governor Cuomo's recent edicts were illogical and unfair — to any and all houses of worship.
I, further, never insinuated anything remotely like the contention that people should "risk their health or the health of their loved ones by attending a large indoor religious gathering."  Nor would I ever do so.
And I nowhere suggested that non-Orthodox rabbis "have no right to opine on the issue because they interpret Jewish law differently" than I do. I simply noted that non-Orthodox Jews are not hampered as much as Orthodox ones are by Mr. Cuomo's draconian rules — and that representatives of the former should not call the latter "blasphemous" for standing up for their rights as Americans.  The ugliness and falsehood of that accusation was what my article was about – and something Mr. Nosanchuk chose to utterly ignore.
As to his accusation that I align myself "with a small minority within the Haredi community that has flouted public-health restrictions and resorted to violence against fellow Jews who disagree with them."  That is beyond untruth; it is perilously close to libel. He maliciously created it out of whole cloth.
As he did his statement that I have resorted to "claims of antisemitism" against, presumably, the governor.  Never have I ever made such a claim, not in my essay, not in any other writings and not in private conversation.
Finally, I didn't "try" to "spin" the NYJA's words as name-calling.  Its words were name calling, at least if one considers "blasphemous" an insult.  I really think most people would.