The "Open Letter:" Commendation and Reservations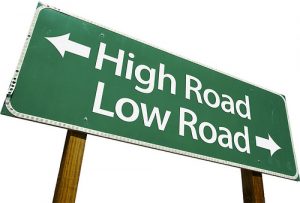 Readers of Cross-Currents aren't surprised when they find two of its writers disagreeing about important issues. Simply put, that is one of the reasons we exist. We remind people that Torah thought is not monolithic; there are sharp differences between the way its members look at the world and its events, and some parts of the community allow this and even celebrate it. In regard to the "Open Letter" that appeared last week in Mishpacha (as well as on Cross-Currents), our readers are going to get at least three points of view. My brief contribution will lie somewhere between that of Rabbi Shafran and Rabbi Gordimer.
First – publishing the letter took courage and conviction. I am proud that the owners of a number of the signatures belong to good friends of mine. Its authors saw what they considered to be a falsifying of Torah, and undertook to correct it. They understood that they would be met with harsh criticism and derision, and accepted it as the price to pay for emes/truth. Even those who disagree should commend them for their commitment to principle. (Mishpacha as well should be commended for taking the risk of offending some irate subscribers whose beliefs came under fire in the letter.)
I am entirely on board with the single point that I hope the authors agree is the most important that they've raised: that it is both wrong and unhealthy for the Torah community to appear to have accepted the gospel of any particular party. It is wrong, because it cheapens Torah, that expects us to look at all questions through the lens of Torah morality, not the expectations of party loyalty.[1] And the Torah does expect us to champion certain principles, even when they are not convenient.
A few lines by R. Yosef Dov Soloveitchik zt"l eloquently make the point. They address themselves to l linked to the lines in last week's parshah that speak of what we must do to be viewed favorably by the nations – which apparently is important:
And which great nation is it that has just statutes and ordinances, as this entire Torah. A goy gadol (Devarim 4:7) also distinguishes itself in the area of righteousness. The people as a whole, as well as the individuals who comprise it, possess a developed sense of and fine sensitivity to justice. Instinctively, they cannot tolerate evil; they hate discriminatory practices and chicanery. If a nation is emotionally capable of approving of injustice, it cannot lay claim to greatness, no matter how powerful it is militarily and economically, or however ingenious it is in matters of science and technology. Real greatness is found the innate quality of fairness and righteousness, in the spontaneous indignation whenever one is confronted with hypocrisy and selfishness. (Festival of Freedom, p. 131)
None of this should be sacrificed for political expediency. Nor should we insist on hard-nosed pragmatism when it obscures real issues of fairness and justice.
Appearing to be ideologically linked to one party – as if we are all Republicans with tzitzis – is also unhealthy. It drives away Jews who are attracted to a Torah life style, but uncomfortable with conservative discourse. We place enough restrictions on people's lives without subjecting them to party affiliation tests.
Still, I begged off when I was shown a copy of the letter and asked if I would sign. I had two reservations that prevented me from joining my friends.
The letter seemed aimed at a particular candidate. The authors insisted to me that this was not their intent – that they were more interest in the point developed above. If that was their intent, I didn't see it in the execution. Smarter people than me all took the piece to be, at least in part, an attack on the President. Given the enormous uncertainty about who Joe Biden will select as his running mate – someone expected by many to slip into the presidency not long after the election – I believe that it is short-sighted to compromise any support for Donald Trump that may be needed come November.
This is neither an endorsement, nor a papering over the less attractive parts of the President's persona. It is simply a reflection of our need to be flexible and to safeguard our interests. I was not going to be party to that. We have to be prepared to speak truth to power, and refuse to become part of a see-no-evil, hear-no-evil cheering section. Whatever decision we make at the ballot box, we must be prepared afterwards to speak up for principle. If our backing of and loyalty to a candidate mean that we succeed in getting his/her ear, we must be willing and able to whisper, at times, words they do not entirely want to hear.[2] This does not mean that we cannot support the candidate who will do the most for America, and the most for our needs.
I also could not get completely behind this sentence in the letter: "The integrity and impact of what we convey to our children and students about kedusha, tzni'us, emes, kavod habriyos and middos tovos are rendered hollow when contradicted by our admiration for, or even absence of revulsion at, politicians and media figures whose words and deeds stand opposed to what we Jews are called upon to embrace and exemplify." These words imply that unless we distance ourselves from those politicians and media figures, we send the wrong message to our children, as well as the rest of the world.
I used to believe that. No longer. It was true in an age in which we expected political leaders to exhibit some quantity of virtue, or at least cover up their lack of it. That is not true in a world in which there is no privacy, and unvirtue-signalling (about the figures they scrutinize) is a large part of journalistic reportage. Hardly anyone emerges with an admirable record. That means that there are never going to be heroes found in their precincts.
Not that we cease to believe in virtue. Rather, we must tell ourselves and our children that the last place to look for paragons of virtue is among politicians, sports figures, and entertainment personalities. The utter, absolute, last place. In the Orthodox community, we need to keep on doing what have done in our popular press from Day One. We've found our heroes – without even trying very hard – in Torah personalities, and in the righteousness of ordinary people in our community, whose accomplishments we showcase. We don't think for a second of looking for moral cynosures in the wrong places – even high places. Warped midos in politicians is no more of a threat to our children than the billboards for McDonalds they pass on the way to school. Neither is part of our universe.[3]
My small quibble with my friend Rabbi Gordimer is about this point. He argues in his response to Rabbi Shafran that the alternatives to the President are hardly people who have scaled R. Pinchas ben Yair' ladder of spiritual elevation.[4] They are all bad influences. My point is that we should stop looking at anyone in their starting lineup. Our roster has better players. That way, none of them are influences.
Upon reflection, it is not such a small point. It is a crucial one for hundreds of millions of Americans – especially parents – who are appalled by what is now taking place in the United States. A remarkable contribution to their well-being would be understanding that they should have zero expectation of moral leadership from politicians and celebrities. Zero. And at the same time, that heroes are still to be found walking the streets of America.