Recovered From COVID-19? Save a Life!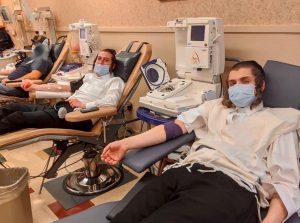 The word is travelling across the US about the thousands of Chassidic Jews, recovered from COVID-19, who are lining up to become blood plasma donors, so that the precious antibodies in their serum can save the lives of unknown strangers. Jonathan Rosenblum's article puts together the names, people, and history; one in the Forward adds additional background, and some sense of just how strongly the American medical community is depending on the Orthodox to come up with enough plasma to treat those who can be helped by it.
They are not being disappointed. Mt. Sinai Hospital, one of the chief collecting points in NY, relates that more than half of their donors are chassidish.
Those in the US will have no trouble finding out where to sign up. I'm relaying information, however, to the Anglo community in Israel. Those who travelled to the US in February and March wound up bringing back more to Israel than our luggage and Duty-Free. If we've recovered, have the mandatory two negative test results to prove it, we can immediately register as potential donors. We will have to wait two weeks from the date of the testing to actually donate.
At the time of this writing, there are two avenues for donation that we are aware of.
One is through Rav Firer's famous Ezra Lemarpe organization. Call Dr. Moshe Rosenfeld: 052-718-9088 (Yiddish and Hebrew; if you only speak English, say so, he will get someone to help on the line in English.) At the moment, they are working exclusively with Tel HaShomer Hospital in Tel Aviv. He will arrange  free transportation to  there.
Another route is through MDA. Call their dedicated blood plasma line, 03-910-1101 
Keep waiting on the line until you get answered. They will answer your questions, but you just have to be patient. (Hey, this is Israel!)
They have at least five languages they answer in.
Then they will forward you on to Bank Hadam of Israel who will give you an appointment, with a time and place near your location, and whatever else you need in order to donate your plasma. 
Please spread the word, and save a life!