This Has Never Happened Before – Right?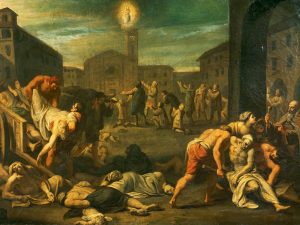 How unique is a crisis affecting a huge portion humanity at the same time? Here are two points of view worthy of our consideration.
The first is that of the Ran, in the tenth of his Derashos. He believed that he and his audience had witnessed something entirely new and unusual in the Black Death that broke out in 1348. In loose translation:
Thirteen years ago we saw G-d's chastisement. The entire order of Creation was changed. Most of the inhabitants of the world suffered at one time strange illnesses, which cannot be attributed to the usual conduct of the world. Every rational person must concede that it was "the finger of G-d." While diseases that commonly affect man are related to his nature. The very unusual ones, however, don't strike people because of their nature. They come as punishment, through Providence… We saw more upheaval and change as a consequence, than occurred in the previous two centuries.
The Black Death took the greatest toll of any pandemic known to man – somewhere between 75 and 200 million died. Did it affect "most of the inhabitants of the world?" It was certainly true of the inhabitants of the world the Ran knew about. Whether it did strike areas outside of Eurasia is beside the point. The Ran believed that it affected the majority of mankind, but that did not convince him that the phenomenon was sui generis as far as G-d's relationship with the world. To the Ran, the radical difference between the Black Death and others was the clarity that it was visited upon man by G-d, rather than attributable to causes that are part of the natural world. What was behind it? Sin. What should our response be? Looking into ourselves and doing teshuvah.
The Ran does not talk about how the Divine intervention that he witnessed differed, if at all, from other interventions against sin, so frequently spoken of in the Torah. A recent set of three mussar vaadim given by Rav Reuven Leuchter does. Speaking from Israel (at 4:30 AM!) to American followers, R. Leuchter – best known to many of our readers for his long association with Rav Wolbe zt"l and his thought – sets off on a very different path than many others who have waved in.
The first two of these vaadim were prepared for publication by R. Leuchter's illustrious son-in-law, my good friend R. Yehoshua Pfeffer. Raised in the UK and educated at Oxford, R. Pfeffer's accomplishments, once he came to Israel, include becoming a talmid chacham (particularly close with moreinu R. Asher Weiss, shlit"a), a dayan, a lecturer in Jewish law at Hebrew U., and the head of operations for the Tikvah Fund in Israel.
He is also the editor of Tzarich Iyun, a fascinating online journal. It is unique in providing a place where charedim who are gingerly entering new worlds of employment, academia (or otherwise questioning parts of charedi culture that do not flow directly from halacha) can express themselves. Contributors are anything but dropouts from charedi life. To the contrary, they are fiercely loyal, and determined to stay within its precincts, even if others are just as determined to drive them out. Most of the contributions are in the original Hebrew; some are translated into English. Readers who wish to read some brutally honest (but lovingly offered) considerations of mainstream charedi reactions to corona should look here and here. In general, it is an essential tool – the place to go repeatedly to follow the changes that are (not so slowly anymore) occurring in parts of the Israeli charedi world, and that displays the huge reservoir of talent outside of pure limud Torah that it possesses.
R. Leuchter's article should be read in its entirety. For those who need to be coaxed, I will offer a scaled down version by listing his main points – and by embellishing some of them in a few footnotes about my own observations. Here goes:
While plagues have struck before, there is something new in this one, as it has propagated through mechanisms associated with the "global village," a relatively new phenomenon which now is central to so much of our living.
More importantly, however, is the fact that we cannot relate to what is going on the way we are trained to face other challenges – by identifying the spiritual sources of our vulnerability, and by increasing our odds of survival by pumping up our merit, through the performance of more mitzvos. Both are inappropriate here. R. Leuchter tells us that he will not point, as others have done, to this failing or that. Moreover, such thinking misses the point of what a plague is.
Typically, says the gemara,[1]the malach ha-mavess cannot perform his diabolical task in less than eight steps. This means that there are heavenly protocols that need to be complied with, and his mission can be aborted at any one of these steps. Not so, continues the gemara, during a plague. He accomplishes his grim mission in a single step. Once empowered, nothing will prevent him from doing his job. One of the consequences is that there is no discrimination between the righteous and the not-so-righteous. During a plague, the malach ha-mavess is assured equal opportunity in the selection of targets. The usual application of G-d's mishpat – which takes into account all kinds of considerations – is suspended.
Why would Hashem choose to ignore a divinely-ordered playbook that governs the overwhelming majority of time? It must be that a different protocol substitutes for the usual one. This unusual protocol must be assumed to come from an even higher place than the ordinary one.[2] Looking for a specific "cause" for the plague makes no sense, because that logic only applies to the ordinary system, in which merits and demerits have particular weights. In a plague, something higher, more elevated is taking place.
Another way to look at things is that this higher-level protocol asserts G-d's mastery of the universe to the exclusion of all human power. With all our technological prowess, we stand powerless against an invisible force that G-d has unleashed. The efficacy of kochi v'otzem yadi / "my strength and the power of my hand,"[3] shrivels and melts in its presence.
What follows may be the most interesting lines of the essay: "We too share in the very same hubris, just in the spiritual rather than physical sense. Even we tend to think that we have control over our situation—control by means of studying Torah and performing mitzvos, by davening and by donating to Kupat Ha-Ir.[4] The condition of plague rails us in. No merit, even that of Torah and mitzvah performance, can save us; those who believe otherwise share the same arrogance as the Western disposition to control the world by means of scientific advancement."
Is there any way to alleviate the effects of a plague? How do we connect with Hashem on this higher level from where the rules governing plagues emanate? It turns out that the Torah provides some very obvious advice. Aharon contained a plague among the people through the ketores, the Biblically described incense.
The ketores acts powerfully and with great effect. When used improperly, it brings death in its wake, as it did to the 250 associates of Korach, each one of which held the incense in a fire-pan in his hand. That same ketores, however, when supervised by Aharon, stopped the plague. Coming from a higher place[5] (just as the inscrutable Divine protocol behind the plague does), ketores either cures the ailment, or kills the patient.
It should be apparent that ketores is in a category of its own. Alone among the offerings, absolutely nothing of it remains below; it is all sent "up," so to speak, to Hashem.
Of course, we do not have the ketores, nor people of sufficient stature to correctly utilize it. What we do have,[6] however, is tefillah.[7] Ketores suggests to us that our prayer needs to add a dimension that is usually missing. Regardless of the way it is expressed, we realize that most of our prayer is petitionary. We want something, and we ask for it. There is another mode of davening, in which we succeed in annulling our own selves, and purely serving Hashem. Through it we transcend our ordinary reality, and connected with a place of higher elevation. The plague "reveals the harsh side of this elevation; through prayer we are able to reveal the same elevation, the same connection, in a way that gives life."[8]
Besides a different kind of prayer, ketores also suggest to us a higher plane of existence. He rejects the idea that World 2.0 is a back-to-basics one. First, because that is too simple a solution. Elevation requires hard work, not just changed conditions. Second, because it runs counter to human nature. Man is hard-wired to aspire to more. Our problem is that we set our sights of more of the wrong things. The home isolation directs us to work hard[9] at achieving more – more davening, more emunah, more tzniyus, deeper relationships. Achievements that take place outside the public eye.
Rav Leuchter provides his own summary, reproduced here in part:
Which spiritual lens should we adopt for looking at the situation of a plague? What is even the appropriate terminology for reflection on the ongoing situation? Instead of escaping from the reality we live, as some tend to do, by chasing after segulos and other fantasies, it is incumbent upon us to remain connected to reality—to the physical reality we live in, and even to the parallel spiritual reality that confronts us.

I wish to see our reality as one of fundamental elevation. Hashem is showing us that we are higher than we usually think, more elevated than we ordinarily assume. Our own reality touches a higher plane, one that has the capacity to overwhelm the regular world order. Even the Divine system of reward and punishment is suspended in its wake.
Certainly food for thought!