A Freilichen Christmas?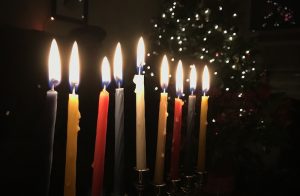 No way. We're not going there, or any place near it. We can be respectful of our Christian neighbors without going the way of too many American Jews who "get with" the holiday spirit by opting for Christmuka as the Great Compromise of the Anglo-Jewish world.
However, most of us have encountered Jews who are as rejecting of anything to do with the Christmas celebration as the first group is accepting. They might be a bit surprised at an essay penned by Rav Samson Raphael Hirsch that has recently been translated, and then prepared for publication in the current issue of Hakirah (Vol. 27, Fall 2019) by Dr. Marc Shapiro. We thank him for making a copy of his article available for review.
The essay is actually a book review of a volume meant for use in Jewish schools in 19th century Germany. Rav Hirsch lauds the attention given by educators to developing texts for classroom use. This is important for a number of reasons, not the least of which is that "the initial subject matter used for our children's first reading practice also constitutes food for the intellect and mind of the youngsters. It is certainly of great importance what kind of mental nourishment they are offered in this way."
Here is where Jewish children suffer, he says, since so little has been designed specifically for their use. Responding to the need, someone edited existing textbooks to make them more suitable for the Jewish community. The editor "considered it his task to remove Christian views, expressions, and explanations, as well as the echoes of Positive Christianity, and to 'present the book with specifically Jewish ideas, to add a positive Jewish content to the general humanistic one, and finally to see to a certain extent to the emancipation of rabbinic intellectual culture, in order to further pedagogical ends by allocating equal space to the sayings and tales of Jewish sages, as well as to Jewish history, besides that of other nations.'"
Rav Hirsch praises his effort, and promises to examine the value of the specific content that the editor added at a future occasion. In this review, however, Rav Hirsch limits himself to commenting on but one point: the purging of all references to Christianity.
It is difficult enough as it is to teach the complexity of Torah life. All the more so when we are a tiny, often beleaguered, minority. Why would we want to make mention within a school curriculum of ideas and faiths that are foreign to our thinking, that our ancestors sacrificed their lives rather than submit to, and that persecuted us for two millennia? Let's stick to ideas that are Jewish user-friendly!
This has certainly become the practice in many parts of our community today, and has moved a good deal further. Events held even on national holidays – not just ones sourced in Christian celebration – are routinely referred to as "legal holiday" events, rather than employing their names. Parents puzzle over the propriety of exposing their children to any and all references to other faiths, and to practices of all other cultures and peoples.
Rav Hirsch, however, demurs.
One should not be all too fearful in this regard. Books that are written solely from a Christian denominational point of view and based entirely on their worldview and philosophy are indeed not suited as teaching and educational aids for the Jewish youth. However, we see no danger if the purely humanistic point of view predominates in the book…even if here and there Christian ideas appear, and even Christianity itself as it is realized in everyday life.
Nothing wrong, he says, in including literature that is essentially wholesome, even if it happens to include references to Christianity.
But shouldn't this wait until adulthood? Does this casual exposure present a danger to fertile young minds? Rav Hirsch doesn't think so, at least not after the younger grades.
Based on our experience, such [exposure] has probably never affected anyone adversely. We do not think that students in middle and upper classes should remain unacquainted with this Christian worldview, its sensitivities and way of life, but instead should learn to look at it from a Jewish point of view. Eventually, they will lead their lives surrounded by a Christian world, and even as children they encounter Christian elements everywhere.
Rav Hirsch clearly thinks that any danger is overstated – at least in communities in which the grown child is expected to function within the general world, and not enjoy a hermetically sealed isolation. Moreover, he believes that failure to address the existence and general contours of Christianity means sacrificing a teachable moment.
If care would be taken to develop the right kind of conscience with regards to their Jewish world, one that is grounded, deep, and enthusiastic, so that a real and true understanding of their Jewish elements would not be lacking, then their acquaintance with Christian elements would not be harmful, but would only raise their Jewish self-confidence. It would only increase their esteem and enthusiasm for Jewish thought and life, and for all divinely instituted Jewish history and doctrine, which is the only source of everything that is Jewish – and we can add here also, the source of the truth and goodness in Christianity.
Here is a full-throated declaration that is not so much about Judaism vs. Christianity, as it is about the beauty of Judaism to outshine any and all competitors. The deeper question that stands behind this declaration has not been solved yet in our time. Almost certainly, there is no single, correct answer to the question of whether exposure to competing ideas will dilute the purity of the education of youth, or will it instead allow a comparison and contrast that will make Judaism shine with even greater luster. Almost certainly, there are different needs for different ages, different communities, different issues, and different families. Looking at the question in general, however, Rav Hirsch's position is unequivocal. Exposure is not only neutral, but can be positive. This should provide some license to contemporary parents who elect to expose and explain elements of the surrounding, dominant culture (which is no longer Christianity), rather than seclude and sequester.
Let the Christian thinker rejoice over the enlightenment of minds, the refinement of character, of the civilizing and humanizing of the nations, and describe these benefits as having been bestowed upon humanity by Christianity! The Jewish thinker rejoices about this along with him, but sees each wreath that the Christian humanitarian ascribes to Christianity just one more leaf in the unfading wreath of victory of Judaism. Thus, what truths has Christianity brought to humanity to enlighten minds, refine hearts, and save nations, for which it has not been purely as a messenger of Judaism, drawing from the deep well of Jewish doctrine? And how much more is still left! All of this is only a drop of the well, a spark of the fullness of Jewish light, a partial ray of the entire Jewish sun, compared to a life that is entirely devoted to God! All this is simply a guarantee of the true salvation of mankind to come, based on the ancient Jewish truth!
Reading depictions of genuine, well-meaning Christian love, continues Rav Hirsch, the Jewish student will not become jealous of something missing in his faith. To the contrary.
Remembering his Jewishness, he again says joyfully: Yes! After all, the Jewish feeling of love for all humanity has a spirit that far surpasses Christian love and charity, never limiting Jewish philanthropy within the narrow confines of "denominations." A spark from it [the Jewish spirit] has lit up the hearts of heathens through Christianity, and it brings joy to people through that which is known as Christian love and charity.
The child properly educated in a Torah-observant home and attending a Torah day school will not need another Adam Sandler song to convince him or her that Chanuka is more than a poor Jewish imitation of Christmas:
Yes, the Jewish boy must even rejoice over the depiction of a Christmas Eve….Judaism is alive for him, in all the festivals and celebrations…. How many Christmas Eves does the year bring to Jewish boys and girls! Each week there is a Sabbath evening, and each season brings a festival evening. Parents and children are united around the table at home, lifted up again and again in alternating festive moods of remembrance and consecration….He bestows His blessings not through childish knickknacks. Rather, His nearness is palpable to the child's heart by the gift-giving of His blessings in peace and rest, in exhilaration and in joy, and by filling the entire earthly existence with bliss!!
History has not been kind to Rav Hirsch's optimism. His confidence in the new acceptance of Jews by their neighbors, as well as the redemptive value of Western thought itself, were incinerated in Auschwitz. Even those who continued to believe in much of the content of Western culture beyond the Holocaust have watched its flower wither, with what remains being trampled under foot daily by more recent pagans.
That mistake, however, need not cast a shadow on Rav Hirsch's general ideas about chinuch. There are so many decisions that are affected by it. I can point to many mistakes I made in the chinuch of my children. But I have never, ever regretted having them encounter members of other communities (both inside and outside of Judaism) at our table, and witness the way those outsiders reacted to genuine Torah. It left them with confidence that the Torah could proudly stand up to all scrutiny, all questions, all criticism.
One argument that Rav Hirsch could not anticipate a century and a half ago – and is therefore not included in his essay – is the social cost of failing to heed his advice. When other groups are entirely ignored, it can lead in some people to incivility, racism, feelings of a false superiority – and worse. This does not happen, chas v'shalom, to the majority of those who try to keep all outside influences at bay. But it would be difficult to maintain that this does not happen at all. Many of us have heard and seen too many examples of it.
Is there a cautious take-away from all of this? I think so. If Rav Hirsch's argument resonates with you, then rethink what many people advise baalei teshuvah and gerim about contact with their families. Many are told that they should essentially break off all contact, and especially be sure that their impressionable children should not be exposed to people of different beliefs and faiths. This is appropriate, I believe, in some cases – but not many. It can also be counterproductive, cruel, and psychologically unhealthy. Small children, indeed, should not have to deal with the Christmas tree in Abba's relatives' living room, or fend questions about what Santa left them. But the mentors of many gerim and baalei teshuvah will insist on steering families away from much more innocuous contact. They have been taught that optimally children should grow up unaware that there are Jews who are not observant and yet still value their Yiddishkeit, and non-Jews who are wonderful people. These mentors would prefer to substitute useful stereotypes for reality.
If you are uncomfortable with that approach, there is special urgency for you to read the fuller piece in the current issue of Hakirah and take it to heart.