The Lesson of London Bridge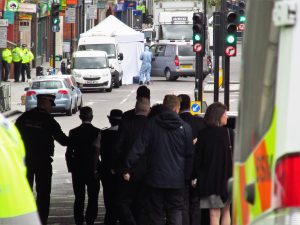 At the time of this writing – and, hopefully, of its reading – the most recent domestic terror attack was the shooting in Jersey City that left three civilians, including two Jews, and a police officer dead.
Less than a week earlier, there was the fatal shooting of three sailors at a Navy training center in Pensacola, Florida, by a seemingly well-adjusted Saudi trainee, Mohammed Alshamrani.
It seems that the Jersey City killers were motivated by "Black Hebrew Israelite" ideology. And, while authorities to date have offered no official conclusions about the Saudi murderer, it is not unlikely that Islamist radicalism played a part in his action.
It definitely did in a terror attack in another Western country, Britain, a mere week before the Pensacola massacre.
In that stabbing spree, which has come to be known as the "London Bridge Attack," Usman Khan, a 28-year-old British citizen, the son of Pakistani immigrants, attacked five people, leaving three injured and two dead, before he was killed by British police.
Incredibly, the attacker was, at the time of his rampage, on probation from prison, where he had been serving a reduced sentence for having been part of a plan to bomb, among other targets, the London Stock Exchange, the Houses of Parliament, the U.S. embassy, two synagogues, and the home of then London Mayor Boris Johnson. The plan also included building a terrorist training camp on land the stabber's family owns in Kashmir.
What had reduced his sentence and allowed for his furlough was his renunciation of terrorism.
In one letter to probation officers, he had written: "At the time [of my terrorist plottings] I was immature and now I am much more mature and want to live my life as a good Muslim and also a good citizen of Britain."
In another, he asserted that "I have learnt [sic] that many of my past beliefs came from my misinterpretations of Islam. There were many gaps in my knowledge but now I am on [a] new path and am learning to become a good Muslim. I would like a chance to prove to you that I will not cause harm to nobody [sic] in our society."
He got the chance, and decisively proved the opposite.
The lesson lies in the fact that, while people can change, they can also claim to have changed and be lying.
While there is no reason to believe that many American or British Muslims are hiding murderous plans, there is no reason, either, to imagine that there aren't other Muslims in Western countries who see the world as he did, and who present a threat like he was.
You may not have noticed, but we are in the throes of a presidential campaign.
And an American group, Muslim Advocates, took the opportunity of Michael Bloomberg's joining the Democratic presidential candidacy pool to demand that the ex-New York mayor renounce the New York Police Department's "Muslim surveillance" program instituted in 2002 under his administration. (The program was abandoned in 2014 by then-police Commissioner William J. Bratton.)
The Council on American-Islamic Relations joined the cause, asking Mr. Bloomberg to "see the error of his ways and apologize to the Muslim community for his long-term support for illegal surveillance and targeting of Muslim New Yorkers."
The legality of the program was never negated, but I sympathize all the same with law-abiding Muslims of good will discomfited by the erstwhile police effort to keep tabs on Muslim communities and houses of worship. I understand how the effort struck some as religious discrimination. And I know that the data show that right-wing domestic terrorist acts have both been attempted and occurred more often than Islamist attacks.
But it can't be denied that Islamic terrorists, inspired or directed by groups like IS and al-Qaida, pose a clear threat to American citizens – as the Pensacola attack and the 2017 Hudson River Park truck ramming and the 2016 Ohio State University attack and the 2015 San Bernardino attack, among others, well illustrate.
Sadly, all Muslims are adversely affected. Both by the way they are regarded by some others and by efforts to prevent future attacks. The NYPD's surveillance program was, especially in the years directly following 2001, not unreasonable.
Suspicion of Muslims is often called "Islamophobia." Merriam-Webster defines the word as "an irrational fear of, aversion to, or discrimination against Islam or people who practice Islam."
The key word there is "irrational."
Thus, we have arachnophobia, the fear of spiders; mysophobia, the fear of germs; and any of a long list of other unreasonable anxieties. Is Islamophobia irrational? It depends.
None of us, in our religiously pluralistic and free society, should ever disdain, or discriminate against, any Muslim simply because of his or her faith.
But, unfortunately, it's impossibly hard to not harbor entirely rational fear of people like Mohammed Alshamrani and Usman Khan.
© 2019 Hamodia