A Game-Changing Yom Kippur Sermon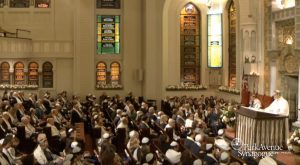 Remarkable and courageous are the first words that come to mind in describing a recent Yom Kippur sermon at a tony Manhattan Conservative synagogue. The sermon did not dwell on what others have, in those few minutes when a spiritual leader has the attention of the three-day-a-year Jews, as well as the regulars. It did not offer an insider's analysis of the State of the Jewish (Dis)union, did not bash the Orthodox for the latest outrage, did not call from impeaching the President, did not laud tikkun olam as the Jewish mission writ large. It did precisely what a derasha is supposed to do.. It called for Jews to do mitzvos.
The sermon by Rabbi Elliot Cosgrove of the Park Ave. Synagogue deserves to be read in its entirety, if only so that we can more effectively attach our tefilos that his words move his flock and reverberate beyond. It could be a game-changer for people in his synagogue.
Rabbi Cosgrove spoke of the prescience of the sixth and seventh Lubavitcher Rebbes zt"l in launching outreach efforts on US campuses and beyond, and how the lynchpin of those efforts was getting Jews to perform a demonstrative act – a mitzvah. He spoke of the myriad blessings of living in the United States, but also of its attendant challenges. Those challenges, he says, are more daunting today than when the sixth Rebbe instructed Shlomo Carlebach and Zalman Shachter to begin visiting college campuses to try to bring errant Jews back to their patrimony. Regrettably, "our unspoken safety net, the three things that rightly or wrongly American Jews could count on to keep us together… can do so no longer: 1) the Shoah, 2) Israel, 3) antisemitism." The first has receded too far into the past, the second is too controversial, and the third won't work in a country that still works to ensure our safety, rather than plots our downfall. Jews in American are doing well, he says. Judaism – not so well. What is there to keep Judaism going into the future?
Today's rabbis speak about all sorts of things, but are expected to stay away from preaching Judaism. He is breaking that taboo, years after assuming the pulpit. "It's been more than a decade, and I am saying the very thing a rabbi is supposed to say: I am asking you to do mitzvot." Only mitzvot preserve the past, and distill it for the future. Only mitzvot express identification with one's Jewishness in a language more powerful than words.
He tries to allay his audiences fears. Is it reasonable to ask people, already overwhelmed by the complexities of contemporary living, to make commitments? Decidedly yes, he says. "Just don't tell me that ritual is not your thing or that you can't make the time. Our lives are filled with rituals: timebound, dietary, and seasonal. We go to Soul Cycle, we go to yoga, we eat GG crackers for G-d's sake! We carve out time for marathons, we shlep to the new workout in SoHo, and we freeze on the sidelines of our children's club sports in God knows where." The rabbi pledges to be patient. Don't take on more than you can. Start simple. Here in this room, right now, take the time to reflect, reflect with your family: how can you move from 'not my thing,' to 'not yet,' to 'why not, let's see what happens.' 'Taste and see,' teaches the psalmist. (Ps. 34:9) Be open to performing one holy deed and see what happens next."
He does a better job of allaying the fears of his flock than addressing the misgivings of those of us watching from the distance as he deals with their theological objections. "You don't subscribe, you say, to a commanding G-d, to outdated notions of reward and punishment." This is painful for us to read, for two reasons. First, because it reminds us that in recent years, it is not just practice that non-Orthodox Jews have rejected, but G-d Himself.[1] Second, because Cosgrove's answer to them is so inadequate. "Instead, I encourage you to think of mitzvot not in the vertical, as a connection to a God above, but in the horizontal, a connection to your fellow Jew… The positive and open expression of your Jewish self: that is the argument for a mitzvah." Sorry, but there is no mitzvah/commandment without a Mitzaveh, or One Who commands. There is no way to leave G-d out of the calculus. A mitzvah implies recognizing the authority of Heaven, and responding to it. Reminder: mitzvah does not mean good deed! A mitzvah by any another name is not a mitzvah. So, from what we know about Torah, is his project doomed to failure?
Absolutely not. Experience has shown that when some Jews begin practicing mitzvos, their curiosity and/or pintele Yid is aroused from its slumber, and they ask for more. In time, some of them make the full trip back to observance. For others, we should keep in mind what the Shalah HaKadosh says in several places: Hashem created an ohr de-hemanusa[2] in every mitzvah. In other words, mitzvos convey a sense of the reality of His existence to those who practice them. Jews who balk at accepting a G-d Who cares about and values human actions might come to believe in Him if they begin to observe His mitzvos.
Let us then cheer on Rabbi Cosgrove's first brave step, and pray that this words will find favor with his listeners, and that many more will follow in his footsteps. Let us be there, non-paternalistically as brothers and sisters to help them if and when we have the opportunity. And let us pray thatone day we might all once again speak a common language of mitzvos, connecting all of us to each other, and to our Creator.
[Kudos to Talia Rosenberg, Dallas, for the tip.]
For those who think that this discomfort might be limited to this single synagogue, I have only bad news to report. The next issue of Jewish Action should include a review article I wrote of Jack Wertheimer's recent book, The New American Judaism. It will show how some non-Orthodox rabbis believe that the single greatest obstacle they find is G-d, or more specifically, their congregants' refusal to deal with traditional understandings of the nature of G-d. ↑
I'm on the road, away from my seforim, so cannot supply the cite at this time. ↑