Returning Home to Auschwitz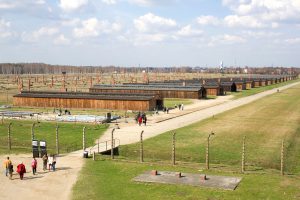 If anyone can add more prose or more tears to the story of Auschwitz, it isn't me. I'm on my way back from a few days in the Killing Fields, thanks to one of my sons who invited me to accompany him to Krakow, Auschwitz, Vilna, Kovno, and the Ponary Forest. I can't imagine that I have anything meaningful to say that hasn't been said before.
There are no words.
Did I learn anything new? At Auschwitz – not really. I had read extensively before. Elsewhere – yes. I had not realized how unprepared the Nazis where when they began Operation Barbarossa, the German invasion of Russia, for how to kill the treasure-trove of Jewish victims that they found. I had not realized that Lithuania fell right at the beginning, and that what we had read about concerning the Ninth Fort near Kovno and the Ponary Forest near Vilna described the very first "solutions" to the Jewish problem regarding previously Soviet territory. That within two weeks of overrunning Lithuania, the Nazis had found and prepared suitable sites to efficiently transport large numbers of Jews and others, enlist local assistants, murder the victims, and dispose of the bodies. All before the development of Einsatzgruppen and mobile killing vans.
Additionally, I was struck by how small Auschwitz was. And blown away by how huge, by contrast, was Auschwitz II/Birkenau, with rows of barracks almost as far as the eye could see. And four crematoria, rather than just one.
I left with less understanding than before about our practice of davening at the graves of tzadikim. I thought I understood that we daven, as the Mishna Berurah explains, in the merit of the great people buried there. I buy that, and do it myself. By that reasoning, however, the most popular spot for effective davening after the Kotel (and perhaps sites like Maaras HaMachpelah and Kever Rachel) should not be in Tzfat or Uman. It ought to be Auschwitz. Well over a million kedoshim are there, including at least thousands who would be considered tzadikim even if they hadn't did al kiddush Hashem. Why isn't it?
Emotionally, what I learned may have been more important.
Many people try to connect with the roots of their family. They travel to the home towns of their parents and grandparents. They take their children to the places where they themselves grew up. This seems to be part of our way of finding our roots, and strengthening our families. We don't go there to learn anything new, so much as to reclaim our past and strengthen our identities.
Having visited in the last few days, I would propose that Auschwitz et al belong to our identities with the Jewish family, whether we lost relatives there or not. The Killing Fields of Europe belong on the list of places to which we feel drawn in pilgrimage.