Style vs. Substance and The Trump Effect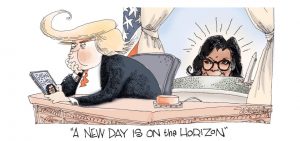 By Alexandra Fleksher
Does America really want another celebrity president? Yes, as long as it is Oprah.
Oprah Winfrey is as beloved as they get as a role model and source of guidance to her fans across the globe. She is also articulate, passionate, inspiring, self-assured, thoughtful and empathetic – all the right (and only?) qualities for a president – as well an African American female. If it's time for a female president, and an African American one to boot, then Oprah is your candidate. Apparently.
Oprah, an excellent orator, stood at the podium at the Golden Globes and gave a very good, if not powerful, speech. She called for a "new day", when girls and women will never have to say "me too" again. "For too long, women have not been heard, or believed if they dared to speak their truth to the power of those men, but their time is up," she said at the awards ceremony to a standing, cheering audience.
Since then, there has been a flurry of support for Oprah 2020. There has also been some debate as to whether Oprah would actually consider running for U.S. president in 2020. Her best friend, Gayle King, made a statement that Oprah is intrigued by the idea but doesn't think her friend is actually considering it seriously. However, plenty of celebrities are considering Oprah for president seriously.
From Steven Spielberg to Meryl Streep to Reverend Jesse Jackson, famous people are standing up to endorse Oprah for President. "I think Oprah Winfrey would make an absolutely brilliant president," Spielberg said. "I think she'll learn on the job the same way Bill Clinton learned – a former governor of Arkansas – or Barack Obama, a junior senator, learned on the job."
Here's the thing: Clinton and Obama had law degrees and political experience. They were governors and senators. Does the obvious really need to be stated?
That American citizens can elect a man with zero political experience or education to the highest office of our country is quite extraordinary. What happened to earning your stripes and climbing the ladder? Is there no value in process, requirements and credentials anymore?
It seems obvious that our children need to learn that in order to achieve and succeed, they need to put in the necessary efforts and meet certain expectations. That there is an order to things. (Of course, there are those that rise to success through connections and sheer mazel without any preparation or training, but it would be unwise to count on it.) If our children retort that Donald Trump became the President of the United States with zero qualifications, we have a problem.
The "Trump Effect" is the name of this cultural problem. Oprah Winfrey for President is a result of the Trump Effect. And it affects all of us in the 21st century, including religious Jews. There is a constant battle of style vs. substance everywhere we look.
As Orthodox Jews, we have the greatest connection to the greatest source of depth and wisdom in the universe, and that is the Torah. We have leaders and scholars who delve into its wellsprings and make its teachings and practices accessible to all of us. We know what substance is all about.
But when we are not connected to it – nay, holding on to it for dear life – we are easily distracted. We grasp for quick fixes, preferring the flash of charisma over soul and substance. We get caught up in the how's and the motions instead of the why's and the meaning. We seek what feels good for our guf, all, of course, in a kosher way, over what feels good for our neshama. Chas v'shalom, we don't even recognize anymore what feels good for our neshama. Outer trappings, in the name of frumkeit, take on more meaning, and we lose sight what is essential and fundamental in our Yiddishkeit.
Many years ago, when I was dating my husband, I stayed at his rav's apartment on Yeshiva Lane in Baltimore over Shabbos. I brought a glass candy dish as a hostess gift. The rav lifted it up carefully, eyed it from various angles, and proclaimed, "A perfect melding of form and function!"
My husband and I still chuckle at this story, but I will never forget it, as this rav's statement was far more than just a comment about the design of a simple candy dish. It has been a lesson about life that has always remained with me. Isn't so much of life about striving to find that balance between style and purpose? Appreciating the aesthetics but not trading them in for the substance which serves as the bedrock of everything we are and everything we do? For if we focus too much on the looks, our product may not function properly, or at all.
I am reminded of Rabbi Emanuel Feldman's essential essay, "Tefillin in a Brown Paper Bag" in which he urges frum Jews, particularly rabbis, teachers and authors, to adopt a sophisticated approach to communicating Torah wisdom.
You may ask: so what? If it informs and occasionally even uplifts, then who cares if the phrasing is inelegant or the words inappropriate? What difference does it make as long as it does the job? The point is, however, that poor language cannot do the job, cannot inform or uplift in any lasting way. When language is inadequate, simplistic and one-dimensional, then ideas that are potentially sophisticated, profound, and subtle will, in the reader's mind, be reduced to simplistic and one-dimensional proportions. Impoverished language cannot accurately reflect the wealth of great concepts.[1]
Style and form can be important values, no doubt. In fact, they are crucial elements, when applied to language, for example, in effectively depicting the sophistication and subtleties of Torah wisdom. But they must serve as the handmaiden. Style and substance must partner together, and substance must never be sacrificed for style.
Trump and Oprah, while vastly different in their communication techniques and abilities, are really one in the same when it comes to serving as a reminder about the importance of valuing substance over style in our culture. Let us take a careful look, from all angles, at how we can renew our appreciation for the grounding, integrity – and substance — our Torah wisdom and lifestyle gift us. Daresay, in many areas of frum culture, we can find a better balance.
Alexandra Fleksher holds a M.S. in Jewish Education from Azrieli Graduate School of Jewish Education and a B.A. in English Communications from Stern College for Women. Her essays on contemporary Jewish issues have been published in various blogs and publications including Cross-Currents, Hevria, Klal Perspectives, Torah Musings, The Jewish Press and The Five Towns Jewish Times.
Feldman, Emanuel. "Tefillin in a Brown Paper Bag." The Shul Without a Clock. Jerusalem: Feldheim Publishers, 137-141. ↑