Building the Calm After the Charedi Storm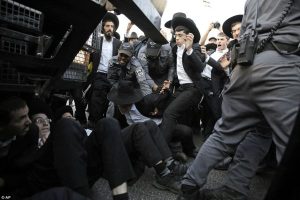 The restoration of relative calm to the streets of Yerushalayim is as good as it gets in the minds of the harried citizens whose daily schedules were severely impacted by the thugs of Peleg. That, however, is short-sighted. It can get much better, and it will. Every now and then, we get a glimpse of the promise of the future, as I did last week in a conversation with long-time friend Dr. Chaim Sukenik, President of the Jerusalem College of Technology (JCT), otherwise known as Machon Lev.
Prior to the recent spate of road-blockages, vandalism and violence, it was still possible to naively look upon what was happening as if this was a modern replaying of Hillel and Shammai. There, too, the numerical majority were with Hillel – but Shammai had the sharper people. In the present conflict, the majority of the Torah camp vigorously disagreed with the minority – which nonetheless had its rabbinic guidance in Israel, and some supporters in the US (including at least one member of the Moetzes) and a major fundraising base in Williamsburg.
After viewing the videos, this became impossible for many people, at least on this side of the Atlantic. The shocking disregard for life (e.g. preventing ambulances from getting through), limb, halacha, and common decency that we witnessed in the many street demonstrations poked large holes in the view that all of this was just a disagreement between two Torah points of view.
Reportedly, the leaders of Peleg claim that they have no control over their supporters. Which means that they are acknowledging what the secular community has been saying: that there are people hanging on the charedi system who have no business calling themselves bnei Torah, and do not deserve any special privileges. We should never forget for a moment the blessings of the Torah revolution that miraculously created a huge, vibrant community dedicated to Torah. We must remain committed to building and supporting institutions of Torah for those who are truly dedicated to productively waging the milchamta shel Torah. But we have failed to adequately note that this revolution was no different from many others. Pure ideology in the first generation gave way to systematization and coercion in the following generations. And now we are seeing in sharp relief the failures that are also part of the system: what happens when some believe more in the System than in the original message behind it; what happens when group-think replaces creativity and individualism; what happens when changes in the world around produce desperate abreaction, rather than dealing with issues.
Ironically, those who think they are the true supporters of Torah while others have sold out are hastening the demise of their System, as more and more people look at them and ask themselves, "How different are we? Is this what I want for my kids? If they could get it so wrong, perhaps we need to look more carefully at our beliefs?"
Some look at all this with glee, believing that the charedi world is on the verge of major collapse. They are dead wrong. The so-called System may collapse, but the charedi world will not. People will realize that they can opt out of the System without rejecting halacha, limud Torah, and Torah values. They will retain the ikar, while discarding what for them will have become tafel. What it will take will be a few visionary and courageous people who will show them that it can be done.
When it happens (and it will happen at its own pace, without being rushed, which will only produce resistance of the kind we are witnessing), everyone will win.
Here is an understatement: Computer science is important in Israel. The demand for qualified engineers is so acute, that Knesset a while back debated granting work visas to a few thousand such engineers from India. Israel can just not keep up with the demand.
Now, in Western countries, having women achieve parity with men is largely an issue of egalitarianism. They have a long way to go. In the US, with a current majority of undergraduate degrees going to women, only 18% of STEM students are women. Israel is actually one of the highest rated countries in the world for women's election of STEM as a field of study.
Yet, no Israeli institution comes even close to the 50% mark for women's study of computer science (CS), with the exception of JCT – where it exceeds 50%! This is not because it is a small cohort. To the contrary, JCT has one of the three largest groups of CS students in the country. As Haaretz put it, "Unexpectedly, an ultra-Orthodox college in Jerusalem – the Lev Academic Center [one of JCT's programs] – is the leader: 53% of its computer science students are women. Lev's 543 women students account for nearly a fifth of all female students studying in the field." This is important not just as a feminist issue, but as a matter of national survival. The equation is simple. Israel needs more CS engineers; women amount to half the population; if more could be encouraged, she would not have to rely on foreign workers.
How does JCT make it happen? By servicing another underrepresented community – charedim. JCT has put together programs of study in a number of areas that cater to the special requirements of the charedi world, both men and women. It works. Part of its success is that it attracts large numbers of women, where all the other schools have failed. And JCT's grads find placement at the 95% rate, far ahead of others. In other words, combine vision with sensitivity, and you wind up with a win-win proposition. It's good for charedim who wish to join the workforce, and it is great for the country.
We're only beginning.
Whether we are digital natives or immigrants, we can't imagine life without computers. Neither, it turns out, can the bad guys. Cyber-security is a huge concern for governments, business, and individuals. The Guardian claims that there have been more than 45,000 cyber-attacks. One ransomware attack this year hit almost 100 countries. Iran cannot take on her many enemies with military weaponry, but she can – and does – do battle with them through cyber-attacks. (The Times of Israel reported in January 2016 of such an attack against Israeli generals and Iranian human rights activists.)
Israeli know-how is at the cutting edge of solutions trying to stay one step ahead of the super-hackers. Sales of Israeli cyber-security products amount to someplace between 5-7% of all sales. Almost all Fortune 500 countries use them.
It's not a matter of contributing to the GNP. For a tiny country surrounded by hostile neighbors, whose military intelligence and response is dependent on computer power and communications, maintaining cyber-security is literally a matter of national life or death. More than two decades ago, Israel responded to the need for cyber-security through a highly selective, elite IDF group named Unit 8200. It selects the best, brightest and most creative young men and women, brings them together for the terms of their military service, and tasks them with do-or-die responsibility. It works. The training and camaraderie of this unit is thought to be a good part of Israel's remarkable success as the world's greatest startup nation. (Per capita, Israel leads the world in both startups and venture capital.) Graduates of the program have gone on to produce spectacularly successful commercial enterprises, often drawing on others from their teams.
Even Unit 8200 cannot feed Israel's voracious appetite for cyber-specialists. (There are over 400 cyber companies operating in Israel; each year since 2000 has seen the creation on the average of another 52.) The IDF is forced to outsource some tasks. Here, too, the small but growing number of charedim seeking to enter the workforce can make a huge difference. Four years ago, JCT began a cyber track within its Computer Science Department, aimed at giving students the intensive background and instruction needed to work as cyber-professionals. More recently, it started an intensive one-year program for graduates in software engineering and computer science.
We know that there is no shortage of bright, analytic minds in the Torah community. Some of those reach the conclusion that they are not cut out for full-time learning, or that it is time to begin supporting their children honorably. Some of those will have the inclination and potential to develop a skill set suitable for work in cyber. They will require remedial work to compensate for the huge gaps in their secular education, especially math and English. With that work, and with lots of hand-holding and a tailor-made curriculum, they can become bright stars on the secular side of the Israeli horizon, while remaining bnei Torah – just as so many do here in the US. JCT's commitment and success demonstrates the positive potential in the turmoil we observe in charedi society – that a growing number of people will leave the public dole, find meaningful employment, and make their contribution towards Israel's society.
Those of us frustrated by the chilul Hashem we observe should take a greater interest in programs like those of JCT that help the pioneers who are already making the transition.