Anniversary, Martin Luther!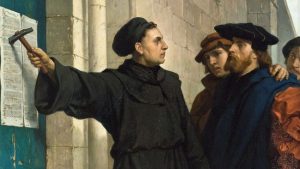 Sure, something is missing in the title. The word "happy." Couldn't bring myself to write that. Read on.
You've heard the story before, but it continues to elicit chuckles.
The Jew, humming to himself, sits in an aisle seat on a train, chugging along on its way somewhere in Russia. The ticket-collector says to him. "Hey, Zhid! Get your bag out of the aisle." The Jew ignores him. Now disturbed, the collector, yells at him. "Jew! I told you to remove that bag." The Jew goes right on humming. Irate, the collector tries again. "Dirty Jew! Didn't you hear me? If you don't listen to me, I will take that Jew-bag of yours and throw it out the window!" His eyes closed, the Jew's thoughts are on the Shabbos he will spend with friends at his destination. He pays him no attention. The collector opens a window, picks up the bag, and throws it off the train.
The Jew keeps humming, but his words can be heard under the tune. "It wasn't my bag…"
Martin Luther's Reformation certainly wasn't our bag. The man treated us pretty shabbily, to say the least. So as we note that Oct. 31, 2017 is celebrated as the 500th anniversary of the posting of the 95 theses on a church door in Wittenberg, we omit the word "happy" in front of it. We're not celebrating.
Not all Christians will find cause for celebration either. The Reformation certainly did not usher in a period of happiness in Europe. Battles between Catholics and Protestants dominated much of the centuries that followed. The Thirty Years War claimed 8 million victims, and wreaked massive destruction on a wide swath of Europe. The Vatican is still looking to reclaim its lost Protestant sheep. Luther stood up to top-down governance, a micro-managed theology, and the corruption of the Church of his day. Today, Protestants seem to suffer from too little, rather than too much theology; have splintered into a gadzillion groups that seem to differ – at least seen from the Jewish vantage point – about the nature of the governance they are not supposed to have in the first place. And they have found, at times, new places for corruption to vest.
We Jews, of course, have our own reasons for disliking Luther. He first spoke with strong disdain against the horrific way in which Jews were treated. In 1523, he wrote:
If I had been a Jew and had seen such dolts and blockheads govern and teach the Christian faith, I would sooner have become a hog than a Christian…If the apostles, who also were Jews, had dealt with us Gentiles as we Gentiles deal with the Jews, there would never have been a Christian among the Gentiles … If we really want to help them, we must be guided in our dealings with them not by papal law but by the law of Christian love. We must receive them cordially, and permit them to trade and work with us, that they may have occasion and opportunity to associate with us, hear our Christian teaching, and witness our Christian life. If some of them should prove stiff-necked, what of it? After all, we ourselves are not all good Christians either.
But like Mohammed before him, his love for Jews proved fleeting and instrumental. He hoped that by undoing some of the corruption of the Church, Jews would see the light, reject their superstitions, and accept the True Faith. When that didn't happen, he (like Mohammed) turned on them. In On the Jews and Their Lies, Luther wrote:
Their synagogues and schools be set on fire, their prayer books destroyed, rabbis forbidden to preach, homes razed, and property and money confiscated. They should be shown no mercy or kindness.
Those words stuck. They were not the first (or last) Christian words of profound anti-Semitism (John "Silver-Tongued" Chrysostom's deplorable expressions were far more elegant), but they inflamed crowds for centuries thereafter. And that cost us many, many Jewish lives. Some of Luther's suggestions concerning the Jews had to wait for Hitler for full implementation. While scholars debate whether Luther's writings directly affected the Holocaust (pro-Nazi Lutheran pastors in Germany often quoted him), there is a consensus that the four centuries of Germans familiar with Luther's positions paved the way for the popular acceptance of the Final Solution.
When viewed through a Jewish lens, history always yields things to think about. Sometimes they are just interesting observations. Sometimes they offer lessons for the future, or chizuk for the moment . The Reformation is no different. Here are a few. Readers may come up with several more.
Jews get caught in the cross-fire. (No pun intended.) Before the Reformation, we had to face one major religion that despised us. After – two, the latter of which then split into many more subgroups, none of which had anything good to say about us. (The one exceptions I know about is the French Huguenots, followers of John Calvin, a different Reformer. They played a truly heroic role during the Holocaust in hiding Jews.) In some areas that came under Luther's influence, Jews were persecuted where they had not been before. Being road-kill in turf wars between Christians did not stop with Luther. It is very much alive and with us. Today many conservative evangelical Protestants are vocally pro-Israel, calling themselves Christian Zionists. Their theological opponents further to the left sometimes argue that if those benighted evangelicals (specifically, those called dispensationalists) are Christian Zionists, then we non-dispensationalists must be Christian anti-Zionists! We Jews get caught in the middle. Sometimes the turf is political, rather than theological. The largest umbrella group of Protestantism is the vile, notoriously anti-Israel World Council of Churches. Much of its anti-Israelism can be traced to the Cold War between the US and Russia. The WCC was top-heavy with third-world churches, all from countries that had been mesmerized by the Soviet dream. Turf war, again.
Luther broke his own rules to arrive at the ferocity of his anti-Semitism. Ordinarily, he taught that people should not speculate at G-d's motives when He does not tell us directly what is on His Mind. Yet, when it came to the Jews, Luther readily filled in the gaps. Luther spent more time with Hebrew Scripture than with the New Testament. Parts of it unnerved him – like the promises by so many of the prophets of the future greatness of a redeemed Israel. If G-d planned to deliver them, why were they languishing in exile for a full 1500 years? He concluded – in direct opposition to the texts he ordinarily saw as inviolate – that it could only be because Jews were so bad, that they were irredeemable, and that all the biblical promises had passed along completely and entirely to Christians. This idea, hidden from sight, he was nonetheless sure of.
We sometimes try to sensitize Protestants to the not-so-hidden anti-Semitism that inheres in extreme anti-Israel groups like BDS. We try to get Protestants to feel special responsibility to reject anything connected with anti-Semitism because of the horrible things done to Jews by the medieval Church. Because of Luther and the Reformation, they often respond that their religion had nothing to do with that behavior at all. That nasty stuff was all done by the Catholic Church – to which they feel no historical connection whatsoever.
When you start a revolution, you never know where it will wind up. Luther did not set out to start a new religion, but to make changes in the Roman Church. Things kind of got away from him.
The most important one. Yeshaya was right. In the passage we read as the Haftorah for fast days, he cites Hashem as saying, "My thoughts are not your thoughts." You never know what surprises HKBH has engineered into the mechanisms of history. For us, Luther will remain a bad guy – among the worst villains of history. Yet, some unexpected things resulted from his Reformation that he could not have anticipated. He gave an unintended boost to Christian appreciation of Jewish commentary. (He himself had nothing but unvarnished contempt for it.) Christian Hebraism began before Luther, and the invention of the printing press helped the cause by putting Jewish texts in the hands of Christian scholars. Luther's Reformation, however, loosened the grip that the Vatican had on biblical interpretation, and allowed many more figures to take part in the fascination with Jewish exegesis. (That fascination continues today. It is important to us, because typically it is Christians with a strong interest in the Bible who are the most pro-Jewish and pro-Israel.) And while Luther felt that unrepentant Jews should be killed or stripped of all rights and privileges, his Reformation helped propel the Enlightenment (by weakening the Church), which led to the political emancipation of Jews and their slow winning of personal liberties. Of course, the crumbling of the ghetto walls also led to the rampant assimilation that plagues us today. So we can say about the Reformation what we say about so many other things: It ain't over till it's over!