Balfour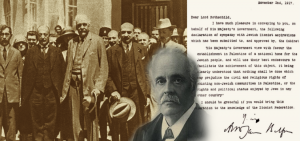 If you mention "Balfour" to many young people today, they will assume that you mean what the umpire calls out just before permitting a batter to take first base. (Sorry, folks. Baseball is still on our minds here in Mudville-Los Angeles.)
Worse is the reaction of many in our community who believe they know and understand the famed 67-word declaration that paved the way for the Jewish State exactly one hundred years ago today. They are therefore certain that the Balfour Declaration, stating that the British looked favorably at establishing a Jewish homeland in Palestine, was met with condemnation by gedolei Torah.
It wasn't.
Consider this, from Ohr Yechezkel (Emunah, עמ' רעט), by R. Chatzkel Levenstein, Mashgiach of the Mir:
והנה כאשר נתבונן נראה בעליל שימים אלו הם ימות המשיח…והנה עתה ארץ ישראל נבנית בצורה שלא נבנית מעולם, ויתכן שנבנית למען מטרה זו שתבוא הגאולה בהיות ארץ ישראל מיושבת. זכרוני בעת הצהרת בלפור שהחפץ חיים זצ"ל אמר שזו התעוררות לגאולה, אך מאוד צריך לדאוג מי יחטוף את הארץ שלא יעשו הם לבעלים עלי'.
.
על אחת כמה וכמה עתה שרואים אנו בניין ארץ ישראל ודאי שזו הכנה לגאולה.
The Chofetz Chaim saw it is a harbinger of redemption, while wisely cautioning that the wrong people might assert ownership or control of the new enterprise. Caution, however, is not the same as rejection. It was not the reaction that you would expect from, say, the Minchas Elozer, or Satmar.
More positive yet were the reactions of the Ohr Someach, and the Shem MiShmuel.
R. Meir Simchah was not very favorably disposed towards the Zionism of his day. The people of Dvinsk were not sure if he would show up at the gathering in honor of the declaration. He sent back that he most certainly would attend, and very perceptively saw in the Declaration the acknowledgment by the nations that Jews – after 2000 years of exile – were still a nation, besides a religious group.
Of course there is much more to say. If you want to watch a fascinating historical perspective, watch this, compliments of our evangelical friends at Christian Broadcasting Network.
But today, on the centenary of the Balfour Declaration, if your heart tells you that you wish to celebrate, I for one will have no objection.