Chassidim Who Opt Out: the Netflix Documentary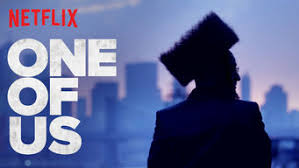 If you accept some of the reviews and the conversations with the filmmakers, "One of Us," the Netflix documentary released late last week is an artistic failure. Watch the film for what it seems to say, however, and you have to be more favorably impressed.
"Harrowing look inside the hasidic community," screamed one headline. The interviewer of the filmmakers, on his reaction to the Citifield internet event, said: "As a rabbi decries the horrific and enticing dangers of the internet to a packed baseball stadium, we become fearful of religious leaders who are as much mentors as they are ranting demagogues." After those introductions, you sort of expect an over-the-top hatchet job.
It wasn't. The film explores the experiences of two men and one woman who leave NY Chassidic communities. It does not attempt to look inside, explain, or understand the community as a whole. It just tells the story of those who wanted to leave, and the price that each had to pay. The filmmakers could have gone for the jugular. They didn't. They admit that the vast majority of the community is happy, and share a supportive communal life that so many others don't have. The visuals of the Chassidim back up that contention: lots of smiling husbands and wives. (Credit for some of this apparently goes to my good friend Rabbi Avi Shafran, who made the recommendations after viewing an earlier cut.) They are not portrayed as luddites. The kids act like kids, and Chassidim of all ages show enough cultural literacy to demonstrate that they have absorbed a good deal of America. Despite the searing criticism of the way those who move away from the demands of the community are treated, the film shows Chassidim who continue to accept the pariahs as human beings, maintain old friendships, and offer heartfelt guidance. Even the single explanation (which can easily be questioned) given by a Footsteps counselor as to why the rules of the community are so strict and draconian comes across sympathetically, rather than as a corrupt and cynical exercise of power. This is a community that lost everything in the Holocaust, we are told. Children are its most precious asset and its investment in a Jewish future. The Chassidim will go to great lengths to ensure that they stay in the fold. People are not acting this way to line their pockets, but because of commitment to an ideal.
So we can all let out a sigh of relief, right?
No way. Watching it was extremely painful.
First and foremost, it was painful because two out of the three Jews who are followed claim to be victims of abuse. One is a mother of seven children who was abused for years by her husband, and is now being abused by a combination of the NY legal system and the determination of the Chassidic community not to allow children to have a relationship with a mother whose practice no longer accords with their expectations of proper chinuch. The other is a young man who was abused in a summer camp. In both cases, the attitude of the community was to deny the abuse, refuse to act against it, and punish anyone who would go to the authorities for help.
It was painful, because whatever the facts in these two cases (we do not get to hear the "other side," if there is one), we know that abuse does in fact take place, that the reaction to it is insufficient, and that the community will turn on any accuser who goes to secular authorities.
It was painful, because we realize that the subjects of the film are not the only victims of abuse who are suffering, contemplating leaving, and often contemplating worse. It was painful to watch as an entire group of ex-chassidim gather for a seudas Shabbos together, and clearly get into the mood and the zemiros. You realize that they may think they have severed relations with Yiddishkeit, but their neshamos still cry out for it. Why, we think, did we have to lose those precious souls?
It was painful to watch as one of the men goes to an avuncular mentor/guide in the community to explain his decision. The young man talks about all his unanswered questions about G-d. He avers that if someone had been willing to give him answers, he would still be in the community. The mashpia is left almost speechless. The best he can up with is that Chassidim don't deal with whys and wherefores (he claims), but in how to lead one's life. He seems entirely incapable of offering even elementary explanations to common questions about Torah life. It was painful to watch because it is not only in Williamsburg that some of our children find their questions suppressed, or are given insufficient or silly answers because much of our world refuses to take these questions seriously.
It was painful to watch as there was apparently no group that suggested to the three protagonists that there are other forms of adherence to Torah and mitzvos that might work for those who have gone "off." It is as if, to the community, there is a binary decision to be made. You are either "one of us," or it really doesn't matter what you do with your life. So one of the three is shown exploring a church service (albeit as part of a drug rehab program), while another explores a Jewish Renewal service, rather than exploring a different frum group. [Correction: It was later pointed out (and I should have remembered) that the ever-resourceful Allison Josephs did create an organization, Project Makom, to do just that!)
It was painful to contemplate that the very insularity that works to keep the majority of the community in the fold essentially guarantees (in a world in which the "outside" world cannot be fully kept out) that a substantial number will drop out – and that there is still no program to maintain those dropouts as halachically observant Jews and functioning human beings when they leave. It was painful to realize that so many people still don't seem to understand how much the world has changed, and how new tools are needed to face new challenges.
Most of all, it was painful to witness the deep pain and suffering of three human beings, all the time realizing that there are many more whose stories are still untold.