Report From Houston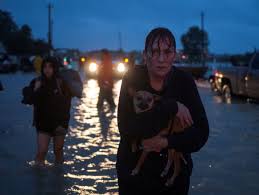 I asked Rabbi Yehoshua Wender, mara d'asra of Young Israel of Houston, for a status report for his community. He offered the remarks he sent out to his own shul; they capture what his mispallelim are living with. His words are reproduced below.
The situation elsewhere in Houston – including different Orthodox neighborhoods (Meyerland and Willow Meadows, as opposed to Fondren, where Young Israel is – is more tragic and more desperate, with synagogue and homes under six to eight feet of water – before the latest rains. Readers who wish to respond like we always respond to need are urged to contribute through the special funds set up by the Orthodox Union and by Agudah (online at agudathisrael.org – with "Disaster Relief Fund" typed into in the "comments" box)
According to the weather reports, the storm will be winding down over the next few days.

As we begin to exhale, and exit crisis mode, I would like share a few short thoughts with you.

Many members of the Jewish communities are suffering. They are out of their homes and for many of them this is not the first time. For families to go through this trauma again and again is so sad. May Hashem give them the ability to persevere and to heal during the days and weeks that follow. In addition. in order that we actively participate in helping these families, please sign up on the volunteer sheets that went out yesterday on my email and on the Fondren Jewish site. I would like to thank all those who have already started to organize this effort, even as the rain was still pounding on our homes.

I can't believe the amazing chesed of Jewish people from all over the world. My day is being spent on returning phone calls and emails from people who want to help. People who don't know anyone who lives here. People who are offering their homes, who live 1,000 miles away. People who have massive credit card debts, but need to help when they see such suffering. Rabbonim who are dedicating their Divrei Torah this Shabbos to help out the Jews of Houston. People who are determined to do other people's dirty laundry 🙂 Honestly, I am inspired by every single email and phone call.

B"H our community suffered much less damage. So many of us stood and watched on Sunday morning as the rising water crept closer and closer to our homes. B"H most of us, had no damage. And even for those who were damaged it was minimal compared to what much of the city went through. We should all have a tremendous hakaras hatov for having been spared while so many were not. We do not understand the ways of Hashem, but that should not stop us from appreciating the great chesed that we received this week.

May all of those who are suffering be consoled quickly and may all Houstonians go many more years before having to worry about flooding again.