Postscript to Unwanted Headlines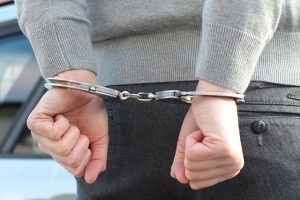 The announcement by Attorney General Jeff Sessions brought some comfort to people in our community embarrassed by the recent Lakewood arrests. Some 421 people in 20 states, including 50 physicians had been arrested for 1.3 billion dollars of Medicare fraud. "This event," said the AG, "again highlights the enormity of the fraud challenge we face."
Some found vindication and a sense of perspective in the story. What's a few million allegedly taken by a handful of people in a community of tens of thousands? Perhaps we don't look so bad after all. Others went further. Only anti-Semites would pursue a few young couples in Lakewood when NJ officials claimed that their efforts blocked over $700 million in annual fraud in just one type of entitlement program.
As others pointed out in various comboxes, both of these reactions are wrong and unfortunate. As frum Jews, we never dare compare our conduct to that of those who did not receive a Torah. Moreover, that same Torah tells us that non-Jews have the right to expect more from us. That's part of our job description. Stories of Orthodox misdeeds will remain high-profile regardless of the actions of others, because we are not supposed to be falling prey to this kind of behavior. Besides, the Orthodox sense of shared values makes our community a more likely candidate for policing. A few very visible arrests sends a powerful message to the rest of the community that can be expected to lead to others cleaning up their act. It is a more effective deterrent to future fraud than picking up 50 physicians in 20 states.
There have been some very positive reactions to the scandal stories, and much conversation about steps to take. Some of the reactions, however, point to troublesome attitudes that are deeply set implanted in some of our neighbors, and need to be addressed. I will cite two examples.
Consider these paragraphs from one of our print outlets:
Reb Nosson never bothered keeping organized records, but he couldn't duck the authorities forever. One time he was summoned to the government tax office with the request that he bring his accounting ledgers. "Well," Reb Michoel recalls, "he never kept a ledger, so he took the only document he had — his marriage certificate, with the listing of his seven children — to the tax authorities. The clerk gaped at the certificate and then sneered disdainfully, 'Get out of here.' "

Even the silver items that he purchased in Germany got to his store in unconventional ways. Reb Nosson befriended one of the customs clerks at the border patrol, making sure to collect his merchandise only on the days that this man was on duty, equipping himself with several bottles of expensive whiskey. Reb Nosson would declare that the boxes were full of shmattes that had no value. "But one time," Reb Michoel relates, "the clerk actually decided to open the package, and found a small silver goose. The clerk opened his eyes wide and asked my father, And-What is this?' "My father didn't lose his equilibrium, and managed to reply casually, 'That's a gift from my wife to yours…'"
Given what this Reb Nosson had endured at the hands of neighbors and governments, his attitude towards authority is understandable. It is disappointing, however, that the story could appear days after the Lakewood arrests without some sort of warning by the author that this kind of relationship with secular law should not be imitated by the rest of us. When such caveats do not appear, stories like this serve as models to be emulated today by those who did not suffer at the hands of evil governments. Think of any Talmudic passage that deals with evading taxes or border control agents. In every case, either the gemara or the rishonim will ask the question about dina demalchusa, and limit the case to an illegal self-appointed tax agent or an illegal tax. The important point to notice is that the case is not allowed to stand unchallenged and free of limitation.
A different take from a somewhat public figure gained traction, and exposes some different fault lines. It properly condemned any illegality, but urged our community to understand the nature and fallibility of human law. Why are the upper limits of entitlement programs set so low, when so many frum families struggle mightily even though they earn more? As a community, we provide many benefits to general society. Specifically, we pay property taxes without taking back any of the funds, since our children go to private schools. We also run many chesed endeavors for which the government doesn't pay. Setting the limits on programs where they are is the product of a Congress that is ill-informed, and legislates in ways that make no sense. Besides, we could ease the plight of countless families by not building a single useless aircraft carrier that costs billions.
We could question several of these contentions. More likely, every one. No numbers are given to support the argment that our property taxes exceed everything we take out of the system. (Really? Has he seen the numbers of Orthodox poor in NY, and all the entitlement programs they subsist upon? What percentage of us are paying property taxes? How many properties do we take off the rolls, by turning them into exempt religious institutions?) Do our chesed organizations save the government any money at all? Don't they cover services for which there are no programs – because if there were, we would be using them?
The real damage done by this kind of thinking (and let's be fair – it did not justify illegality, but called on people to be more vocal in their expectations of lawmakers) is in the attitudes that it perpetuates subliminally. Does it matter if Congress is "ill-informed?" Who, in a democratic society, gets to make that determination? If we are paying in too much, does that give us the right to decide to even the score a bit? Is this an unintended dog-whistle to those who see themselves as above man-made law, and only responsive to Divine law – an attitude that we unfortunately recognize in some of us? Would the author extend that right to the many other American citizens who send their children to private and parochial schools? Should ordinary citizens pass judgment on the needs of the military? Does that encourage some people to make all sorts of rationalizations about simply restoring a bit of equity and sanity when they game the system?
The shock waves after the arrests produced some good momentum towards finding solutions. Part of the process will be recognizing, rather than hiding from, points of vulnerability.