Fiddling For Open Access Bathrooms?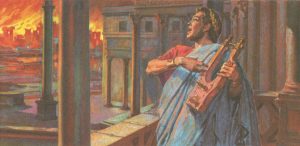 The tune that Nero fiddled while Rome burned was a sprightly, engaging one, I always imagined. Something upbeat and distracting, that took little effort to offer pleasure. Like many others, I have a harder time understanding what people in this country are doing as our own society daily displays wider cracks in its foundations. With everything else going on, why does access to bathrooms for a miniscule segment of the population so fascinate people, becoming the single most important cause célèbre of our day?
Pondering this, as well as the break-neck speed with which our fellow citizens changed their minds about same-sex marriage, I kept coming back to a clash of values that has been with human civilization for quite some time. According to one view of Mankind, there are no givens, because the human mind, left to explore without impediment, will constantly break barriers and make the previously impossible possible. A different view finds this risible, and notes that we are by nature limited. Our nature, our history, and the story of human association all make it wiser to discover our constraints, to work within them, and to embrace parts of the past that work. At different times of history, these views expressed themselves as the struggle between Hellenism and Judaism; between reason and religion; between liberals and conservatives.
The US, after a long period of honoring both viewpoints, seems to have decided to plunge headlong towards a Nirvana-without-rules. What is fascinating about the transgender issue is not the people, but the notion that we can rewrite even the rules we believed to be biologically imprinted. (We can't, of course, but they don't realize that yet.) The possibilities for human freedom and pleasure are endless. (Actually, they aren't, but they don't realize that either.)
Whether or not all of this is hogwash, I now have you focused on societal trends and differences. So you will likely appreciate some very strong commentary by R. Yosef Dov Soloveitchik, zt"l, written in a bygone era when people's chief concern about public bathrooms was whether they were clean. (The emphasis is mine, although I would imagine the author today both underlining and bolding some lines.)
The motto of orgiastic society was formulated long ago by the Generation of the Flood: "And the sons of the mighty saw the daughters of man that they are fair, and they took them wives whomsoever they chose" (Gen. 6:2). What the Torah underlines is the phrase, "whomsoever they chose." Orgiastic man seeks freedom from any normative system interfering with human hedone. No authority, this-worldly or transcendental, may legislate how man should enjoy life as long as he does not infringe upon the rights of others. Orgiastic man not only responds to inevitable biological urges whose fulfillment yields pleasure, but experiments with precipitating new pressures and unheard-of, newly contrived, artificial situations, which challenge the body to respond by engaging in gratifying action. In short, our Western society is a typical representative of the aesthetic society.

The Torah hated orgiastic man, whose abominable way of life was censured by the tenth commandment, "You shall not covet" (Ex. 20:14), meaning, Do not desire something which is beyond your reach. One must not stretch out his hand toward infinity, toward carnal boundlessness, toward the vastness that the flesh demands of man. The Torah did condone pleasant, happy, and gracious living, if enjoyment is bounded and the call of the blood is mod-erate. One may pursue pleasure if he knows how to retreat at the proper moment….

When I speak of orgiastic man or hedonic society, I am not referring exclusively to carnal hedone, to laxity of sexual morals, what is known in medieval scholastics as concupiscence or lust. As a matter of fact, the Western world is addicted to this kind of hedone…. However, I classify human questing under hedone if the element of boundlessness is present….Whether orgiastic man is a great industrialist, a brilliant financier, a Casanova, or a Napoleon, they all are members of the same society. Their imagination is surrounded with goods of sense and the halo of self-fulfillment. Their society is orgiastic, aesthetic, non-rational. [1]
[1] Days of Deliverance, pgs. 34-35