Jared and Ivanka: WE Are the Ones to Blame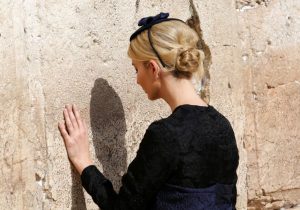 (This article first appeared in Times of Israel.)
In his blogpost Jared & Ivanka: An Embarrassment to Judaism, Sherwin Pomerantz writes that Jared Kushner and Ivanka Trump are creating a Chillul Hashem, a desecration of the Name of God, through their questionable conduct on the Sabbath – their motor travel in particular, which does not always seem so necessary, especially since violation of the Sabbath is only permitted in life-saving circumstances.
Mr. Pomerantz argues that the example set by Jared and Ivanka will serve to undermine Torah observance of Jews the world over, whose employers will henceforth reply to requests to be excused from Sabbath work and travel with, "I really don't understand, the president's daughter and son in law are observant and they get permission to work on the Sabbath, why can't you?"
In response to these concerns, everyone is highly advised to read an important statement on the subject that was just released by the TORA Rabbis organization, as well as a wonderful article on the subject by Rabbi Gil Student.
Based on current perceptions and popular thinking, I can understand why Mr. Pomerantz feels as he does. But there is one crucial point that makes all the difference and changes the game entirely. Mr. Pomerantz writes:
They trumpet their orthodoxy to the world and wear it as a badge of honor.  When politicians choose to do that they perforce take on themselves an obligation not to break the Sabbath and do whatever they can to ensure that they are shomre Shabbat, that is Sabbath observers as Jewish law dictates.
I must take issue. Not once have Jared and Ivanka advertised their religious practices or used them for political purposes. The only time that the couple says anything regarding their Jewish observance is when asked about it by others; they do not publicly advertise it in the slightest. This is in contrast with Sen. Joe Lieberman, who made his religious commitment a facet of his 2000 Vice Presidential campaign, and who several years later wrote a book about the Sabbath and how he observes it. This does not mean that Jared and Ivanka are not required to fully observe Halacha, but rather that their observance is a private issue as far as they are concerned.
Yet there is something far more important to consider. The public Orthodox/halachic image of Jared and Ivanka, and the resultant subjecting of their every move to halachic scrutiny, is something created solely by the Jewish community. It is not an image created by Jared and Ivanka, who do not advertise their religion; the image of the "publicly Orthodox/halachic First Family" is a product of the Jewish community, some of whose members are overly ambitious to project themselves onto those in the limelight.
As committed as they may be to traditional Judaism, Jared and Ivanka are not thoroughly observant/Orthodox, and this is public information. Whether it relates to reports of the couple snapping photos on Saturday morning on the White House's Truman Balcony, news articles about their eating in non-kosher restaurants, Jared not wearing tzitzis, or Ivanka's very revealing attire – Jared and Ivanka do not make any claims about being completely adherent to Halacha. The vision of Jared and Ivanka being "Shulchan Aruch Jews" (Jews who are totally committed to keeping codified Halacha) is a contrivance of the Jewish community, and is not being promulgated by Jared and Ivanka themselves.
The halachic halo placed over Jared and Ivanka by other Jews is damaging. It is generating confusing messages, it is fomenting useless controversy, and it is causing finger-pointing at rabbis who are accused of permitting that which would appear to be forbidden. Let's please stop focusing the blame on others; we should instead focus some blame on ourselves for the harm engendered by our creating something that never was.