Jammin' with the Pope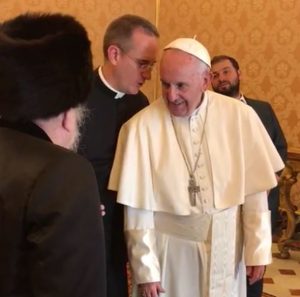 Others can continue the debate about the delegation that visited with the Pope and provided a bit of a musical interlude. R. Yair Hoffman provided excellent historical and halachic background, showing how common such meetings have been in the past, and what halachic sanctions there could be for them.
My contribution will be two observations that highlight the chochmah of gedolei Yisrael.
The very first time I was asked by an arm of the Israeli government to accompany a group of Christian pastors to Israel, I sought the counsel of R. Shmuel Kamenetsky, shlit"a. I expected some pondering of halachic issues that I had not thought of. Instead, R. Shmuel told me something that I have carried with me in countless encounters with members of other faith communities. "Go," he said. "But make sure that you are not mevater on the kavod of Klal Yisrael."
I was not zocheh to have been a talmid of R. Yosef Dov Halevi Soloveitchik, zt"l. I can only convey what I have read, and what I have heard from reliable others. R. Soloveitchik was no great fan of the ecumenical dialogue common in the '50's and '60's.[1] He turned down a meeting with a Vatican representative, so long as Rome refused to recognize the State of Israel. (That has since taken place.) He spoke disapprovingly of attempts to convey religious experience to those outside of the community of its practitioners. )See, for example, his essay, "Confrontation.")
Yet it is simply not true that he opposed all interfaith dialogue. Rather, he was unwilling to entrust such dialogue to anyone whom he did not trust as a ben Torah, or who lacked the philosophical sophistication with which to cogently and elegantly represent Torah interests, or who was not deeply conversant with the ways and mind of the Church. He did trust Rabbi Dr. Walter Wurzberger z"l, who acted with his blessings. After his petirah, the baton moved to the capable hand of, lehavdil bein chaim l-chaim, Rabbi Dr Dovid Berger. In these matters, הלבה כמותו בכל מקום.
Some of us who have studied the ways of the Vatican (and I say all of this without the slightest tinge of criticism) understand the care and precision they invest in every public statement, and can testify to the sense of regal majesty that they insist upon. We watched the comportment of the recent Jewish delegation with raised eyebrows. We cannot help but feel that those more experienced in Vatican protocol and in Catholic thought might have presented themselves somewhat differently. R. Soloveitchik was correct.
Even those who know nothing of these matters, however, will watch the videos differently after considering R. Shmuel's pithy and sage advice. He, too, was correct.
[1] There are other kinds, although this is not the place for their full description. They range from discussion of matters of common interest, to forging political alliances, to creating kiddush Hashem and placing Hashem, Torah, and Klal Yisrael in the best possible light.