Fear, Loathing and Orthodox Opportunity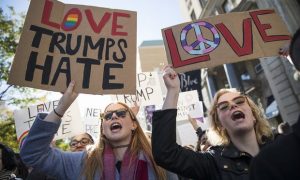 Question: What's the difference between American Jewish leaders and Donald Trump?
Answer: Trump will have Jewish grandchildren.
Ouch. Pithily makes the point, doesn't it? Reminds them who the real Jews are! Really draws the line, positioning a well-deserved us-against-them relationship, right?
Probably not. The urge towards triumphalism might be understandable for a short while after the unexpected outcome of the presidential race. One of the reasons for the Trump victory was the backlash against the PC elite who shamed, silenced and suppressed the instincts, feelings and voices of tens of millions of Americans for the last eight years. Those people – traditional Jews among them – need to gloat for a while.
Gloating, however, won't solve a single problem. More importantly, triumphalism will destroy what may be a window of opportunity for traditional Jews to connect with others. It would be tragic not to see the opening.
The losing side still doesn't get it. Not the thousands in the streets, threatening continued civil disobedience. Certainly not Hillary, who blamed FBI Director Comey for calling attention to the lost emails on Anthony Weiner's computer, rather than herself for her sloppy handling of them in the first place – as well as all the other weaknesses of her candidacy, her campaign, and the Democratic party's perceived abandonment of the "little guy." Neither does the Muslim who decried the President-elect's narcissism in the New Republic, proceeded to list a good number of reasons nonetheless why reasonable people cast their votes for Trump, and then ignored them all. Instead, he insisted that America broke its "sacred promise" to Muslim-Americans who had played by the rules, and that "America had betrayed us, had repudiated who we were" – as if the rest of America was supposed to elevate concern for Muslims above all others. His self-centeredness was not indicative of the mindset of American Muslims, so much as it was a reflection of the mindset of a narcissistic, privileged Yalie.
In time, they will all get it. (Some already have, like this Muslim writer, formerly of the Wall Street Journal, who takes a position antipodal to her coreligionist in the previous paragraph.) They will cease their meaningless street-demonstrations, become a bit more realistic about their inability to obstruct the incoming administration, take more responsibility for their failures, and achieve greater insight into the thinking of their neighbors. Many will lose their arrogance, and eat plenty of organic, gluten-free faux-crow pie. But they will not be happy.
As a group, one of the least happy will be establishment Jews. Some 71% of Jews voted for Hillary. (Interesting number, that. It happens to exactly coincide with the percentage of non-Orthodox Jews who marry out. Related?) Having replaced mitzvos with social justice, and moshiach with utopianism, heterodox Jews see the Trump victory as a wrecker's ball applied to the edifice they helped build. Having overwhelmingly picked the wrong candidate, they find themselves with less power than they ever had before. No wonder they've convened "shiva" sessions for the Manhattan politically-bereaved. The Democratic ship – the only one they ever considered seaworthy – has beached on a strange and inhospitable shore.
The Orthodox community did not support Hillary. It appears to have turned out for Trump by a large margin. Mr. Trump surely knows that Orthodox Jews were represented among his top advisors, let alone in his family. While other Jewish groups are calling themselves the opposition, Orthodox Jews are optimistic about being White House insiders in the coming years. We hope that we will be able to weigh in on important issues. Our agenda will include the strengthening of religious freedoms compromised by the present administration; favorable treatment of Israel, including US votes at the UN; the banishing of terrorist-linked CAIR from the White House; and the marginaliztion of JStreet and its corrosive effect on support for Israel.
So we are the new insiders, while the others are left looking. Right?
Wrong again. Everything in the previous paragraph is speculative. Some of it is wishful thinking. Much of it is out of our hands. One thing that is not is reaching out to the large numbers of Jews who feel that their universe has imploded. Some of them, groping to understand what has happened, might even be willing to listen to some of us.
Not all of them are shrill demagogues. So many exhibit what Rabbi Joseph Grunblatt z"l said of Vietnam-era protesters: they suffer from misplaced yetzer ha-tov! They are not the only ones who need to look more critically at their assumptions. We need to do that as well – at least to acknowledge that much of the vision of what they want for America and the world comes from a good place! It coincides with the demands of our own nevi'im. As they struggle to understand, they should hear from us that we validate their aspirations – even as we disagree about how and when.
Some are too wounded or too insecure to talk or reason. But some are already looking to understand how their neighbors could disagree with what they took for granted. While we, the Orthodox, often lacked both the incentive and the vocabulary with which to communicate in the past, we should now look for opportunities to speak to our Jewish coworkers and neighbors, at least those who want to hear. We should reassure them that their hearts are in the right place, and we respect that. There will be time later to explain why many of us can agree in principal, but part company in application. We can defer the details of the conversations about the intrusiveness of big government, about the counter-productivity of entitlement programs, about our abhorrence of social engineering – particularly when it discards and obliterates anything good and refined from the past.
There will be time for that. Right now, we have a chance to let some of them know about us, including that neither we nor our beliefs are deplorable.
The elections ought to firm up a relationship with another group: Evangelicals. Some 80% of white Evangelicals voted for Trump. The percentage was smaller among Latino and African-American evangelicals (can you blame them?), but many of them also denied Hillary the votes she expected.
I spent the two days just prior to the election in Tulsa, in the Trump heartland. It was the third year in a row that I have taught at Oral Roberts University, where they love G-d, Scripture, and the Jews. At an evening SRO event for the campus community, I spoke about Evangelical fears about the government leading the way in restricting religious liberties when they advance positions deemed to be at odds with its ideas about personal happiness.
I argued that the government coming after bakers and florists was the smaller of the two problems they faced. Lawsuits brought by the government and private agencies could be and will be countered by religious defense agencies. The larger challenge for them, I said, was (paraphrasing the subtitle of R. Yehudah HaLevi's Kuzari) that for the first time since the Mayflower landed, Christian believers were not only a minority, but a despised minority. Contemporary culture had ruled in favor of the abolition of rules and tradition, at least when they got in the way of what its shapers and spokespeople thought were happiness and fulfillment. Surviving as a cultural minority was a much more difficult prospect than warding off unfavorable lawsuits and legislation. (I told them about Pharoah's telling Egyptians clamoring for food that they should go to Yosef and do anything he asked of them – which according to Chazal meant circumcising themselves. Now, why would Yosef want the Egyptians to do that? I gave them R. Dessler's insight. Yosef was preparing for the exile of his descendants, who would have to live as a minority among the Egyptians. If they would be the only circumcised males, the cultural pressure would drive many away from their roots – just as many such locker-room encounters did for Jews in the opening decades of 20th century America.)
I told, them, though, to relax. Orthodox Jews demonstrate that people can live as a cultural minority. They can survive and even thrive. They were free to figure out how to do it, or they could learn from our achievements and our failures. I told them that they are safe speaking with us, because we don't proselytize. . (As Jews, we have to take issue with parts of their theology. But we encourage all people to take G-d seriously, for their own good, and for the survival of society.) We don't need or want them to become Jewish or practice mitzvos. Their Seven Noahide commandments are just fine. But there are aspects of our success that can work to keep belief in G-d alive in their children and grandchildren: education, replacement of popular culture with a home-grown one, the incorporation of a sense of holiness in everyday life, and joy in the study of G-d's Word.
Evangelicals are breathing a sigh of relief after the election about hostile legislation, which they assume will abate. But they know that, despite the highest retention rate for Christians – 69% – they are losing many people. They know that we Orthodox do, B"H, better than that. For some two thousand years, our influence on those outside our faith was very indirect. We taught by tenaciously surviving. We are now in a position that we can inch forward – slowly, and with trepidation, to be sure – to more directly share with those who wish to hear what it means to be in a close relationship with HKBH.
As Torah Jews, we prefer a world of imperfect understanding of G-d to one of atheism. We also know that the Palestinians are working overtime to sever any relationship between Christians and their Jewish roots. They are attempting to do to history what UNESCO did to Har HaBayis. Many Evangelicals know that Orthodox Jews voted the way they did, and it was largely for similar reasons. This creates opportunity for us to create a new strategic alliance – in support of Israel, and in the other battle, the one to put G-d back in America.