Schmutz is not Torah Law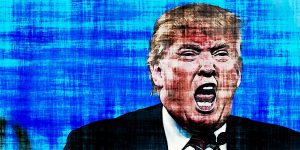 When I was a lad in Borough Park eons ago, it struck me as odd that some of the siddurim in the shul where I davened included a tefila for the health of the Czar. He certainly was no friend of the Jews and so I wondered why we were praying for his health. Not many years later, after the State of Israel was established, King Abdullah of Jordan visited the United States and a group of yeshiva students, me not included, went to Rav Moshe Feinstein to ask whether while they were picketing him, they were also required to make the blessing recited upon seeing a Gentile king, "Who has given of his Glory to human beings." In all candor, I do not recall Rav Moshe's response.
These were essentially abstract situations, not directly affecting our lives. In the years since, elections have come and gone and although there often was disagreement within our community over which party or candidate deserved support, there was little emotion on either side of the issue, the general view being that each person was entitled to make his or her choice.
Donald J. Trump has now been president for nineteen days. Prior to the election, his mode of operation was to denigrate people, whether they were crippled or had been prisoners of war or just plain political adversaries. Schmutz was his forte. In word, thought and deed he was enveloped in what clearly is antithetical to the norms that guide our religious life. After the election, there was a continuation of a style that dishonored the office that he would soon occupy. Yet, there was the hope, in retrospect probably naïve, that when he became president there would be a change.
There hasn't been a change. Schmutz continues to be his modus operandi. He has done nothing to unite the country and just about everything that he could to further divide the country. It is as if vulgarity is as much part of him as is the skin that encases his body.
This reality is America's problem. We have to hope and pray that the processes of checks and balances and other instrumentalities of this great democracy will somehow offset the damage that is being done.
There is a more parochial arena of damage that especially concerns me. It is the support, indeed the enthusiastic support, that he is receiving from Orthodox Jews. There are Torah leaders who have proclaimed that Daas Torah mandates support of Mr. Trump. Doubtlessly because I am not a Torah scholar, it escapes me how our religion might mandate approval of a person whose behavior includes sexual abuse, lying, cheating and so much else that should be repugnant to us.
And so although I have attempted to be obedient to Torah authority for two-thirds of a century, I write here that there is no Torah law that sanctions Donald Trump's behavior and there certainly is no Torah law that mandates our approval of his behavior.
Marvin Schick