The Gift of a Lifetime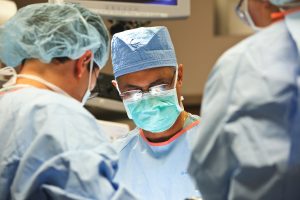 By Elizabeth Kratz
My friend and Jewish Link colleague Jenny Gans and I have a few things in common; these are not by a long shot the only reasons we are friends, but these things we have in common bind us together in a special way. First, we are not doctors, yet we both know "more than the average bear" about transplant medicine. Second, we both lost a parent too soon. Third, the end-of-life experiences, me with my father and Jenny with her mother, made us understand that a person has the power to save the life of another, and that it is incumbent upon us to spread this message.
This Rosh Hashanah, I ask you to consider the following connected four thoughts:
First, last week in our pages, you may have read Jenny's story about Adam Krief, a 31-year-old husband and father of three small children, with primary myelofibrosis, a type of leukemia, in desperate need of a bone marrow transplant. The Jewish bone marrow registry Gift of Life, which numbers more than a quarter of a million people, has yet to find a match for Adam. There are 26 million people listed in the various combined international bone marrow registries in which Gift of Life partners, but the global donor pool needs to have ethnic and racial diversity for matches to be made. Adam, whose Moroccan Sephardi Jewish ancestry is not well represented in the registries, is languishing at City of Hope in California as he waits for a match.
Today, thanks to the efforts of Gift of Life, and particularly the efforts of founder Jay Feinberg and his parents, who searched nationwide among Ashkenazi Jews for his bone marrow match, there is a 75 percent chance of an Ashkenazi Jew find a matching HLA (human leukocyte antigen) type for bone marrow, compared to a less than 5 percent chance when Jay initially found his transplant in the mid-1990s. Since Adam went public with his story less than two months ago, Gift of Life has run a record-smashing 216 drives since August 21, "which will ultimately, God-willing, help Adam and also many others," said Jay, when I spoke to him by phone this week. Because tissue-type is inherited and ancestry plays a significant role in HLA type, it's likely that Sephardic Jews who need bone marrow transplants will be greatly helped in the future by the push of Adam's family and friends now.
We are told the matter with Adam is urgent, and several weeks from now he may be too weak to accept a transplant. If the recent videos making the rounds on Facebook have not made you check if you are in the registry (https://www.giftoflife.org/page/content/am-i-registered) or to take action to get swabbed (https://www.giftoflife.org/register), I ask you to visit these links and update your information at your earliest opportunity. Jenny's mother passed away before a match could be found.
Today, there is a 1 in 1,000 chance of someone in Gift of Life's 18–35 age group being asked to donate bone marrow, and often, it is easily and simply donated through stem cells extracted from the arm, as opposed to earlier methods that extracted the marrow from the donor's hip, under anesthesia.
Second thought: This week, also in our pages, I brought you the story of Karen Orgen, who, with the help of the Jewish kidney donation organization Renewal, donated a kidney in the merit of her father, David Lew, a"h, who had needed a kidney a number of years ago and matched Karen, but did not survive long enough for the transplant to take place. Karen contacted Renewal over the past year and began the process of donating her kidney to a fellow Jew who needed it. Karen joins a growing number of Teaneck and Bergenfield residents who have become altruistic kidney donors, giving the gift of life to another who is desperately ill, lowering the numbers of many local Jews who are currently awaiting living kidney transplants.
My third thought: There are people who are extremely sick in this world, and there is not yet a known cure for these diseases. We have written about those suffering with ALS and muscular dystrophy, who are living with chronic, degenerative illnesses. But leukemia/blood cancers and kidney failure are not like this. Certainly they are degenerative; and without treatment they are terminal, but the miracle here is that our world's most talented scientists, guided of course, with the hands of Hashem, have created cures in bone marrow and kidney transplantation. Amazingly, one person can actually give of himself and save the life of another. It's shocking if you think too hard about it, that this is an actual thing one person can give to another: a new life. The people who receive transplants often tell others they have "gotten a new lease on life," and remark how their life was renewed, saved or otherwise created anew. The overwhelming comment of those who have donated a kidney to another has been, in the words of Teaneck Chabad's Rabbi Ephraim Simon: "My only regret is I can't donate my kidney a second time."
To bring it home: I can't tell you how much it meant to me that my father, a"h, was present when my girls were born. Just a year earlier, I had been sitting with him at the UCLA Medical Center, his heart pumping by virtue of the miraculous BIVAD unit, a massive machine that pumped and circulated his blood for him, telling him that he had to keep up the strength to wait for a new heart, which he eventually received, after three months in the hospital. Yes, my father was the recipient of a miraculous, lifesaving heart transplant; he came out of retirement and went back to work, citing a "change of heart," which made us both groan and smile that my dad could joke so casually. He proceeded to walk his last two unmarried children to the chuppah and witness the births of four grandchildren, including my twin daughters, before he ultimately passed away. I can't tell you what those years with my father back with us, no longer a shadow of his former self, meant to our family.
Today, Adam's family waits for a bone marrow match. And 315 other Renewal families are taking their loved ones to dialysis, sometimes three times a week, hoping upon hope that they will survive long enough to find a living kidney donor match.
This Rosh Hashanah, as our year begins anew, we know we all have work to do. We know we have to be better parents, children, students, teachers and friends. We have to do good and work harder to live lives filled with mitzvot. But this year, I ask that you consider what it means to truly give, and truly take advantage of the miracles of science that Hashem has given to us. What would I or Jenny give to be a match for Adam Krief? If only.
This Rosh Hashanah, I ask you to visit, and give according to your ability, to the following organizations: http://www.giftoflife.org, http://www.life-renewal.org, and http://www.hods.org.
Elizabeth Kratz is Associate Publisher and Editor of The Jewish Link of New Jersey and The Jewish Link of Bronx, Westchester in Connecticut. She can be reached at [email protected].