The Realignment of American Jewry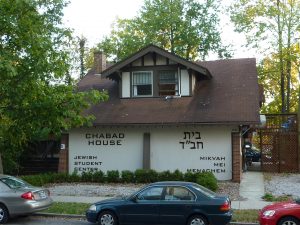 by Rabbi Dovid Eliezrie
If only traditional Judaism would lower its standards, become more open minded, there would be a Jewish renaissance. That is the assertion of Rabbi Yitz Greenberg, in a recent article in the Jewish Week. He points to what he calls "open Orthodoxy" as proof that a shift is underway. He believes that if this movement continues to grow it will create a new Jewish middle.
American Jewish life is already experiencing a fundamental realignment. There is a new Jewish middle and it's not Greenberg's brand of an orthodoxy that has lowered classical standards of Halachic observance, pushed time honored principles of belief to the edge, and some would argue beyond it. That new Jewish middle is Chabad, and, as they say, the proof is in the numbers.
Today in North America there are more Chabad Centers than either Reform or Conservative Temples. And while many liberal congregations are consolidating and merging, Chabad is booming and building. Evolving in cities and towns across the US, from living rooms, to storefronts, and eventually impressive centers, filled with Jews of all backgrounds. This shift is happening without compromising core values of Halacha and belief. If you walk into a Chabad Center in Bozeman or Boston, you will only find Chalav Yisroel on the table. The Mechiza will be the proper height, and there is no initiative to institute "Partnership Minyanim."
The recent demographic survey, by the very non-orthodox Jewish Federation of Greater Miami, reveals remarkable statistics on Chabad involvement. These numbers are indicators of the restructuring of the American Jewish community already underway. In Miami 27% of local Jews are active in Chabad, among Jews 35 and younger the number skyrockets to 47%. What is most intriguing is that only 20% of those who attend Chabad self-identify as Orthodox. The Jewish middle is clearly shifting, and while tiny numbers may gravitate to Greenberg's new brand of orthodoxy, the numbers are infinitesimal in relation to Chabad. By choosing Chabad the new generation is boarding a train headed towards observance instead of away. For some it may move at a slow pace, for others more rapid, but the direction is a new one for many Jews.
What is drawing them in? It's a balance of Ahavat Yisroel and fidelity to tradition. Jews coming to Chabad understand this unique dichotomy. Every Jew is welcome, but the rules are not changing. As one prominent leader of a local Temple told me some years ago "You guys don't move the goalposts." It's a Judaism of "what you see is what you get." Many are tired of religious committees changing the rules after long cantankerous meetings. They respect the fact that Halacha is upheld and beliefs are not modified. They appreciate that Judaism is not imposed on them, but rather they are given the space to grow at their own pace in observance, slowly, Mitzvah by Mitzvah.
This shift in modern Jewish life is already having broader implications for Jewish communities. Chabad's focus on the deeper spiritual connection to Israel, and its strong stance on ensuring its security is prodding many Jews to be more supportive. Its emphasis on Jewish education and observance is influencing major groups like Federations, to elevate those areas on the communal agenda.
At the core of Rabbi Greenberg's arguments is a deeper debate over how does an observant Jew straddle living in a modern open western society and maintaining religious values. . Life back in the European Shtetl may have been bleak, but it was also predictable. Jews lived in a closed community, with little choice or opportunity. Today the sky is the limit. You can live a life of freedom and chart your own destiny. You can spend years in Kolel, run for Vice President of the United States, or have a successful business career.
Traditional Judaism reacted to the challenge of this new reality in a variety of ways. Some hunkered down, attempting to build a moat between themselves and the society around them. Many religious Jews strove to navigate this new paradigm, seeking a middle ground, balancing modernity and Torah values. Those in Rabbi Greenberg's camp advocated a greater integration, allowing Western values much greater influence. Chabad took a strategy of "principled engagement." To deal with the world, but always have Torah as the core values animating that engagement.
The variety of responses in the Orthodox community to the question of the joining the army in Israel are illustrative of these divergent philosophies. The Religious Zionist movement encouraged its young men to join the army or Yeshivat Hesder. The Haredi community reacted in varied ways, some strongly resisting serving. Others in the Haredi camp are slowly becoming more open to the idea. Chabad Chassidim historically welcomed the opportunity to serve, joining the army after completing Yeshiva and period in Kolel.
Underlying Chabad's approach of principled engagement are philosophical concepts that Chassidus-Chassidic philosophy stresses greatly, that the world is inherently good and holy. Our task to reveal the Kedusha-the sanctity-embedded everywhere in the world. That each person has a Divine soul, with unlimited potential for good.
Jews of all stripes are drawn to the Chassidic teachings that emphasize the possibility for sanctity in everything we do, and the power of each individual to make world a "Dirah Betachtonin.", a dwelling place for Hashem. The key to Jewish renaissance is not by lowering standards of observance, rather living a Judaism filled with compassion for another, while striving to follow the teachings of Torah to the fullest.
Rabbi Dovid Eliezrie is author of The Secret of Chabad-Inside the World's Most Successful Jewish Movement. He is a Chabad Shliach in Yorba Linda California.