The Disappearing Woman – A Collection of Bullet Points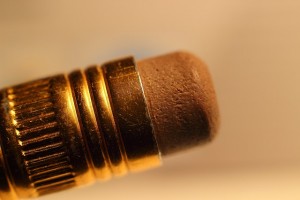 The topic is important enough that elaboration is in order. It will be closer, really, to a summation of some of the points raised in the discussion, plus perhaps one new point not raised by our readers. Briefly, this is why I cannot wrap my head around the growing trend to remove all references to women from public view:
It is not about pictures. I would reject the across-the-board ban on pictures anyway, for reasons I will soon explain, but I could still find words to defend it. The banning of pictures, however, is a distraction. For quite some time we have seen our publications and local announcements eliding all mention of women. Publications don't include their names, and substitute initials. In some circles, the word "woman" itself is censored. Something more is going on than protecting the purity of males by removing temptation as far as possible. It is clearly not just pictures.
Even in regard to pictures, changing policy from what it used to be is, I believe, indefensible, for a number of reasons. These reasons do not apply to groups that have long had this policy. My beef is with others picking up on the practice, as if they are doing HKBH a favor. They aren't. (The sharp words that the Rambam (to Mishnah Chelek) addressed to those who took every aggada literally come to mind.)
To my tastes, arguing that it is too difficult to make distinctions between pictures, so all should be banned, is the single most distasteful element of this discussion. (I'm sure it would be different if I were a woman.) It represents capitulation to the most dangerous thinking in our community today – our disbelief in our own common sense. When we jettison common sense, when we no longer can nod vigorously in recalling Rav Yaakov Kamenetsky's iconic "men darf zein normal," there is no predicting where we will land up. How hard is it to allow pictures of children, of clearly old women, of face shots of any woman? Didn't we make a point for decades when we tried to explain why we insist on covering up as much of the body as we do that we would never cover the face like the Arabs, because the face is the window to the neshamah?
Specifically, I spent too many years teaching law school students the difference between carefully considered rabbinic legislation and the Islamic general "blocking the means" that is the source of the Saudi ban on women driving. I am not prepared to turn Saudi and eat my former words.
Some have argued that the new policy reflects new needs. We are not wedded to the past. We react to new situations. Our generation is both subject to more sexual stimulation than previously, and more prepared to accept gedarim that are helpful. This is all true, but I don't believe it. I cannot believe that pictures of faces of frum women are one hundredth as destructive to the public good than the pages and pages of advertising that run counter to everything in the print columns. Can anyone really argue that our kids are no affected in much more serious manner by constant exhortations to upgrade their wines, their clothing, their visits to foreign resorts (Daf Yomi and Chassidishe shechita only)? Do our advertising pages reflect the ethos of Kedoshim Tihiyu, and of a siman in Shulchan Aruch that demands of us that all of our kavanos should be leshem Shomayim? Are we aware that we are mocked by other Jews who see our rank materialism as hypocritical at best, and a repudiation of spirituality at worst? We don't ban the sustained siren call for more, better, and classier, but instead we ban frum women to ensure that we maintain spiritual loftiness?
Another argument that I completely reject asks rhetorically, "What does it hurt to be machmir?" This is a negation of so much that we know to be true from our mussar literature, that to hear the words is painful. Of course it hurts! From clear-cut halacha, we do not budge. We will pay the price, and bite our upper lips through the mockery. But when it comes to being machmir, even for good reason, we are bidden to keep some realities in mind. Every time we deny ourselves something that is mutar, we pay a price. There is pushback from our yetzer hora. Often, the price is worth it. But we need some really clever accountants doing the cost benefit analysis. In the case of this campaign, some of the costs are astronomical. 

They include, in no special order:
• The policy is a huge turn-off to many of our kids, who are cynical and wary as it is about the tendency to routinely assur too much.
• The comparison to ISIS and the Taliban is all too common. Contrary to what some think, we care about what others say about the Torah – Jews and non-Jews. (Chalitzas ha-kaseif was instituted by Chazal as a required form of aveilus. The reason we don't do it, according to some, is that it would lead to mockery by non-Jews.) Do we not care about the disrepute that this brings upon Torah?
• It drives away potential baalei teshuvah, who find it repressive and nuts.
• It fuels the hashkafic and halachic depredations of the neo-Conservatives, who point to the haredi world and argue, "If you don't want to end up like them, you had better accept our progressive and liberal positions. It's either them, or us, with our egalitarianism and our rabbahs."
• It causes concern to women raising young girls, and not sure how they are supposed to explain the disappearance of women to their own daughters.
The argument that frum women don't mind is simply not true. I don't claim to have scientifically polled the population, but from those with whom I have spoken, and those who have written, I see that this is not true. Frum women of good Bais Yaakov background genuinely do not mind mechitzos in shul, do not froth at the mouth at the thought of being reduced to spectators on Simchas Torah, do not clamor to became rabbahs, and understand why genuine laws of tzniyus do put a burden upon them that requires mesiras nefesh in the summer, and generally when shopping for clothes. All this they understand, because of the effectiveness of our Bais Yaakov chinuch. But many of these same women are horrified and offended by the campaign to turn everyone with a double X chromosome into She-Whose-Name-Must-Not-Be-Mentioned. That is significant, even if we don't have stats on how widespread is the dissatisfaction.