A Visitation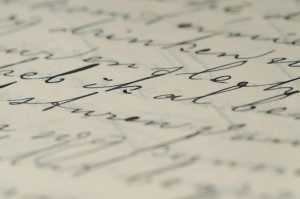 By Shimon Stern
News item from the Religious Action Center of Reform Judaism: [Women of the Wall activist Anat] Hoffman points to a photograph on the wall of her office of Rosa Parks being fingerprinted, and likens her experience this week to that struggle for civil rights.
Anat had just dozed off at her desk under the photograph of Rosa Parks — the one she always liked to point out to guests — when suddenly she felt the presence of someone else in the room with her.
Slowly moving her hand to a letter opener, she grabbed it and swiftly turned around. Relief washed over her and she smiled. It wasn't a haredi, only an elderly black woman.
"Who are you?" she asked.
Without a word, the visitor pointed to the photograph on the wall, of when she was younger, and alive. It showed her being fingerprinted by a Montgomery, Alabama police detective.
Anat was incredulous. "It's you?" she gasped.
The apparition spoke. "Yes," she said, nodding her head. "I understand that you have been invoking my memory."
"Yes, yes!" Anat enthused. "I am like you. Look, see!" And with a flourish, she held out her finger, still unwashed from her own experience with the police — these, in Israel — several days earlier, the ink no longer fresh but still there.
"I am a civil rights pioneer," she continued proudly. "Just like you! You stood up to racism. I stand up to haredi-ism."
"What is a haredi?"
Anat made a dismissive noise. "Jews," she answered, "who insist that religion doesn't change, and that their old beliefs and practices are still relevant in our wonderful modern world."
"Like Southern Baptists?" Rosa said wistfully.
Anat had never heard of Southern Baptists, so she ignored the question.
"Listen," she explained. "I gather a group of women and we bring a Torah scroll to the Western Wall here in Jerusalem. And we get arrested!"
"Why do you do that?" Rosa asked with puzzlement.
"Because holding a feminist prayer service at the Wall's main plaza is against the law! Those haredim have been running the site like it's some sort of Orthodox synagogue. They insist that public services at Judaism's holiest site be conducted according to Jewish 'tradition' — which I reject! They say they are forbidden to hear women's voices chanting and singing!"
"What civil rights are being violated?" Rosa asked, puzzled.
"What is your problem?" Anat asked loudly. "A women's prayer group has a right to read the Torah aloud at the Western Wall, doesn't it?"
"Well, perhaps," said Rosa. "If it doesn't bother anyone."
"And if it does?" fumed Anat. "Why should that matter? Didn't it bother the bus driver that you wouldn't move your seat?"
Rosa's eyebrows furrowed. "I refused to move," she said quietly but sternly, "because of the society I lived in, where one group of people treated another one as less than fully human. Do these haredim consider you inferior or sub-human?"
"They probably do," sniffed Anat, "the beasts. But whatever, they don't allow us to have our services!"
"Anywhere?"
"No, at the Wall," Anat responded. Then, thinking a moment more, she felt compelled to add: "At least at the main plaza."
Rosa frowned. "Is there not an adjacent area just as close to the Wall, set aside for you, where you can pray as loudly as you like?"
"Oh, please!" said Anat. "We don't want that place. There are no haredim there to — I mean, there isn't any reason we shouldn't be able to do whatever we want wherever we want!"
"Do these haredim bother you if you just come and pray quietly there?"
"No, but we have a human right to pray as loud as we want! Anywhere we want!"
"Well, dear," said Rosa, somewhat exasperatedly, "I don't know that you have such a right if it bothers others unnecessarily and violates their religious feelings. You know, I lived a religious life myself. And what I fought for was respect for all people and an end to hatred. It is wrong, you know, to hate people for the color of their skin — or for the color of their clothes. And these haredim? What do the women among them think? Do they feel their rights are being violated?"
Anat grew angry. Why, she asked herself, couldn't the old lady understand? Maybe, she thought further, "Rosa" … was really… a haredi! But she really didn't look like one.
Suddenly, all was dark. There was knocking at the door and Anat lifted her head, which was buried in her arms before her on the desk. Looking up, she groggily said "Come in" — as she realized that her conversation with Rosa had all been just a dream. But, she thought to herself, it has been so vivid… so real!
One of her fellow activists, Joan, opened the door and entered the room. "Good morning!" she said cheerily. "Did you call the photographer and videographer about today's service? We can't have them coming late again. They almost missed your arrest last time!"
Anat confirmed that all the arrangements had been made, and Joan offered that she had obtained the refreshments for the post-arrest celebration. Then the guest's eyes settled on the frame hanging above Anat's desk. She gasped.
"Anat!" she exclaimed. "What is that photograph doing there?"
Anat look up at the Rosa Parks photo, but it wasn't there. In its place was one of a strange-looking man with big hair, striking a noble, yet somehow comical, pose.
"I – I don't know!" she responded. "I don't even know who he is! Do you?"
Joan, who hailed from New York, recognized the face immediately. "It's someone pretty well known where I come from."
"Who is he?" Anat asked, staring at the photograph with amazement.
"His name," Joan replied, "is Al Sharpton."