At Whom Do We Point Fingers?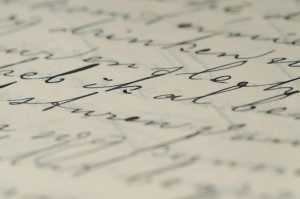 When I posted my response to David Ellenson's latest anti-Orthodox diatribe, I said that Rav Mordechai Eliyahu's speculation that the Holocaust might have been caused, in spiritual terms, by the old Reform Judaism was an exercise in "point[ing] fingers at ourselves first," a traditional Jewish response to tragedy. Ori Pomerantz inquired if it would not be more appropriate to point at things Rav Eliyahu's followers actually did. I responded that (a) it wouldn't be appropriate to ignore that rebellion against G-d while pointing at smaller things, and that (b) one frequently hears Rabbis blaming the Orthodox for letting down the non-Orthodox, giving the example of the Rosh Yeshiva who "told his Talmidim that if they are mevatel Torah, if they fail to study with diligence, then another Jew lights a cigarette on Shabbos in Berlin."
This Shabbos, Rabbi Shimon Levin, a local scholar and sofer (scribe), put this principle into action. Following our own services, we had gone to a Bar Mitzvah celebration to congratulate the young man and his parents at a Kiddush; they were still finishing, praying Musaf (the "Additional Prayer" for Sabbath mornings). He stepped inside for a few moments, and came out saying that he'd had enough of disgracing G-d's Name in the Sanctuary for the day.
He had gone in because he noticed that they were about to say the Kedushah, sanctifying G-d's Name, the holiest moment of communal prayer. Following an old custom, congregants had thrown candies at the Bar Mitzvah boy after the Haftarah, and Rabbi Levin had seen a fellow in a black yarmulke, with a Tallis over his head, throwing candies during Kedushah — and gesturing to encourage others to throw them back! Wearing a black velvet yarmulke and Tallis over the head are both supposed to signify someone who is serious about his Judaism, and this fellow was … tossing candies during Kedushah.
An older and less learned congregant turned to Rabbi Levin and mentioned the many cars parked outside, implying that non-observant relatives had driven in for the service. Rabbi Levin's response acknowledged that that might be true… but he said "that doesn't bother me. What bothers me is this man throwing candies during Kedushah, and the people in the back who drove in are looking at him and saying 'this is what you think of Judaism?!'"
He then went on to describe a scene that happened at another local synagogue. One morning a young African-American man came into the synagogue when services were going on. People asked what he was doing there, and he said he wanted to learn about Judaism. So they gave him a prayer book and he followed along. Then, at the end of services, a group of men sat down to study together — but some people asked the visitor to go. They were studying the law, they told him, and he couldn't stay.
The underlying assumption, said Rabbi Levin, was that the young man was crazy. It was as if they felt there was nothing in Torah Judaism that a person could sincerely want in his own life — and that's wrong.
I recall hearing a young man say in college that while he was Orthodox, he didn't feel he could say to others that they should be Orthodox. I was disturbed enough by that remark to ask Rabbi Dovid Gottlieb (of Ohr Somayach, not our Rabbi Gottlieb) about it when I went to yeshiva the following summer. His response was similar to Rabbi Levin's reaction to the men in synagogue — it meant that something was wrong with that student's own observance.
An observant person must feel that observance is a joy and a privilege, the birthright of every Jew. To be observant is the natural state of every Jew, and a Jew without Torah will flail about like a fish out of water, searching for meaning and purpose. Before we can ask anyone else to feel that way, we have to feel that way.
It's not hard — just look around. Whatever the favored "-ism" of the day, you will find Jews at the highest levels of involvement, from Communism to Socialism to Buddhism to the "Harriet's Kishkas" (which, being real live idolatry, we shouldn't name accurately). Jews seek achievement at top universities, on Wall Street and in Hollywood.
When people talk about why they are not observant, they will often point at the attitude of observant Jews. Much of this is false. First of all, they see the burden of mitzvos and don't want that level of commitment. But further, they are encouraged by articles like David Ellenson's to think that people such as Rabbi Eliyahu "hate" them. I've never met Rabbi Eliyahu, but I know that he would welcome any Reform Jew into his home and treat him like an honored guest. Rabbi Gifter zt"l [1915-2001, Rosh Yeshiva of Telshe in Cleveland, OH] told the story of sending a Conservative Jew to visit Rav Shach zt"l [1898-2001, acknowledged head of Lithuanian Jewry and the creator of the Degel HaTorah political party] without telling the fellow whom he was visiting. When he returned, he talked about what a wonderful, warm, and obviously loving person the great Rabbi was, and responded with disbelief when Rav Gifter described Rav Shach as "the head of the fanatics!"
What, then, is the kernel of truth? That we have failed to live as a society in a way that screams out to every Jew that they, too, want to live this way. People have to look more deeply, under the surface — like the South African sociologist who became a Baalas Teshuvah after doing a study of observant Jews. If non-observant Jews are not stampeding towards observance, it is because we have left the diamonds covered over, instead of polishing them and laying them out on display for fellow Jews to see.