BS"D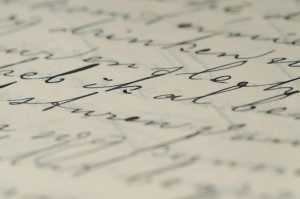 I seldom disagree with Gil Student, whose Hirhurim is the only other blog I routinely look at. I don't share his misgivings about the widespread use of a Hebrew legend invoking Hashem's assistance – like BS"D – crowning the top of every scrap of paper people produce.
Gil points out that the Chasam Sofer and Rav Chaim Soloveitchik were apparently not in the habit of writing such a formula. Why, he asks, are we frummer than the giants of the past?
The answer, I believe, is in a Mishna in Berachos 54A, where Boaz is credited with a halachic innovation – apparently not practiced by the Gedolim of generations antecedent to his – of incorporating the Name of G-d while greeting people. The words of Rav Yosef Zev Lipovitz (Nachalas Yosef, Rus 2:4) are telling. He first explains that the practice seems to reduce the Majesty of G-d, by joining Him to the pedestrian and ordinary affairs of common folk. Of course, he writes, our mesorah actually insists on viewing Hashem as connected with the most mundane of our concerns and tasks. He continues:
Boaz and his beis din (court) were the first to incorporate this outlook into the Jewish life-style. They decreed that we should incorporate the Name of G-d in extending greetings to people, and to bless their handiwork with the Name of G-d. It appears that this was something that the times necessitated. They sought to repair breaches in the Jewish nation, and to offer a cure to the maladies of the times…
It seems reasonable to me that something similar is behind this rather recent custom of ours. Arguably, we live in times in which our focus upon Hashem is easily dulled, when much of our consciousness of G-d is diluted by far more involvement in non-Jewish activity than our immediate ancestors dealt with. Writing BS"D atop a letter serves as a reminder to bring HKBH into every activity, no matter how mundane.
Not everything that we do needs to march lockstep with the actions of those who preceded us. Klal Yisrael knows how to adjust to new times, how to react to new influences and trends. (Unfortunately, some of them also know how to overdo it, but we'll save that for another occasion.) There is nothing wrong with a practice that does something for people, even if the Chasam Sofer didn't need it in his day. (This is why I disagree so vociferously with Dr Haim Soloveitchk's "Rupture and Reconstruction" article.)
[Speaking about new practices. I am stunned about the popularity of the insistence – largely non-halachic – of replacing the vowel in the word G-d with a dash. I have seen in my own correspondence a broad cross-section (no pun intended) of Christian authors take to this practice when exposed to it by Orthodox writers. From Evangelicals to Jesuits, something about the practice and its statement of reverence for G-d resonates with them. Maybe we are on to something.]