Torah Reading and the Documentary Hypothesis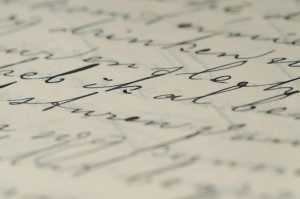 This Shabbos it was my pleasure to join a retreat at a conference center. Jewish learning in a relaxed atmosphere, a mixture of serious discussions and fun had by all — what could be better?
We only had one Torah scroll, which was fine… until a tiny defect was discovered during the fifth aliyah, the fifth reading in this week's parsha. The problem was trivial: two letters were in contact with each other. But because of that simple error, the reading continued without any of the blessings normally said. When we finished, the scroll was wrapped with the "belt" on the outside of the covering, the traditional way of indicating that the Torah scroll inside was found to have a defect.
Truth be told, I think we could have continued [for those in the know, see Mishna Berurah 143:4 sk 25, starting seven lines from the bottom in column one on that page (26b). The additional brush stroke seemed to have happened later. Oh, and then while looking closely, one of the Rabbis present made the "ink" between the letters fall off, so it obviously wasn't written there at all!]. But I found a larger point to be made in the fact that we halted the reading.
Obviously, we are not the only ones with texts which we consider holy and revered. The Christians have their Gospels and "New Testament", and the Muslims their Koran. I found this web page which mentions that there are a great number of tiny differences in various manuscripts… but those differences are irrelevant. As it says in the Revised Standard Version of the English Bible, published 1946:
It will be obvious to the careful reader that still in 1946, as in 1881 and 1901, no doctrine of the Christian faith has been affected by the revision, for the simple reason that, out of the thousands of variant readings in the manuscripts, none has turned up thus far that requires a revision of Christian doctrine.
Unlike the Christians, we are scattered across the world, living in isolated communities often oppressed by the local government. So if our penmanship were less exact, and errors more frequent, I think we could have been forgiven.
Yet the very opposite is true, and to an extreme degree. There are only about 10 differences between Ashkenazic, Sephardic and Yemenite texts. Most of these are differences of spacing only, meaning one text has a compound word where the other divides the two words (leapyear vs. leap year). Others are "vavs and yuds," optional letters which ensure proper pronunciation of the underlying root word. The only letter difference between Ashkenazim and Sephardim is whether a particular word ends with a silent aleph or silent heh.
So there are no thousands or hundreds or tens of variant texts. There are no changed paragraphs, switched passages or omitted sentences. There isn't even a single word pronounced differently in any valid Torah scroll, anywhere in the world. Any text with a broken letter is considered unfit for use, much less one with an extraneous or omitted letter, much less one with an extraneous or omitted word.
What does this have to do with the Documentary Hypothesis? Simply put, someone had to do an incredible sales job on the Jewish nation. At one point — according to the Hypothesis — there were different texts created by different groups, which means that the descendents of each group revered its own version. Then along comes a redactor who puts them all together, and then manages to convince all of the groups that not only is this the correct text to follow, but it has always been the right text, and therefore must be copied with an exactitude known nowhere else in human history. That someone managed to do that seems a miracle in and of itself, which is of course the very thing the DH was designed to avoid.