Messages From the War – Nov. 6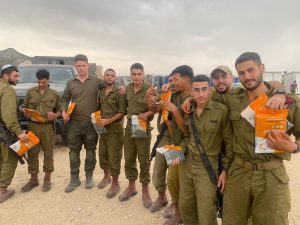 So many of the events that punctuate our days here in Yerushalayim end the same way.
Case in point. My son went to a levaya of a soldier on Har Herzl. As he walked up the path, a woman near him collapsed. Clutching her phone, she yelled, "My son! My son!" He found it jarring, he said. He realized that as much as he is trying to do (which is a lot), his stake in the way was just not the same as the majority of people around. All of them had close relatives – often many – in the line of fire. (Happily, in this case, the woman had not lost her son. He was injured, but still alive.)
Another. My wife and I were invited to friends of ours leyl Shabbos. Two of the guests of our frum hostess were her very secular Israeli mother, and her companion. The latter was equally secular, and part of Israel's own Greatest Generation – those who had built the country up during the decades after the War of Independence. They had grit, determination, and a firm vision of what they wanted to accomplish.
The conversation was interesting, to put it mildly. Entirely friendly, however. At one point, he asked me why I think Jews are displaying the kind of unity we all sense. Beyond the necessity of hanging together, or else hanging separately, was there any logical sense to a Jew from London feeling so strongly about a Jew from Iraq? Having downed a good number of l'chayims by this time, I responded with something that I believed in, rather than with something anodyne. (Too long for here; equal parts of Maharal and Ramchal.) He actually liked it, and I felt good about connecting with another Jew. Till he casually remarked about having two sons and one son-in-law on the front lines. Then I felt a chasm opening up between us. My care, concern, tefillos didn't hold a candle to what he, and the average Israeli, had at stake in this war. We could sleep at night a good deal easier than them.
There are moments of refuge from these feelings of inadequacy. Or so you would think. I taped two television shows about the war for a Christian network. The host, an evangelical Christian who works around the calendar to drum up Christian support for Israel, lobbed slow softballs across the plate. It gave me an opportunity to use one-liners that I had been saving up for the right moment. So I felt pretty good about my tiny contribution to the PR war effort. Until he casually mentioned that he, too, had two sons at the front. (He had been in the country long enough that his children were educated here, and drafted into the army.) Here we go again. Everyone but us. Even non-Jews.
There is a chasm here that can't be easily bridged. Or bridged at all. It's not there by design, and everyone wishes it would go away. But the fact remains. With all the huge outpouring of time, effort, material support and just plain love to our chayalim and to displaced people – regardless of religious affiliation – there is something that separates us from most of Israel's population. We don't have first-degree relatives who are spilling their blood in battle. Try as hard as we may (and the news channels show that our efforts are genuinely appreciated), we remain outsiders to the way the rest of the nation experiences the pain of the moment.
This could be a good thing. It might just be enough for some in our charedi community to realize that its remarkable efforts to create bastions of Torah have left it outside the experience of feeling part of the nation of Klal Yisrael. (For two thousand years, we survived galus as small or large communities, but never as part of a single national entity. Rav Kook used to argue for patience with the fractious conduct of Jews in his day. It would take time, he counseled, for Jews to learn to live again as a nation.) We think granularly, in terms of specific responsibilities of chesed and ahavas Yisrael. But we don't function as part of the renascent Jewish nation.
What saddens me greatly is the inability of too many – even at this time – to be able to daven for soldiers qua members of the Tzava Hagganah L'Yisrael. I can't buy the reluctance even during peacetime. (My shul says the tefillah for Tzahal.) But I could let it go. There has been so much invested in the anti-Zionism of the yeshivah world, that it didn't seem worthwhile fighting over it. But even now? When soldiers are literally dying every day R"L as they fight to protect all of us? They still can't acknowledge their special role, and daven specifically for them – even as they cry out for our tefillos? Tehillim have to be recited only for the "safer" designation of acheinu Bnei Yisrael? Whose sensitivities do they wish not to offend? Why are some leaders so frightened by the prospect of some students leaving yeshivos if they begin to feel genuine admiration for chayalim? Don't they realize that the many thousands of real learners are secure in their belief in the contribution they are making, and won't be swayed by feeling gratitude towards those who place their bodies between the enemy and the people of Israel. Those real learners take their contribution seriously, and utilize their time properly. The ones that don't – well, is it so important to keep them in "the system" that the entire charedi community has to function like a world apart?
I don't want to see, chas v'shalom, any dismantling of the Torah edifice that we have built in Israel, and which is such a critical part of the ruchniyus that drives the success of our material endeavors. What would I like to see? I will cite from recent correspondence with my good friend, Rabbi Moshe Katz in Chicago:
I have a dream. That every Yeshiva should be addressed by an erlicher soldier (there are many!) who would tell them that he believes b'emunah shlayma, that their learning gives him protection.  And please don't look up from your gemorah! And then: "Please let me describe to you what being a soldier in Gaza is like…."
Finally, here are the words of Rav Wolbe, zt"l. (Alei Shor, v.2 pg. 167):
The absence of feeling is timtum, tumah. Kedushah is feeling in ruchniyus. Tumah is its absence…This applies not only regarding aveiros, but regarding events, as well, when they don't say anything to a person…Taking part in the pain of others is lip-service, when it is not accompanied by genuine feeling. In such a situation, ahavas chesed doesn't compensate.
These words might mean different things to different people, but I know what they are telling me right now. I feel like I want to love the nation as a whole, not just its individuals. I also want to see a Torah community that serves as a reservoir of Torah strength within the nation of Israel, rather than outside of it.