Moving Commentary 7: Yom Haatzmaut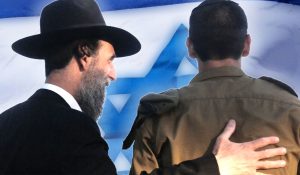 As Thursday evening gently prodded Yom Haatzmaut revelers to begin closing down, my day was just beginning. Radio stations in America were asking for local commentary, and in a few cases, I was elected. With some of them ten hours behind Yerushalayim, it was well past maariv when I began, and 1:40 AM when I concluded the last one. It was as if, as an American, I was keeping the mandatory "second day of the exile" – and that of a holiday that I had never really observed. That non-observance changed entirely at ground zero.
In the States, you could easily ignore Yom Haatzmaut, unless you were in a shul for the annual fight about whether to say tachanun, or Hallel with a beracha, or Hallel after davening without one. If you looked, you could find some community activity that marked the day, or cynically rebuff those who did with a "if Israel is so important to you, why are you celebrating here, rather than making your passion real and moving there?" In a school setting, there were the inevitable debates in front of the students about the role and place of the State of Israel, at least in a Modern Orthodox school. In the charedi schools that my kids attended, the day came and went without anyone knowing or caring.
It's different here. One of the radio hosts remarked that she could hear the excitement in my voice. She was right – even though some of my neighbors were already turning lights out. You have to consciously choose not to be part of it to avoid the spirit of the day. Weeks before, the city begins dressing up for the event. Flags from lightpoles. Flags from windows and balconies. Flags fastened on to car windows. Small flags, clustered together. Flags running ten stories down the sides of buildings. Signs all over, advertising all kinds of cultural and entertainment events on Yom Haatzmaut, most of them free. Signs over the highways by major corporate interests that simply wished everyone a happy Yom Haatzmaut.
Then Yom HaZikaron comes the day before, with always meaningful and somber reflection about the sacrifice of the over 23000 IDF soldiers who gave their lives for the Jewish State. Its juxtaposition to Independence Day means that people have done some hard thinking about the fragility of Jewish survival. It also means that when the sun sets on Yom HaZikaron, people are ready for some emotional release.
And party they do. Israelis are tough and intense. They work hard, and they party hard. At least from what I saw (all over Yerushalayim, and similarly in other cities and places during Chol Hamoed), celebration was not an excuse for drunkenness or letting go of inhibitions. Rather, a sea of humanity descended upon every green patch of land. They came with coolers and grills, multiple generations together, and celebrated as families. These were not the family outings I am used to from Los Angeles, in which some sort of diversion and entertainment for each member was most important. Spending time outdoors with loved ones and some food was happiness enough! You didn't know anyone else in the park; strangers were practically breathing down your hot dog, because the next family was literally inches away. No one seemed to mind. To the contrary, it was like attending a popular music concert. Some respond individually to the music, not connecting in any way with the ten thousand others who happen to be in the same place, also listening in the privacy of their own craniums. Others, however, feel the energy of the crowd, and connect with the larger entity.
And that was the case on Yom Haatzmaut, as it was during Chol HaMoed. The sense of commonality was palpable, even with strangers. Many languages were discernible in the gaggle, many skin colors, many head-coverings (or not). But it was clear that all were there doing the same thing, even if in different ways. During chol hamoed Pesach, they were expressing their love for being part of the Jewish People. On Yom Haatzmaut, they were celebrating 70 years of successful self-government and independence, something almost unimaginable in the preceding two millennia.
I tried to remember the time in my youth when Americans also experienced at least something like this, when people were not embarrassed by displays of patriotism.
I participated in two Yom Haatzmaut gatherings, one at Shapell's/ Darke Noam, the other in the Old City, at the home of my talmid of many years ago, Reb Leib Rigler (of musical fame) and his wife Soro Yocheved Rigler (of publication fame). Back in Los Angeles, I was not very much of a participant in Yom Ha activities, other than occasionally being asked to give the right-wing approach in some sort of educational setting. (The thinking was that I was right-wing enough to state the case, without being so right-wing that I wouldn't participate in a forum run by those to the left of me.) Chalk it up to the years in the yeshiva world, from which I had no desire to detach myself. Did moving to Israel, then, reverse my thinking?
Not really. (It is true that the anti-Zionism of my youth had steadily eroded over time, mostly because the arguments about the government and its schemes went, in my mind, from tenuous to unconvincing, to flat-out monstrously wrong. Like the statement recently of a major rosh yeshiva that Israel does not need an army, only a police force. Or that the IDF has no need for, and no interest in, charedi soldiers. Or that we owe nothing, c"v, to those in Tzahal who gave up their lives in defense of the country, because they created the problem, rather than solved it.) I remain agnostic about both sets of arguments (the defensible ones, not the monstrously wrong ones): the pros and cons of making even minor adjustments to the davening. Only one factor changed, which was sufficient for me to throw myself into the spirit of the day. It will take a few paragraphs to develop, although the bottom line is straightforward and uncomplicated.
At the first of the two celebrations I attended, the price that was exacted from the talmidim for eating at the barbeque and siyum mesechta was that they had to listen to the presentation about Yom Haatzmaut that the hanhalah asked me to give. I spoke about how everyone had the meaning of the new Jewish state wrong:
Ben-Gurion: for believing that the small charedi community would soon wither and disappear
Rav Amram Blau, leader at the time of Neturei Karta, for believing (as cited by his nephew, R. Yehudah Meshi-Zahav, "that within a few years there would be no remnant or refugee from the people of Israel… that the Zionists are the greatest haters of the Jewish people in the world that the Zionists are guilty of all the troubles of the people of Israel, including the terrible holocaust." If this was their program, we must view them as an unqualified failure, because the Torah community grew unimaginably stronger in quantity and in quality.
Pope Pius X, for telling Herzl that "The Jews have not recognized our Lord, therefore we cannot recognize the Jewish people… The Jewish religion was the foundation of our own; but it was superseded by the teachings of our Savior, and we cannot concede it any further validity. The Jews, who ought to have been the first to acknowledge Jesus, have not done so to this day." After the establishment of the State, the Church came around to the point of full recognition of its validity, as well as acknowledging that Jews were the "Elder brother," as Pope John Paul II put it, of Catholics.
British Christian Zionists, who optimistically argued to a skeptical Europe that the barren wasteland in the Middle East, with the ingenuity of a Jewish people free to return to its homeland, could conceivably support as many as a few hundred thousand immigrants. Few believed them. Today, Israel's population stands at 8.5 million. The 60,000 Jews who lived there at the end of World War I grew to 600,000 at the time of Israel's independence, to six million today.
Some in the Torah community, who argued that nothing good could possibly emerge from the unbelievers who were the architects of the new State. Rav Aharon Soloveichik zt"l countered that (as recorded in the haftorah to Metzora) the salvation of the entire Jewish people occurred through the efforts of the four lepers, which included one of the very few people identified by the gemara by name as having no portion in the World To Come. The Rambam (Chanukah 3:1) speaks of the value of Jewish self-rule at the end of Bayis Sheni – even though many of the leaders of that Jewish State were large-scale evildoers. Rav Elya Meir Bloch zt"l, the Telzer Rosh Yeshiva and member of the Moetzes, wrote in 1954 that it was important to emphasize that Agudah's struggle was with the Israeli government, but not against the very idea of the establishment of the State, which was certainly a positive development that was miraculously achieved. (He added that the rejection of Agudah's position by many lay people was not because of Agudah's principled position about many matters, but because of its refusal to give credit to the positive elements positions of those with whom Agudah disagreed about other matters.)
Why did so many get it so wrong? Maybe, I said, because geulah has to be initially shrouded and obscured. I drew on (and developed) the explanation of the Maharal as to why geulah occurs in fits and starts, and makes slow and partial progress before it is fully realized. Unimportant things, he says, can occur quickly, seemingly out of nowhere. Important things, profound things, must develop slowly. If they are revealed in an instant, they cannot be absorbed and processed. Therefore Creation did not start with an instant of light, but evening, as it were, preceded day; light grew slowly out of darkness. And so it was with the redemption from Egypt, where Moshe's arrival gave hope to the people and initiated a process, only to meet failure in his first encounter with Paroh, and leading to a hiatus of some months in the further progress of geulah. So, too, it will be in the future.
If the resumption of Jewish national autonomy is as important as many are certain it is, and many more hope and pray it is, then it, too, will not be absorbed in an instant, but require a longer period of gestation. During that process, with much of its light obscured, everyone will get it wrong.
I then asked the students if they thought Herzl got it wrong. No, not about Zionism. About a little known comment that Herzl made to Rabbi Dr. Asher Cohn, Rav (Orthodox) of Basel, at the 1st Zionist Congress. "Returning to Jewishness comes before returning to the land of the Jews," he said.
The students did not strenuously object to that. I did! I invoked the Meshech Chochmah (Devarim 30:2). The Torah speaks of a return to Hashem as a certainty, not a contingency, says R. Meir Simchah, because:
וזה והשבות אל לבבך כי אהבת ישראל חקוק בלבבו ושומע את אשר חרות על לבבו מהר סיני ויזכר מחשבתו ואז ושבת עד ד' אלודיך, כי אחרי אשר ישוב אל עמו בטח ישוב אל אלודיו
The one who is far from Torah observance who still has the love of his people in his heart will recall what is engraved there from the moment of Divine revelation. Through that, he will certainly return to his G-d.
Ironically, Herzl was wrong at the moment that he sounded most traditional. While we must work relentlessly to bring people back to their Torah legacy, there is a Plan B. When people stay connected to the Peoplehood of Israel, they have an open road ahead to a full return. Returning to Jewishness, at least in the form of halachic observance, should be the first step – but it needn't be. Empirically, we note that Jews generally cannot sustain their Jewishness in the Diaspora for more than two or three generations without Torah and mitzvos, in Israel they still do. There may be multiple explanations for this. But we should not rule out what the Meshech Chochmah might explain: that the commitment of millions of non-Orthodox Jews in Israel to the People and to the Land – a fierce commitment that has them stay and proudly send their children to IDF units from which they might not return – bespeaks a subliminal connection to our founding and transformative moment at Sinai.
To return, at long last, to the question. Have I changed? Not really. I haven't taken the time to revisit all the arguments of the past. I did, however, uncover a new one that was powerful enough to demand that I participate in the celebration, regardless of all other arguments. As witness to the
spirit of this remarkable people, having felt the passion of a people for its Land and knowing what that means, I could not remain an observer from the sidelines. I felt that to do so would make me a poresh min ha-tzibbur, one who removes himself from the community.
I cautioned the talmidim not to be poresh from the tzibbur that disagrees. That tzibbur is responsible for a huge quantity of Torah, and directs its extraordinary passion to its study. Like most things in life, the tough part is coming up with a sense of balance.
May we soon see the day when Moshiach instructs us all on how to get it all right.