Messages From the War – Tuesday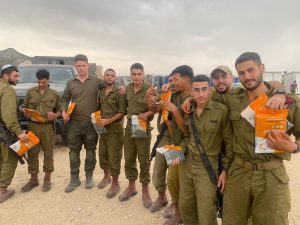 Tuesday
It's been a quiet day in Yerushalayim, at least insofar as the sirens going off. In the skies above, it's been non-stop bombing runs. Government schools will again be closed tomorrow. Busses are running, but not reliably.
On the first day of shiva for the lone soldier from the UK, there were about 50 visitors. Today, there were 500.
Collections of goods continues in high gear, both for soldiers and for the (surviving) families who lost everything in the 20 communities that were all but obliterated by the terrorists.
Since my professional responsibilities involve close contacts with Christian communities, I will provide a rundown of how they have reacted.
No sooner had I turned on my computer after Shabbos, that a flood of messages of concern came tumbling out of my inbox. Some were from folks in the US who don't really think of Shabbos as a day free of messaging. But the lion's share were from non-Jews, all of them Christian. They conveyed concern for our safety, revulsion for Hamas, and hopes that Israel would rid the world of these subhumans.
This was a morale booster, but not entirely unexpected. The surprises were the individuals – clergy and laity – who said that they were organizing "prayer armies" for people to take slots and pray for us around the clock. A few added that this included fasting for Israel!
There were so many messages of support (and they are still coming) that I have a backlog to clear by responding appreciatively. My response to one kind of question has been uniform. When asked how my family is, I answer that my immediate family is fine, but my larger, national, family less so.
These messages speak of the support of millions of decent believers in G-d, whose sense of morality has not been twisted by the surrounding culture. Then there are all the others.
The worst are those who are entirely into a moral relativism that sees the behavior of Hamas (a bit naughty, to have acted that way) and Israel as equivalent. They offer either some condemnation of the massacre – or not even that – and immediately go on to urge Israel not to respond and cause more death and destruction. These church groups should be seen – and I say this openly – as enemies of the Jewish people. There are lots of them on the left, and even on the evangelical left. The most important is the World Council of Churches, which claims to represent 580 million Christians. It did not mention a massacre, but only an "infiltration by Hamas gunmen." Of course it called for an immediate cessation of violence between the sides, essentially telling Israel not to respond. Coming in for special condemnation is an organization of hopeless naifs, always blind to Jewish suffering: Christians for Middle East Peace.
The reaction of these and similar organizations gives G-d a bad name, as a well meaning but powerless buffoon who dispenses love freely without any regard for consequences or reality. The massacre was as close as anyone could come to viewing pure evil – but these churches cannot recognize and call out evil when they see it, despite the countless condemnations of evil in the Bible. How seriously can they take the Bible, when they cannot come up with the moral discernment of a rooster? As much as it hurts to say it, I think we must recognize that they don't really believe in G-d as a Being. If they do, the god they believe in is not ours.
The Catholics (still, by far, the largest Christian group in the world) were better – but not by much. The Pope saw both "terrorism and war" as pointless exercises in violence that cannot serve peace. At least he called what Hamas did "terrorism," which is better than most MSM. At the same time, he effectively would deny Israel the chance to defend herself and eradicate those who are evil incarnate who threaten her. This prompted a swift response from Israel's embassy to the Holy See. It warned the Vatican not to engage in "linguistic ambiguities" and "parallelisms" that treated aggressors and victims as equals.
There has not been a time since 9/11 when the case for retribution was so obvious and so strong. For the Pope not to see this calls into question his moral vision. If it is born of a belief in an image of G-d shared by all – saint and sinner equally – then I will much prefer our own take on that. Specifically, the observation of the Seforno that the Torah refers to tzelem Elokim, rather than Elokus. If everyone possessed and immutable part of divinity in him, it should be labeled something more than just a tzelem. The point, he says, is that it in fact is just an outline, a faint image. Its content can be obliterated by the actions of its possessor. Hamas has long erased theirs.
Unlike his predecessor, Francis is not much of a theologian. Dr. RJ Snell, a former professor of philosophy at Eastern University, and current Editor-in-Chief of Public Discourse and Director of Academic Programs at the Witherspoon Institute offers a far more reasoned and nuanced Christian approach. Among other things, it accepts the notion – a notion that moderns don't like talking about – of justice working alongside mercy:
Israel has long endured terrorist attacks, along with more conventional wars seeking to end its very existence. The most recent terrorist acts of Hamas, apparently planned with great sophistication, are particularly horrifying and barbaric. Rockets were launched without any distinction between military and civilian targets. Neighborhoods were infiltrated and civilians directly targeted with no regard for innocent life, directly seeking the death of children, the elderly, and young mothers. Kidnappings. Beatings. Street celebrations involving desecrated bodies and humiliated captives.

Such barbarism is without excuse. To attempt to excuse or defend it, let alone to celebrate it, is unjust, wicked.

Like many others, I pray for peace. Like many others, I think prayer is efficacious and contributes to God's action in the world, however mysteriously. I pray especially for the innocents and most vulnerable in this horror.

At the same time, I resist what I see as a sentimentalism and soft-headed confusion infecting much of the West just now, including Western Christianity. Peace is not merely an absence of conflict but rather, as St. Augustine knew, "the tranquility of order" (tranquillitas ordinis). Peace is not an emotional state, or warm fellow-feeling, or "everyone getting along." Peace is an accomplishment on the far side of order.

Without order, peace is not established. There is no order without justice, and justice, contra sentimentalism, sometimes requires punishment, and sometimes legitimizes war.
At least someone is still capable of reasoned perspective.