The Book You've Been Waiting For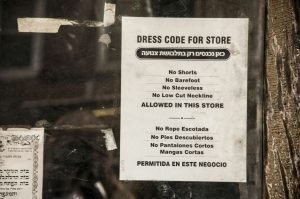 There is no gainsaying the importance of tznius in the life of the Torah Jew and the Torah community. Yet, few issues have contributed more to young people losing their enthusiasm for Torah – and often their entire connection to it – than misunderstandings and misapplications of the concepts of tznius.
Have you often quietly screamed, "This is madness!" when hearing about some new innovation in the area? If you haven't, there is a considerable chance that your teen-aged daughter has. And that she has a friend who is approaching the off-ramp from Yiddishkeit because of it.
Finally, someone has done something about it. If you've sworn to yourself never to read another paragraph extolling the virtues of what the Gra called the avodah that is to women what learning Torah is to men (Relax. He didn't! That's just another distortion.), you can safely read Reclaiming Dignity, by Bracha Poliakoff and Rabbi Anthony Manning. I can almost guarantee that it will bring the reader new insights into the true nature of tznius, and renewed confidence in the halachic system. I believe that it is the antidote to a significant cynicism (perhaps well-deserved) that has grown in the serious Orthodox world over the years.
There are two parts to the work. The first is a compilation of twenty-six essays, the vast majority by women, brought together by Bracha Poliakoff. Contributors come from all parts of the Orthodox world. The second is a halachic analysis of tznius, theoretical and applied, masterfully put together by Rabbi Manning, a close talmid of Rabbi Yitzchak Berkovits. Nothing I say could add more gravitas to his work than the three approbations on the back cover: R. Aharon Lopiansky, R. Hershel Schachter, and R. Yosef Tzvi Rimon.
My interest in halacha took me straight to the second part of the book. For a halacha sefer, it was certainly a page-turner. What follows is not a full review, but a trailer/teaser. It's a sampler of what you can expect to find if you follow up and mine the sefer for meaning.
Tznius is obligatory upon both men and women.
The woman's version is not about her lifnei iveir obligation to protect men from their instincts. That is the man's business, not hers.
Tznius is not about covering up, as if those who opt for maximum cover are doing a better job of it. Those who say it is are creating a distorted conception of women in both genders.
Communities that go for "stricter" standards are not more tzniusdik. They are just different. A woman who follows the standards of her halachic community should not feel less observant, or more "modern."
Announcing with glee that you've found no halachic basis for a particular standard is not helpful, and misleading. Communities can set their own standards of dat Yehudit (get the book, and you'll find out what it means), and they become legally binding on members of that community. However, this can't be done by rabbis – or rebbetzins. Only the acceptance of such a standard by its women (not clear if that ever happens) makes it normative.
On the other hand, some standards are simply policy decisions of particular institutions. They are not rooted in objective Torah law, nor in communal dat Yehudit. If you don't like them, find a different institution.
Teaching stringencies in general as if they were halacha is a major error.
The indiscriminate banning of all female pictures is a misapplication of the real nature of tznius; potentially causes Torah to be mocked; is seen by many to be terribly demeaning of women; and creates a rift between rabbinic authority and frum reality.
You'll find much, much more in the sefer. Or, for live discussion of the implications of its publication, I'll be moderating a panel in RBS (34a Nachal Refaim, Ramat Beit Shemesh Aleph) discussing the book on May 7th at 8:30PM.