G-d Is Not Happy With Our Infighting. That May Be a Good Thing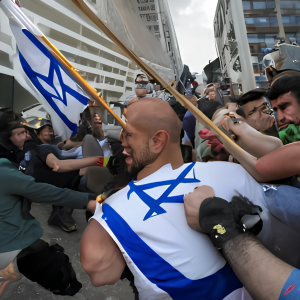 Unity. The magical elixir for assuring Divine favor. When we are united, say Chazal, Hashem is with us even when we are sinners.
Where does that leave us? We cannot remember a time of greater disunity than the present. In this month of geulah/redemption, can we salvage any confidence and optimism, when we so sorely lack any pretense of unity?
Yes! Very much so. We're not the only ones in the equation.
"I have heard the groan of the Children of Israel whom Egypt enslaves." (Shemos 6:5) Stressing "whom Egypt enslaves" seems completely gratuitous. At this point in the story we are well acquainted with their enslavers, and how they treated their slaves. The Ozhorover Rebbe (Be'er Moshe, Va'eira, pg. 203) explains that quite apart from His compassion for His people, a different factor moved Him, as it were, to melt the shackles that tormented their bodies and broke their spirits. The very fact that His children were under the thumb of a foreign influence was a desecration of His Name. It was unacceptable. He put a stop to it even before the appointed time for their redemption had been reached.
We sometimes think that, through Hashem's chesed, we've recovered from the Holocaust. We've raised several generations of loyal Jews, each one larger than the one that preceded it. We've been privileged to make our own homeland the largest concentration of Jews anywhere. The number of students in pre-War yeshivos never came near the population of bnei-yeshiva today. The Holocaust is something to memorialize, so that its message won't be lost. But no doubt, it's in the past. The phoenix rose from the ashes, and soars high.
When it comes to our long exile before the Holocaust, we don't give a passing thought to how it influences us today. That was sooo long ago. What does it have to do with us?
We are so wrong on both counts.
Who were the great-grandparents of the multitudes marching in anger, openly demanding that the "State of Tel Aviv" prevail over the "State of Judaism?" People who walked out of Jewish practice because they no longer believed? Certainly, some. But the vast majority fled persecution, poverty, and humiliation, not the pontifications of rabbis. What would the community look like, had we been treated humanely for all those centuries? How many of those we lost would we have recovered, if the vast majority of those who could have been Torah leaders in the post-WWII generations had not been murdered in the Holocaust? How many of our problems today are the consequence of masses of people not rubbing shoulders with gadlus, because there weren't enough gedolim to go around? What would the presence today of ten R. Aryeh Levins who perished in the Shoah do to disarm the tensions of our day?
We are still suffering from the Holocaust, and from the centuries before.
In other words, the thumb of foreign influence still presses down upon us. Not just from the White House, but more importantly, in having squelched the Jewish spirit that longs for connection with the Creator.
If anything, the surprise is how much of the Jewish neshamah survived to this day.
You don't have to like Bibi to appreciate how he responded to one of the foreign interviewers last week, who asked him about the visible fissure in Israeli society. If you look at the protesters on both sides, he observed, you'll see that both were carrying flags. The very same flags. Yes, their positions are vastly different. But they are both committed to the Jewish Nation. We'll get past this, he concluded.
Is that grounds for optimism? Rav Meir Simcha (Meshech Chochmah, Devarim 30:2) seems to think that it is. "You will take it to your heart," – literally, v'hasheivosah/you will return. Not you possibly will return. Could happen. Maybe. Rather you will return. Why is this a certainty? Because when people are committed to the Jewish nation, even if they stray in the performance of mitzvos. They will return. That commitment comes from a connection on some level with Elokus.
What do we make of what seem to be the real haters – like Avigdor Liberman? A bit far-fetched to think that any connection remains, don't you think? Maybe. Maybe not. One thing is certain. HKBH does a better job searching out exculpatory arguments than we do. And you don't have to be G-d to realize that Liberman is the product of the longest sustained sha'as hashmad in Jewish history. Did he have much of a chance?
Hashem watches, as the nations of the world gather to gloat over our internal war like vultures over carrion. See, how the much vaunted Jewish State is on the verge of collapse! Since His reputation is inextricably linked to our fortunes, how happy can He be?
According to the Ozhorover, not very much. And He treats that as His problem, not chiefly ours.
And there is no better time for Him to address it – to pry away the ghosts of our persecutors for two millennia, whose hands are still tightened around our throats – than now, the month of Nissan, the month of redemption.
May we all merit to see it soon.