The Four Rungs of Anti-Semitism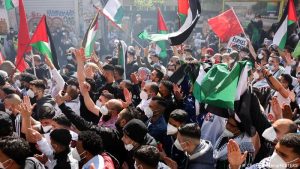 The public tolerance or acceptance of open Jew-hatred does not develop in an instant. An analysis of the descent into the abyss of anti-Semitism shows four distinct stages, or rungs. After the fourth is reached, there is very little room to go. That fourth rung was reached just a few days ago, and it is a significant milestone whose importance should not be ignored.
A very talented colleague of mine (non-Jewish, for the record) has been monitoring hatred of Jews and Israel for decades. As a perceptive observer, she has a keen eye for noticing patterns of behavior, and for reading between the lines to discover strategies of anti-Jewish groups.
Five years ago, she watched some internal discussion in the BDS world. The mainstream BDS position was to boycott Israel fully. Others, like Peter Beinart, argued for "smart BDS," i.e. targeting only companies doing business in the settlements. Strangely, the BDS puppet masters did not resist the suggestion as strongly as expected. She began to suspect that they were OK with a more limited approach, because their intention was not to hurt Israel economically, but to keep up the conversation. In that public conversation, Israel would increasingly be painted in darker hues, until a generation would accept a new orthodoxy: that Israel was a colonialist, oppressor, apartheid state. Keep up the character assassination long enough, and it will become a woke truism. That certainly would hurt the Jewish state.
It would do more than that. She watched patterns, and in time formulated what she believed were four rungs of BDS coordinated anti-Semitism:
First Rung –BDS aimed at the settlements. Hey, it's only the Occupation that is being protested, right?
Second Rung – BDS against Israel because it's the State of Israel that is implementing the Occupation or apartheid or whatever crime it is that sticks to the wall. The Kairos Palestine Document, now accepted by a host of liberal Protestant denominations, is an example of this. It calls upon churches to conduct blanket BDS against Israel—Israeli academics, anyone doing business with Israel. 
Third Rung – BDS against Zionists, wherever they live, because they prop up a racist, colonizer state. This used to be really rare, even on campuses, but is becoming more and more the default position in places where the left holds sway. "Punch a Zionist" is one of the scariest manifestations of this level of BDS. Of course, the targets are "only" Zionists. Jews can be OK.
Fourth Rung – BDS against Jews. The assumption is that anything or anyone Jewish is Zionist and therefore subject to being scorned, ostracized, and boycotted, unless there is an explicit denunciation of Israel. 
Now, this Fourth Rung had been absent from civil society. There were hints of it in the BLM riots (vandalism of synagogues with "Free Palestine" graffiti, for example.) Beginning last May, we say trolling of Jewish neighborhoods in the UK and the US with Palestinian flag-festooned vehicles. Still, this was under the limited cover of protesting against Israel.
That has now changed. A few weeks ago, the DC chapter of Sunrise, a movement dedicated to environmental protection and extremely popular with young people, sought to bar Jews from participating in a planned rally. A short while ago, a resolution at University of Toronto's Scarborough campus makes it the policy of the student government – which controls funding to all student groups, and is financed by compulsory student fees – to refuse to "engage with organizations [and] services" that do not act in synch with the global BDS movement. This ban explicitly includes provisions against kosher food on campus, since providers "normalize Israeli apartheid." Thus, the student government at the UT effectively declares all Jews presumptive enemies of humanity.
What microaggressions have kosher bagel bakers visited upon the Torontonian snowflakes? Elementary. Kosher catering is done by – gasp! – Jews. Jews, their thinking goes, overwhelmingly support Israel. Ergo, all Jews are evil, until they prove otherwise, such as declaring their distaste for the Jewish State.
It took many years for the world community to acknowledge that "anti-Zionist" was often used as a substitution for anti-Jewish. Indeed, the growing adoption of the IHRA definition of anti-Semitism by governments around the world – including those of Canada and Ontario – is a welcome statement of that recognition, a positive development that should not be under-appreciated.
In the good old days, anti-Semites insisted that they had nothing against Jews – it was just Zionists they hated. [First Rung] The Toronto Stalinist resolution rips the mask off that screed, and shows the distance that would inevitably be traversed after that attitude was fully embraced on campus and by progressives. Now, all Jews are presumed to be colonialist apartheid supporters and oppressors unless they can convince the self-appointed gatekeepers of civil society otherwise. We've arrived at the Fourth Rung.
Where will anti-Semitism go now? Ideologically, it has gone as far as it can. The only next step, it would appear, is to turn its ideology into action.
The issue, then, is not whether campus authorities in Toronto use their influence to talk the student government figures into climbing down its tree. (Because the internet has a long memory, those students have already compromised their professional futures for the rest of their lives. It might be a good idea for them to relocate to Gaza.) That is largely irrelevant. What this episode, and the one with Sunrise, tell us is that a new chapter has opened in the age-old war against the Jews.
It is a chapter many of us thought would never be opened in America.
[This essay differs substantially from an earlier version in the Jerusalem Post.]