COVID-19 Extremes – Too Much of a Good Thing?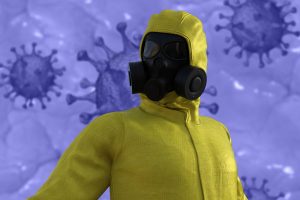 Anyone who has observed me these past four months through the present knows that I adhere to COVID-19 precautions with utmost seriousness. I wear a mask everywhere, shun crowds, and often walk in the street in order to avoid passing people close by on the sidewalk. And for the first several months of the pandemic, I wore disposable gloves when going most everywhere. You get the picture.
I know individuals who died from coronavirus, as well as many people who became extremely sick, including hospitalization, ventilation, and long-term acute damage. To deny the seriousness of this lethal health crisis is to deny reality.
Many states and countries are sadly still in midst of COVID-19 waves. To read of people making light of it is quite upsetting.
That said, as with everything, there needs to be a balance. Not a balance between safety and economic prosperity, but between safety and sanity, and between health and actuality. When extreme and unwarranted precautions are contrived and implemented, the consequences need to be very carefully considered.
In many areas, including my own, the COVID-19 death, hospitalization and positive test rates are lower than low, for several months straight; BH! Masks and social distancing are required, various indoor activities are still off-limits or severely restricted, but the most stringent and rigid of epidemiologists concur that a large scope of activities is safe and has been so for quite some time. In many situations, not only is defying these medical guidelines and opting to be stricter than the strictest of experts detrimental in terms of unnecessarily depriving oneself of important necessities (not to mention when such an approach is imposed on others – especially children), but it can even lead to very serious and unexpected negative consequences.
For example, in most Northeast states (with coronavirus positive test results and other essential metrics at near zero levels for months), attending houses of worship – with masks, social distancing and other mandated precautions – is deemed safe. In my experience, it is far safer than going to a grocery store or pharmacy, etc., where one often brushes against others in narrow aisles. Yet I recently read about a middle-aged man whose shul holds minyanim exclusively outdoors, in the 95-degree scorching midsummer sun, write about his tefillin sustaining serious heat damage thereby (!). I imagine that the risks of dehydration and heatstroke under such conditions are also very significant, and I ask, with all due respect, if being "extreme about pikuach nefesh" by refusing to daven indoors, despite the strictest of medical experts permitting it (with masks, etc.) in such areas, is perhaps being misapplied.
For months, including during the heart of the pandemic, I privately learned and davened in an empty beis medrash early each morning and in the evening, having received permission to do so by one of the institution's senior rabbinic authorities. One other person was sometimes also in the beis medrash, and we always stayed about 30 feet away from each other and practiced every type of precaution possible, including opening large windows for superabundant ventilation. (The beis medrash was also immaculately clean, with full janitorial service several times a week.) It was far safer and distanced than going to essential businesses, which were permitted to operate during that period.
One day, in the wee hours of the morning, when it was clear that I was the only person present, as the building's light were off, someone observed me enter and proceeded to reprimand me, telling me that the building is closed and may not be used for the foreseeable future. I was somewhat startled by the reproach, and for days I did not return, until confirming with an even more senior rabbinic authority of the institution that I may indeed continue to daven and learn there in private. During my interval of absence, my davening and learning suffered greatly, for no good reason. Again, someone tried to impose an irrational extreme, without any awareness of the reality or the broader consequences.
How many thousands upon thousands of our fellow Jews are still not learning Torah as they could be, due to voluntarily adopted radical precautions that likewise do not reflect the facts on the ground? I am not in any way advocating for a free-for-all, in which people cram into batei medrash or learn together in close proximity; rather, I ask why socially-distanced in-person learning and shiurim, with masks and all the precautions from A to Z, cannot be done pretty much everywhere by those in good health. It would comply with the strictures of the most unyielding epidemiologists, in phase 4 areas that have no connection to hotspots and have been safe for months.
After my region entered phase 2 of its reopening, I scheduled a few routine appointments at Columbia University Medical Center that I had put off. The multi-stage entry to Columbia was rigorous, with temperature screenings and an array of tight COVID-19 safeguards at every checkpoint, from vastly distanced seating in the (very empty) waiting room, to a strenuous deep disinfecting of the examination room, to the special, multiple added layers of protective garb worn by each physician, and so forth. BH that I was able to have these appointments, which went well, and during which each doctor told me that his department had been seeing regular patients for some time already. No one was in a panic; the staff was ultra-careful, but conducted their important business, to the great benefit of all.
Shortly thereafter, my attendance at those medical appointments came out in conversation with acquaintances, who seemed surprised. One person asked me how I traveled to the appointments, and when I replied that I took the subway, the response was one of shock. The fact that the subways were empty, meticulously disinfected, and permitted by strict health department guidelines did not matter. "I'd be terrified to take a subway!!" was the reactionary response, without any knowledge of the facts on the ground. This attitude of panic and phobia about travel and doctor visits has resulted in millions of Americans delaying medical tests and treatments that are vital to their health, as well as a frighteningly steep decline in childhood immunizations.
Rabbis are not epidemiologists, nor are most people. The Torah adjures us to heed medical advice and to be very cautious; but to devise our own health standards and thresholds, when unsupported or contradicted by the strictest of medical professionals, is something to question. This same attitude of creating our own approach to medical issues, going way above and beyond anything mandated or even suggested by health specialists in the specific field of concern, can lead to serious unintended consequences, such as the anti-vaccine movement.
The axiom of Shomer pes'aim Hashem (conducting oneself according to publicly-accepted general risk/benefit safety standards) may not apply when a pandemic is raging, and excessive measures might be mandated. But when by all counts, as articulated by epidemiological experts across the spectrum, there is no need for draconian measures and there has not been a raging pandemic in our midst or anywhere within hundreds of miles for quite some time, can we be so confident about currently insisting on and employing such measures?
Furthermore, if the "being extreme about pikuach nefesh" principle were to be applied consistently, people should never be allowed to go to wooded areas/camps (risk of Lyme Disease), large cities (today – violent crime), Eretz Yisrael (terrorism), or perhaps to drive cars. Halacha provides us with a medium for normal life, and the present situation in most Northeast areas should be no exception, with proper distancing and so forth vigorously enforced.
The voluntary shuttering of shuls and batei medrash by administrators who refuse to allow these institutions to operate under medically-sanctioned guidelines, as well as the practice of keeping children from participating in socially-distanced educational and recreational communal activities endorsed by the most stringent of health authorities, due to being extreme about pikuach nefesh, in situations that science and data deem to be perfectly invulnerable, not only deprive people of necessary and safe experiences, but also cultivate a mindset of general extremeness and phobia. People need to be reassured and calm; when the policies of those to whom they turn for guidance effuse an exaggerated sense of fear and anxiety, way beyond the reality, we should perhaps ask if it is healthy and prudent.
Moreover, I personally know individuals who no longer attend minyan consistently. These people, who do not claim to daven better b'yechidus (in solitude) and who previously would never miss a minyan, observed how minyanim were suspended well after all medical experts deemed it safe to restart (with masks and social distancing, of course), while stores, offices and all sorts of establishments in the area resumed deliberate and secure operation, with no local increase in infections. The impression was that coming to shul is not essential or mandatory, for it was permitted and deemed safe by medical experts yet still not done; this was (mis)interpreted as as indication that tefillah b'tzibbur is of lesser import and is far from necessary. Such was surely not the intent of those who advocated for this exceedingly cautious approach, but it was an unfortunate and arguably anticipated and avoidable result.
With all due respect, the Orthodox "cancel culture" of voluntarily shutting down religious functions and institutions when according to the most stringent of infectious disease specialists, they can operate quite safely in many major areas (with all proper precautions!), is something to think twice about.
May everyone be well and safe, b'ezras Hashem.
(PS: In case they might be of interest, here are some articles I wrote about the coronavirus pandemic during and after its strike on the New York metro area: Reacting to the Coronavirus Mageifah, Lessons of the Lockdown, and COVID-19: A Surprising Look Back In Retrospect.)