A Personal Note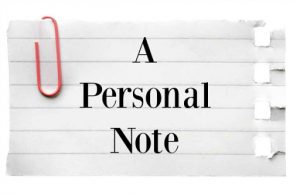 Dear Cross-Currents Readers,
I have been posting weekly columns here for several years, recently, reprinted from Hamodia and, more recently still, self-published.
My column is now appearing in Ami Magazine, and my agreement with its publishers is that I have permission only to offer links to my columns, which will appear on the magazine's website in their entirety.
The first, introductory, column can be read at https://www.amimagazine.org/2020/07/15/hi-again-you-look-familiar/
And the second, about Tucker Carlson and Tammy Duckworth, titled "Talking Head Leads With Chin" hasn't been posted yet but can be obtained by emailing me at [email protected].
I don't feel that, going forward, offering mere links here will be appreciated by readers and so I won't be doing that, only posting occasional pieces that are unpublished elsewhere.
If any readers wish, though, to be put on my list of weekly recipients of links to my Ami offerings and to other writings published elsewhere, just send a blank e-mail to the address above, with "subscribe" in the subject box.
Thanks, and my best wishes for a meaningful and not-too-difficult Tisha B'Av to you all.  May we soon see the day become a festive one.
AS