Scrutinizing the Squad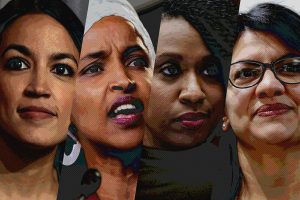 President Trump's singling out of four progressive freshman Congresswomen – Alexandria Ocasio-Cortez of New York, Ilhan Omar of Minnesota, Ayanna Pressley of Massachusetts and Rashida Tlaib of Michigan – for strong criticism resonated strongly with his supporters, among them many in our own community.
And, at least in part, for good reason.
Ms. Tlaib has denounced what she asserts to be "continued dehumanization and racist policies by the State of Israel that violate international human rights, but also violate my core values of who I am as an American" and compared contemporary Israeli society – citing "different colored license plates if you are Palestinian or Israeli" (gasp) – to the era of segregation in the U.S., when African-Americans had to drink from different water fountains than whites, had to sit in the backs of buses and suffered beatings and lynchings.
(For the record, Ms. Tlaib, the green license plates are for cars registered to holders of Palestinian Authority identity cards. Palestinians with Israeli citizenship or eastern Yerushalayim residency permits have access to regular yellow Israeli ones.)
As to Ms. Omar, she famously tweeted about how "Israel has hypnotized the world" and "the evil doings of Israel." And, of course, about the "Benjamins" she implied are the reason for Congress' support for Israel.
Even after apologizing for that canard, she claimed that American elected officials who support Israel are advocating "allegiance to a foreign country."
Both Congresswomen, moreover, support the BDS movement to boycott Israel.
But the members of "The Squad," while they may share socially progressive attitudes, are not all the same. And it would be both a mistake and a misstep, I think, to lump them all together as some nefarious "gang of four."
Yes, in May, 2018, Ms. Ocasio-Cortez, moved by images from Gaza, tweeted her chagrin at what she characterized as a "massacre" and referred to the "occupation of Palestine" – both woefully uninformed and ugly statements.
But, to her credit, after being informed of some facts, she quickly acknowledged that she is "not the expert" on the Middle East and promised to "learn and evolve" regarding Middle East affairs. That was no mere perfunctory apology. She hasn't made any similarly Israel-negative references since, and in fact has strongly declared her affirmation of Israel's legitimacy as a nation.
Her much-assailed invocation of the term "concentration camp" for border detention centers was also, whether a wise choice of phrase or not (not), the product of the sensitive Congresswoman's having been moved by disturbing images and reports from the border. In a lengthy radio interview with Pulitzer Prize winning journalist David Remnick, she demonstrated intelligence, eloquence and compassion on the topic. And, asked by Mr. Remnick if she had meant to compare the detention centers to Auschwitz, she didn't hesitate to respond, "Absolutely not."
More disturbing of late was Ms. Ocasio-Cortez's "no" vote on a resolution condemning the BDS movement. But, from her own words, in which she expresses anti-Likud but not anti-Israel sentiments, she clearly doesn't understand how BDS stands in stark contrast to her professed support for Israel as a country.
Ms. Pressley, for her part, supports a bill that would prevent Israel from using American military aid for the "military detention, interrogation, or ill-treatment of Palestinian children." But she strongly opposes BDS, has vocally condemned anti-Semitism and has enjoyed close ties with Jewish leaders in Boston, most of which is included in her district.
This is not meant as an endorsement of either of the latter representatives, only as an attempt to bring a degree of discernment to the members of a foursome who, despite certain similarities, are hardly, ideologically speaking, conjoined quadruplets.
The time-honored and wise approach of Klal Yisrael throughout the ages has been to maintain as good relations as possible with all political leaders and representatives – whether or not they are "on the same page" as us on every issue, even on every important issue. Obviously, when a representative evidences animus for Jews or Israel, such relations may be difficult or impossible.
But one thing is certain. We must be wary about jumping to, and especially voicing, negative conclusions about people in positions of influence based on less- than-justified assumptions or "guilt by association."
I can't say that I know what either Ms. Ocasio-Cortez or Ms. Pressley believes deep down in her soul about Jews or Israel. "Man sees what is before his eyes; Hashem alone sees into the heart" (Shmuel I, 16:7).
And maybe one day, chas v'shalom, we'll witness the two joining their anti-Israel colleagues, supporting BDS and a "one-state solution". Maybe they'll appear on the House chamber floor waving Palestinian flags and brandishing copies of the "Protocols of the Elders of Zion."
But nothing in their records leads me personally to the conclusion that either woman deserves our scorn.
And what's more, attributing abhorrent attitudes to people who haven't evidenced them is a dangerous habit. Because publicly casting such aspersions is not only wrong, it can lead to their becoming self-fulfilling prophesies.
© 2019 Hamodia