The case for Israel's moon mission — from a Torah perspective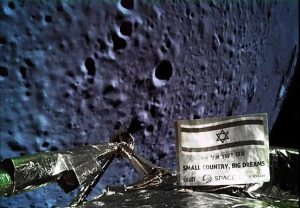 By Prof. Noah Dana-Picard
From the Israeli people to Diaspora Jewry to the broader scientific community, there was no shortage of excitement about Israel's first lunar mission, despite the Beresheet spacecraft's crash on Thursday.
But what does Torah Judaism have to say about space exploration? Does halacha leave room for all the buzz about this moon landing? Better yet, does halacha specifically give Jews an impetus to proactively delve into this subject?
There are some Torah scholars who argue that we have more important matters to study than outer space. They ask: Why should we spend time on theories rather than concrete facts, especially when astronomical theories can be contradicted from one generation to the next? It's a big waste of time, the skeptics claim — and Thursday's crash might intensify their doubts. Why not just focus on studying Torah?
Yet in my view, space exploration is Torah. There's no disconnection between the two disciplines. In fact, Torah and the world around it — including worlds outside our own planet — operate in complete symbiosis.
In the Talmudic exchange in Shabbat 75b, Rabbi Shmuel bar Nachmani asks in the name of Rabbi Yochanan: How do we know that there is a mitzvah to calculate tekufot (seasons) and mazalot (constellations)? The Torah source for this mitzvah comes from Devarim 4:6, which states, "For it your wisdom and understanding in the eyes of all the nations." In that verse, "wisdom" refers to the calculation of tekufot and mazalot, and the Rambam explains that this calculation refers to astronomy.
On a more relatable level for the average Jew, the main takeaway here is that it's a mitzvah to explore G-d's universe and creations. And if that's a mitzvah, it's incumbent upon us to make a concerted effort to study matters pertaining to outer space, even if we aren't naturally inclined to do so.
There are many who believe that there are contradictions between Torah and science when it comes to trying to understand the age of the universe or addressing the halachic implications of the theory of evolution. Indeed, those topics are important, and a profound study both of Torah and science can remove the apparent contradictions. Studying them shouldn't come at the expense of studying outer space.
Space exploration can have real consequences for our everyday lives, such as the search for alternative sources of water. Recall also that Teflon has been developed for the Apollo program. Many astronomers ask: Where did all the water come from on Earth, when we can't find it anywhere else, at least in such amounts, in this solar system? I don't claim to possess the definitive scientific answer. But what I do know — as does anyone familiar with the creation story in Genesis — is that on the second day, G-d separated the "waters above" from the "waters below" through the rakia (firmament). Gaining a deeper understanding of the concept of the rakia is one way in which we can understand the symbiosis between Torah and science.
The symbiosis of Torah and science is also precisely the DNA of the Jerusalem College of Technology (JCT), where I formerly served as the college's president and where I continue to be a teacher and a researcher today.
There are those who see Torah and science as separate domains of knowledge, with some connections. But at JCT, we embrace the fact that G-d created one world, and we work to show the total symbiosis between the various aspects of the world. It's why we empower our students with the ability to balance Torah studies and academic studies within the same schedule. It's also why we lead initiatives like Israel's Annual Conference for Torah and Science, which JCT organizes in collaboration with Bar-Ilan University.
That's why I was highly intrigued by Beresheet and will keep studying this subject regardless of Thursday's outcome — in particular with a talk by an engineer and a Rav, both of them my former students, who are involved in the moon mission.
At its core, the Israeli lunar mission is much more than a major news story. It's a mitzvah.
Prof. Noah Dana-Picard is an Israeli mathematician and Talmudic scholar. He is President Emeritus of the Jerusalem College of Technology (JCT).