James G McDonald: Early Guardian of the Jewish State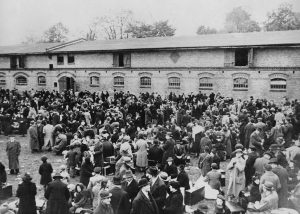 A young Joseph B. Soloveitchik used to travel to Vilna to talk in learning with R. Chaim Ozer Grodzinski. On one such visit, the future Rav Soloveitchik asked the gadol hador some halachic questions about a future Jewish state that people were talking about. Rav Chaim Ozer told him, "A Jewish state? There will be hair on my palms before there is a Jewish state."
The founding and early history of the State of Israel are best described as a series of improbabilities nestled on a bed of coincidences. Unless, of course, you are a believer, in which case reading about it is the study of Divine intervention in human affairs. A recent article in Middle East Quarterly offers delectable tidbits for those who like feasting on the story of how Hashem engineered the impossible.
Rabbi Shlomo Slonim, one of my fellow mispalelim at Beit Knesset Harel in Yerushalayim, served on the faculty of Columbia before becoming the James G. McDonald Professor of American History at Hebrew U. The name on his chair makes it not at all improbable that he would write a review of the latest two volumes of the papers of McDonald, a career diplomat who exerted enormous influence on Harry Truman in his dealings with the young Jewish state. McDonald earlier had worked vigorously to save European Jews from destruction by providing safe havens, but no one was interested, including the US. McDonald succeeded in frustrating the many attempts of the British to subvert the 1947 UN partition plan that created a Jewish state, and a later effort to remove half the territory from the fledgling state by stripping it of the Negev.
Our readers will be familiar with many in the cast of characters in this brief article. But they will likely learn new things about both the heroes (Clark Clifford, David Niven, Eleanor Roosevelt, Benjamin Cohen) and the villains (the State Department, George Marshall, FDR). They may discover new depths to the treachery of Breckenridge Long and Ernest Bevin.
Readers may be overcome with nostalgia when they read of the efforts of the two NY Senators on behalf of Israel. Remember when US Senators in NY and NJ just had to embrace Jewish causes?
McDonald's wistful gaze at the machinations of those ready to throw the Jewish state under the bus generated a line that rings ever-true today: "How blind are men who permit their hatreds and their frustrations to close their minds to realities. And, how tragic that other men should accept such men as dispassionate, disinterested and trustworthy guides. "[1]
Most impactful to me was the account of the meeting McDonald had with Hitler, ym"s, shortly after his ascension to the chancellorship. (Born of a German mother, McDonald was fluent in German.) Hitler told him, "I will do the thing that the rest of the world would like to do. It doesn't know how to get rid of the Jews. I will show them." Lesser people would have dismissed it as bravado. (FDR was not stirred to any action by the report.) McDonald, however, was transfigured by the evil he had encountered, and became a tireless worker to save Jews, and later Jewish refugees. He had intuited what much of the world still does not understand: When people threaten Jews with annihilation, they have to be taken seriously.
This could have served as a foundational statement in my recent debate on these pages with Rabbi Avi Shafran about whether Airbnb should be termed anti-Semitic. ↑