Hatred, Hatred Everywhere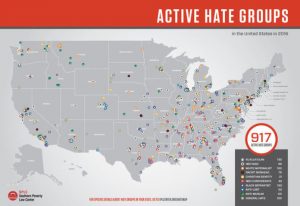 Even before the Pittsburgh Massacre, Damon Joseph, 21, who lives in a suburb of Toledo, Ohio, hoped to go on a "virtual jihad." The murders of 11 Jews at the end of October in Pennsylvania, however, helped energize him, motivating him to make some real-world, concrete plans.
According to an F.B.I. affidavit, "Joseph stated that it would be ideal to attack two synagogues… and that he wanted to kill a rabbi."
Joseph solicited a pair of AR-15 rifles, the weapon of choice among American mass murderers, and decided to commit his own slaughters, ideally on a Saturday, "so that more people would be present at the synagogue." "Go big," he allegedly wrote to an F.B.I. agent posing as an accomplice, "or go home."
Although the Pittsburgh shooter attributed his anger to what he considered an overrunning of the U.S. by immigrants, and Mr. Joseph, a convert to Islam, posted photos of himself wearing a ring inscribed with an Islamic State screed in Arabic, the would-be jihadist was inspired to try to kill Jews by the right-wing nativist. Go figure.
In an unrelated but, oddly, also Toledo-centered case, city resident Elizabeth Lecron, 23, hoped to commit "upscale mass murder" at a Toledo bar and to plant bombs on a pipeline and a farm "that raises pigs or cows."
Unholy Toledo.
Lecron, according to the F.B.I., "bought black powder and hundreds of screws that she expected would be used to make a bomb [and] through her words and actions, she demonstrated that she was committed to seeing death and destruction in order to advance hate."
The latter would-be mass murderer's heroes included Columbine School killers Dylan Klebold and Eric Harris, and Charleston, South Carolina church mass murderer Dylann Roof, a white supremacist. She wrote the imprisoned South Carolinian a letter encouraging him to "Stay strong" since "You have a lot of people that care for you beyond those walls."
The progressive environmentalist/animal rights radical looked up to the neo-Nazi. Go figure some more.
What a strange snapshot of murderous hatred the revelations of the Toledoan terrorists' plans present: An Islamist inspired by a right-wing bigot, and a leftist radical enamored of neo-Nazis? What gives?
The answer, if you haven't already guessed, is that evil harbors no static political allegiances. It just festers in underdeveloped or warped minds and gloms onto whatever convenient causes or role models happen to be available. Often there is some consistency to the hater's convictions. But, as in the cases of the Ohio terrorists (both of whom are under arrest), sometimes there is none at all.
Our community, understandably, was particularly outraged and has been focused on recent attacks on Orthodox Jews in Brooklyn, including the beating of a 9-year-old boy.
But much other hatred was unleashed last week across the country too, and not just in Toledo. Pittsburgh officials reported, for instance, that anti-Semitic pamphlets were being spread throughout the city, including in the Squirrel Hill neighborhood, the site of the October mass shooting. The next day, as it happened, Nazi-themed posters were placed in various locations around the State University of New York's Purchase College.
And in Lynnwood, Washington, seven men and one woman beat and stomped on a black man working in a dining establishment for no apparent reason, shouting racial slurs all the while. The assailants also injured an Asian man who came to the victim's defense.
One of those accused attackers, Travis David Condor, is a former soldier who, according to the Southern Poverty Law Center, "runs a hate-music record label." (No, I didn't know there was such a thing either.)
Condor, it was reported, was photographed at the "Unite the Right" rally in Charlottesville, Virginia last year. He was not, apparently, one of the very fine people there.
And speaking of Charlottesville, where "Jews will not replace us" was a chant of choice, last week also saw a jury recommend that James Fields Jr., who was found guilty of first degree murder for driving into a crowd of protesters at the right-wing rally in Virginia and killing a woman, spend the rest of his life in prison. (A second trial on federal hate crime charges could result in the death penalty.)
This litany of lowlife activity of late is presented just as a reminder that murderous ill will remains a tragic fact of contemporary life. And that hatred, rat-like, can come crawling out of all sorts of cracks in the edifice of contemporary society. And that, like those creatures, it carries germs.
© 2018 Hamodia