Imagining My Unmet Grandfather's Last Thoughts: A Grandparents Day Musing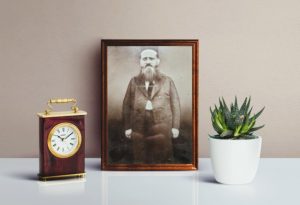 Dark-eyed, long-bearded and posing in rabbinic cap and garb, my maternal grandfather looks down at me from within his cherry-wood frame over the desk where I write. We never met; he died 16 years before I was born.
Immigrating to Baltimore from Poland several years before World War II, he escaped the European horrors, and served as a respected rabbi of a shul. His Yiddish sermons, copies of which he left, reveal a remarkable command of Jewish sources, a keen awareness of American culture at the time and a sly sense of humor.
But personal tragedy soon overtook him, when one of his three children, a 20-year-old son, who had been studying in a New York yeshiva, took ill suddenly and died. Two years later, so did my grandfather, at the age of 48, of a broken heart, they said.
My mother, just 14 when she lost her father, told me that she had thought at the time that sitting shiva, the Jewish observance of a mourning week, was part of the regular Jewish year-cycle.
My grandparents' only other child was a son, studying in a Baltimore yeshiva. He joined the military when the U.S. entered the war, and served honorably in the South Pacific.  After the war, he returned to Baltimore and married, but he and his wife, now both gone, were childless.
My mother alone was left to carry on her father's line.
When I look at the photo of my unmet Zaidy, I ponder what his thoughts might have been at his final moments. Did he allow himself to consider the horrific possibility that his family might have no Jewish future? Or that the sort of observant Jewish life he had lived in Poland and, for too short a while in the United States, would melt away on these shores? Or did he dare imagine some minor miracle in his family's continuity, or even fantasize about some major one in a rebirth of Orthodox Jewish life in America?
I know what his contemporary, American Jewish leader Dr. Joseph Tenenbaum, thought. In 1936, he founded something called the Joint Boycott Council, aimed at preventing the shipment of food or goods to Poland, fearful that such goods could fall into Nazi hands.
The then-fledgling Orthodox Jewish group Agudath Israel of America (for which I happen to work) judged things differently, and committed itself to what its members considered a moral obligation: to try the best they could to aid their beleaguered brethren overseas. That mandate, American Orthodox Jews at the time felt, trumped any other concerns.
Mr. Tenenbaum was not pleased. In 1941, he censured the Orthodox response as likely to "awaken those slightly stilled cries that we [Jews] are only for ourselves," and dismissed Agudath Israel as "a sickly weed transplanted from foreign soil to the liberal American environment."
Sociologists of the 1940s were not as derisive of Orthodoxy as was Mr. Tenenbaum, but they all concurred with his feeling that the European Jewish transplant would be unable to survive in America.
After my grandfather's death, his young widow, a quiet, calm and determined woman suddenly on her own, somehow found the wherewithal to open a small Jewish bookstore, and the strength to make it a small success.
She was also successful in finding a suitable husband for her young daughter, my mother. The groom was a Polish immigrant yeshiva boy who had spent the war years in a Siberian work camp, courtesy of the Soviet Union. Essentially penniless, he courted my mother by quietly singing songs in his sweet voice to her as they rode the subways in New York where she worked. Like his bride's father, he became the rabbi of a congregation, but in his case, happily, serving it for more than a half-century. They had three children, two boys and a girl. I am the older boy, though I haven't been a boy for more than 50 years.
For a while, the three of us siblings were the only descendants of our mother's parents; our father's had perished, along with most of his siblings, in the Holocaust. But then we had children of our own, and almost all of them have since established their own families. There are, to date, many, many scores of direct descendants of the bearded man looking down at me at my desk. All are observant Orthodox Jews. It would not be a frivolous bet to wager that, one day, they will all be raising their own families in the same religious tradition as their parents and earlier forebears.
My personal Jewish family history is not an anomaly. While the great majority of American Jews do not identify as Orthodox, sociologist Steven M. Cohen notes that within two generations, the Orthodox fraction of the American Jewish population has more than quintupled. More than a quarter of American Jews 17 years of age or younger, moreover, are Orthodox. Public policy experts Eric Cohen and Aylana Meisel estimate that, by 2050, the majority of the American Jewish community will be Orthodox.
Only time, of course, will tell. But if the Orthodox present is any indication, the Orthodox future is bright.
Every major American city has an Orthodox Jewish presence, and, in most if not all cases, it is the most vibrant and growing segment of the local Jewish population. Products certified as meeting Orthodox kosher standards are found in every supermarket chain and, in many communities, entirely kosher supermarkets do a brisk business.
Orthodox synagogues and Torah-study opportunities for men and for women exist in every Orthodox community – and such resources on the web abound. Orthodox efforts to pair up Jews of all backgrounds and stripes to study together on the phone are part of the landscape too
The year 2020 was ushered in by 90,000 Orthodox Jews who gathered in frigid temperatures at MetLife Stadium in New Jersey for the Siyum HaShas celebration of the conclusion of the 13th cycle of a worldwide Talmud-study program. 15,000 others celebrated at Barclays Center in Brooklyn – with many tens of thousands in other locales across the country and the world.
I don't know what Dr. Tenenbaum would make of how his "sickly weed" somehow managed to take root and thrive in this great land of opportunity.
But I have to imagine that my unmet grandfather, whatever thoughts might have distressed him as his broken heart gave way, is smiling somewhere.