Open Orthodoxy Update, Parshas Naso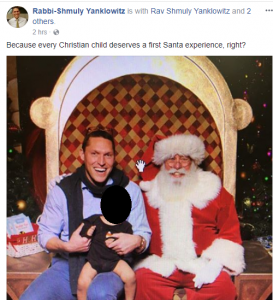 Yeshivat Chovevei Torah alum R. Avrum Mlotek, who suggested we "rethink our resistance to intermarriage, is nonetheless performing conversions (again). On Shavuos, he ran an "Open Orthodox minyan" complete with a "trichitiza" (men, women and mixed), which organizers claimed created a "tefillah atmosphere… firmly rooted in Orthodox halacha."
R. Shmuly Yanklowitz, another YCT graduate, suggests that synagogues learn from churches by keeping services to an hour, and says that he prefers to be called to the Torah using both his father's and mother's names (although his mother is not Jewish). He publicized that one of his relatives had his/her breasts removed because he/she now identifies as male. In a scathing article in Arutz Sheva, Rabbi Dov Fischer said that "In so many ways, Open Orthodox Rabbi Yanklowitz is a fitting representative of this movement, and it is healthy for readers to encounter a rabbi whose credentials are symptomatic of 'Open Orthodoxy.'."
R. Ysoscher Katz, Chair of Talmud at YCT, says, "the whole Torah is a-historical." He says about women being called to the Torah, "When women feel compelled to say the bracha of she'hechyanu the first time they're called up to the Torah, I encourage them to do so." Also, during a recent public conversation, he refused to say if he retracts his view that certain homosexual acts are permitted. (see the comments). In a Facebook post, he once again criticized the Torah itself.
In an interview, Rabba Sara Hurwitz (Dean of Yeshivat Maharat) discussed how she is trying to change tradition. And Britain got its first female Orthodox rabbi.
Mike Moskowitz, former Senior Educator at Uri L'tzedek, was hired by a gay synagogue.
Torat Chayim, an Open Orthodox affiliated organization, publicized an article about an "Orthodox" man who performs gender reassignment surgeries. They also posted a piece suggesting ways to view the giving of the Torah as a non-historical event.
A critical review of Why Open Orthodoxy Is Not Orthodox met with a powerful response.