Moving Commentary6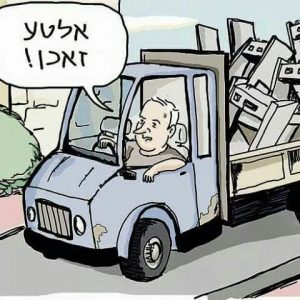 Leaving Israel was always difficult for me, but I figured that this time, embarking on my first major trip back to the West, would be different. I was wrong.
It was always the uncertainty that bothered me when I headed for Ben-Gurion. When would I be able to next return? Now that I've moved there, the malaise should have disappeared. If all goes on schedule, then BEH I will be back in not very long. Yet it was harder to take leave this time than any time before. Maybe Eretz Yisrael has claimed me as its own, and is not so willing to let go.
Not that the anticipated pleasures of the next weeks are trivial. I will have a chance to see a few more children and grandchildren, and to spend Purim with some of them in Philadelphia. There will be quality time in my old shul, which I miss dearly. My work will take me to some of my usual challenging but rewarding haunts: speaking to students at an Israel-friendly Christian school in Seattle, and meeting with officials of some not-so-friendly (yet!) denominations elsewhere. There will be a scholar-in-residence appearance at Young Israel of Lawrence-Cedarhurst the Shabbos immediately following Purim, and a trip to Johannesburg, which I last visited when single, for the Chief Rabbi's Sinai Indaba conference.
Nonetheless, I'm feeling a bit raw, simply for leaving Israel. I've asked myself a question many times in recent weeks. Why do I feel such a strong attachment to this place, even though we are very far from settled in. (Our lift came late; our apartment now is a maze of furniture that doesn't fit, and floor to ceiling (and often wall to wall) boxes. Moving from place to place is good training for downhill slalom, only with more gates.)
One explanation that I have given myself is a sense of belonging that isunlike anything I have ever experienced before. Don't misunderstand me. I loved America, and will continue to do so. It is unlikely that I will ever become culturally Israeli; I remain proud of the considerable American part of me. I never felt estranged in the US. The alternative to estrangement, however, is not full connection. What one embraces in America mirrors its nature as consumer-oriented. There are many choices on the shelves and on its websites. You take what you want, and ignore the rest. You never identify with all of it. Israel is different. Having been spared, so far, contact with the ugliest facets of contemporary Israeli society, I'm still at a point where I feel an exhilarating sense of possessiveness of everything I run into. The shoemaker is somehow mine. The garbage trucks are mine. The new building project that I will never have cause to walk into is mine. None of these in the sense of ownership, of course, but of a feeling that this is all part of the corporate entity of Knesset Yisroel, and I am a shareholder with a vote. I never felt that before.
Part of this owes to the inescapable sense of history when living in Israel. Much of the post-nationalist West suffers from an anomie of rootlessness. To be sure, some of that is positive; the scourge of ethnic rivalry in its extreme forms has disappeared in some places, or at least gone underground. (Most likely the latter, as evidenced by how quickly the far-right has returned to the Continent.) But it is difficult for people to feel significant in a world of billions of people, without some sort of local pride. Identifying, to some degree, with nationality and history gives people that sense of specialness. American is a young country. There is less of that history to go around. Being a country of immigrants, it is even less likely that many people have a chance of relating to it deeply. This is a problem not only for national cohesiveness, but for individuals trying to feel significant, as we all try to do.
Israel is so different. A rich history goes back millennia, and is constantly being broadened by archeological exploration. Moreover – to be entirely practical – if you keep your eyes open and your Waze running, you can't escape it. Every walk you take sets off associations – some overt, some subliminal- with the story of our people. The blocks surrounding my apartment, for example, are named for groups that contributed to the defense of Yerushalayim during the War of Independence. A few blocks away there is a cluster of biblical prophets. Close to that are tana'im and amora'im. One important street is named for Shai Agnon, a modern literary giant who was observant. (Sure, his street is marred by its connection to one named after a famous late 19th century man of letters who married a practicing Christian and is a bit of a symbol of assimilation. But his vision had its chance – and, looking around Israel, clearly lost.)
By contrast, I lived on Gardner Street in Los Angeles for 37 years without ever finding out (or caring enough to find out) who Gardner was.
So for the moment I go back to dealing with separation anxiety from Israel, while trying to readjust to the daily realities of the exile. The first thing I noticed was how nurturing the California climate is to all things. In the two months that I've been gone, the cars have grown several feet in length.