The Other Orthodox Women in the Crowd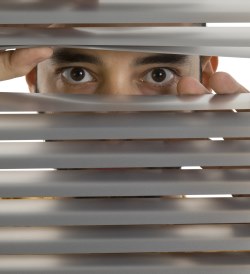 By Alexandra Fleksher
In his latest Voice in the Crowd column entitled "In Her Place", Sruli Besser does what no other chareidi columnist has done before: he recognizes how it must feel for Orthodox women to be relegated to the back of the room. The female readership of Mishpacha and others, who received this article via email and social media, have been abuzz debating whether or not the author wrote a parody actually supporting women who feel marginalized in frum culture or simply wrote a piece stating his gratitude that he is not a woman, for while he couldn't handle such demeaning experiences, women can as they are "made of special stuff."
Mr. Besser's message is delivered via his experiences attending his daughter's graduation from a Bais Yaakov high school. He recalls his father going to his sisters' graduations but for his own daughter, he is informed when to show up in small print on the invitation and senses he doesn't belong. When he does arrive, the valedictorian is speaking, "so the fathers stood outside and made awkward conversation and felt demeaned." For the first time, he felt like an outsider and a second-class citizen (his words). And he didn't like it.
Besser then does a brilliant little piece of writing which at first glance appears to satirize the common refrains given to Orthodox women about their place in Orthodox society. He writes:
I tried giving a little pep talk to the other men. I told them that we are the true kings of the Jewish home, that we are the center of the family, and we can't come specifically because we're so lofty. I told them that it's a matter of perspective, that the secular world could never appreciate the true glory and majesty of the Orthodox father standing on the sidewalk outside his daughter's graduation.
He continues:
I caught a glimpse of my daughter as we entered the hall, but we men were shuttled over to the far left, behind a mechitzah of potted plants. But there were cookies — two paper plates of cookies for us to share.
The principal presented diplomas and the girls walked up to receive them. I know because I heard the footsteps.
The men muttered and one suggested that the air-conditioning wasn't even working on our side and that we didn't get enough chairs.
At this point, audible gasps of shock, sighs of relief, and exclamations of amazement could be heard emanating from women sitting on couches around the world this past Shabbos. Could it be that finally a male writer at Mishpacha is giving voice to what many Orthodox women experience when they attend shul kiddushim without grape juice, community speeches with limited visibility, graduations behind mechitzas and dinners without the female honoree's first name, picture or presence? Could it be that Mr. Besser is our ally, that we have a man who has finally has felt what we have felt, said what needed to be said, and will provide a call to action for our institutions to be more sensitive and accommodating to the female members of our society?
Then his thesis detoured. Many felt that he was on the right track but just couldn't take the next step as a highly admired writer for a chareidi publication. In conclusion, he writes:
And I had a message for my daughter, the graduate. You're joining the ranks of the women of our nation, they who uncomplainingly, good-naturedly, graciously endure being relegated to the back of the room. They accept and embrace their destiny — I couldn't handle it for an hour, yet for them, it's a way of life…They're made of special stuff. The she'asani kirtzono is real — there is something of the Divine in that role. Take your place among them with pride.
And please, move away and let me back in front again.
It was precisely the fact that Mr. Besser "felt demeaned" – being shuttled over to sit behind the potted plants, not being able to hear the speakers or have adequate refreshments or air conditioning – that made readers feel he understood and was willing to stand up for the plight of many Orthodox women. He seemed to display empathy and recognize that so many of our social norms and customs seem to put women in a second-class position. Mr. Besser didn't enjoy how it felt. So why does he get to feel the way he feels but the women don't?
His answer is that women don't feel this way. Because we never complain and are good-natured and gracious. Because we accept and embrace our destiny. And he, representing Orthodox males, is ready to regain his place in the front of the room, putting us back where we belong – in the back.
So here is where things got very interesting. Apparently, Mr. Besser didn't realize that there exists a whole segment of passionate, dedicated, and happy Orthodox women, many of whom are rebbetzins, teachers and kiruv workers, who do feel like second-class citizens when it comes to certain accepted social practices of late in our circles. They associate with the yeshivish/chareidi world or the right-of-center world. They love their community and seek to improve it at the same time. As one Facebook commentator wrote on Mr. Besser's page, "they recognize that frum society isn't perfect, but it is wonderful, and it could be even more wonderful if we sought to address the imperfections instead of celebrating them."
On Sunday, Mr. Besser posted on Facebook. He spoke in reaction to all the messages he has received in response to his article:
Been a fun day on my timeline…I feel bad for those who are enraged, and worse for those for whom mainstream Orthodoxy isn't working, who want me to vent at the system, to fulminate about the injustices… 'Haters are gonna hate and those looking to get offended will never disappoint.' …the column is a lighter look at the foibles and realities of our beautiful, glorious, functional, stable, happy frum world. That's my view. If you want a dark underside and hidden agenda to rock the chareidi boat and a secret ally in your battle to save us from ourselves, I'm not your guy…The column wasn't a dog-whistle to Orthodox feminists that I get them, because, Boruch Hashem, the women in my life are thrilled and proud of their behind the mechitza role. Yes, for real. Not satire.
And the voices of many proudly halachic, mainstream Orthodox women, neither haters nor rabid feminists, reacted in turn. Here is part of my comment to his post:
Please do not assume that the ones with gripes are the ones with issues about the "yeshivish world". I have learned of so many "yeshivish" women who do feel exactly how you felt! Again, we are not talking about davening behind a mechitzah. Please do not the play the "women have binah" card and therefore must be on a higher spiritual level and chas v'shalom have no struggles, graciously relegating themselves to the back of the room. Please recognize us each as individuals in 2017 with varying opinions and feelings, not just a collective "bais Yaakov" of Biblical proportions. Many women have no issue with some of these cultural norms, but please recognize that many stocking-wearing women actually do.
As a society, we aren't quick to change, and oft for good reason, but making sure there is grape juice on the woman's side and all the other little things that make women feel tended to when at shul, at a speech, etc., is nothing revolutionary.
In a second comment, I wrote:
So the thesis is coming clearer to me. I see it in two parts:
The typical frum woman graciously accepts the things in Orthodox culture that men, who apparently are the weaker, less-righteous sex, would experience as demeaning. Men would not be able to handle it, but nshei chayil They always have.
As a thinking, 21st century women, I find this quite offensive. It asks women not to think, question, evaluate or seek improvement. You're asking us to accept everything and shut our mouths. Swallow the bitter pill and keep smiling. And again, to clarify, I am talking about cultural practices, not matters of halacha.
If a woman finds some of these practices demeaning, then mainstream Orthodoxy isn't working for her. She might be a feminist, have had negative experiences with Orthodoxy, or be off the derech…
As a vocal Orthodox woman, I feel so misunderstood. You have made women like me to feel we do not belong, that maybe most men in shul share the same feelings about us as you do.
You cannot categorize Orthodox religious women into these two camps. It is inaccurate and ill-informed. Please find a way to hear the voice of so many other Orthodox women in the crowd.
A college campus kiruv rebbetzin emailed a letter to the author including this: "There is a real danger in placing women on a pedestal so high that you cannot hear their screams. I don't want compliments for accepting my lot in life gracefully. I want help in making my situation better."
A stranger sent me a private message amidst the flurry of activity surrounding Sruli Besser's post. "It's made me so proud tonight," she wrote. "I always feel like the odd man out and barely share these thoughts. How incredible to see so many others with similar views!" And in a private message to the author, she wrote, "I am SO incredibly relieved that other Orthodox frum 'normal, mainstream and wonderfully appropriate' women have taken a stand and shared their thoughts and voices on your piece."
A friend who works as a head counselor at a sleepaway camp said all the post-seminary counselors were huddled around a couple of smartphones as the drama unfolded live, cheering every time strong female voices posted. They were swapping their favorite comments and high-fiving every time a particularly great one popped up. Screenshots of the comments were taken and circulated around seminary groups on Instagram.
And then there was the conversation my friend had with a girl who has been quietly stepping out of the yeshivish system. From a prominent family, she was struck keenly by that night's discussion. She feels if we're not clear exactly about what we are struggling with and if enough people don't speak up, the frum world will continue spinning our hamster wheel without getting anywhere positive. But she is too afraid to speak up.
I close with the following comment posted on Mr. Besser's thread:
If you do not see many frum women saying aloud or posting in this particular thread that they were hurt by how this piece was written and subsequently handled, it is because any time we try to bring up these issue, even in a quiet, tsniusdig fashion (writing private letters to the editor, privately calling those in charge of our shuls to ask for a few basic amenities, etc. ) we are immediately pronounced unfit in some way: we are suddenly – despite previous glowing track records as ba'alos chesed, ba'alos middos and nshei chayil – labeled as dissatisfied with our G-d ordained roles, shrill feminists, etc. Is it any wonder most of us prefer to toe the line and say in public that we're fine with the status quo?
Sruli Besser was the first to bravely open up this conversation and actually voice the experiences of many Orthodox women and Bais Yaakov graduates. He started something that needed to be addressed, and while he doesn't want to be the game-changer or revolutionary, he unintentionally shot the first shot and now is caught in the cross-fire. Maybe we women should just take it from here. And we would be thrilled to welcome any male sympathizers who also champion this cause for the betterment of the entire Jewish community.
Alexandra Fleksher holds a M.S. in Jewish Education from Azrieli Graduate School of Jewish Education and a B.A. in English Communications from Stern College for Women. Her essays on contemporary Jewish issues have been published in various blogs and publications including Klal Perspectives, Torah Musings, Cross-Currents, Hevria and The Five Towns Jewish Times.