Wise Words From YU's Next President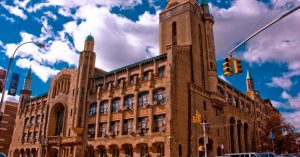 The news got out earlier today that YU's search committee at arrived at a choice for a successor to President Richard Joel. Rabbi Ari Berman, a former spiritual leader of The Jewish Center in Manhattan, has apparently been given the nod.
It will not be an easy job, dealing with the financial uncertainty of YU's future (it took a huge hit from the Bernie Madoff scheme, and has been operating at a deficit since) and the different forces and visions all jockeying for position within the Modern Orthodox world. Words that he penned in 1998 show the chinuch from which he emerged, and his roots in the universe of halachah and learning. We present an excerpt from that Jewish Action article that speaks for itself:
…In halachah there is only one Orthodox community and that is the community of achicha b'mitzvot.

A few years ago, I had the opportunity to meet privately with one of the leading American roshei yeshivah in the Chareidi world. In the course of our conversation, I said to him that it would be wonderful if we could arrange a small learning program during the summer which would bring together the best talmidim from his yeshivah with those from Yeshiva University. This would give the next generation of Orthodox leaders androshei yeshivah a chance to meet with one another, to talk to one another, and to learn Torah with and from one another. The goal of the program would be that, through this exposure, both camps will recognize that, although we have our differences, our commitment to talmud Torah, our core values and ideals, are identical. After hearing my proposal, this rosh yeshivah shook his head and said: "This is very difficult, this is very difficult…."

When we think about Jewish unity, we often concentrate on those in the community of Yisrael, overlooking those in the community of achicha b'mitzvot. We focus on unity in the general Jewish populace, and fail to direct our attention to unity within the Orthodox world itself. But as events in the past year have highlighted, there is a great need to focus on unity in the Orthodox world as well. And it is with our community of achicha b'mitzvot that we have the most in common. Many Modern Orthodox Jews today are learned and steeped in Torah, typically having benefited from a strong yeshivah education, including a year or years of full-time Torah study in Israel. For much of Modern Orthodoxy, talmud Torah and shmirat ha'mitzvot are the top priority. As such, it is important for Modern Orthodox Jews and those to the right to be exposed to one another. It is crucial for both of our communities to recognize that fundamentally we share the same core priorities and commitments. While we are not identical and do have our differences, we must focus on and accentuate our common ground because, after all, what we have in common is far more significant than what differentiates us. Although it is true that "this is very difficult, this is very difficult," both camps must overcome their difficulties….[The] terminology we use today – "modern/centrist/ultra-Orthodox/Chareidi" — has no precedent in halachah. For in halachah there is only one Orthodox community and that is the community of achicha b'mitzvot. The more we emphasize this for ourselves and develop intra-Orthodox programs that focus on our common bond of Torah and mitzvot, the more likely it will be that we can develop into one united community.

Twenty years ago, Rabbi Shlomo Berman, the son-in-law of the Steipler and then a rosh yeshivah in the Ponevez Yeshivah, suggested to Julius Berman (then the president of the Orthodox Union) that if the Union wanted to do something significant for Orthodoxy, it should arrange a Yom Iyun with shiurim delivered byroshei yeshivah identified with different groups within Orthodoxy, such as Agudas Yisrael and Mizrachi, lead by Rav Yaakov Kaminetsky and Rav Yosef Dov Soloveitchik. When asked what would be the purpose of such a program, Rav Berman responded, "Tzu lernen der 'olam az Torah iz umparteyish; es balangt nit nor tzu di Mizrachi uder di Agudah, nit nor tzu Chassidim uder Misnagdim; es balangt tzu Klal Yisrael." ("To teach the community that Torah is non-partisan; it belongs not only to Mizrachi or to Agudah, not only to Chassidim or to Misnagdim; it belongs to Klal Yisrael."

In the camp of achicha b'mitzvot, Torah is what distinguishes us and Torah is what should unite us.