Random Thoughts on Another Flawed Survey of Orthodox Jews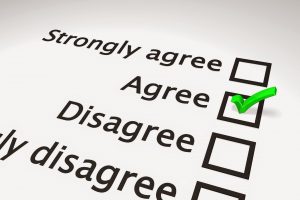 A new "blockbuster" survey has been published online to offer insights into why some people "leave" Orthodox practice and go OTD ("Off the Derekh"). This most recent entry in Jewish demography is based on responses from more than 800 self-identified OTD respondents. See: http://ejewishphilanthropy.com/first-large-scale-survey-explores-motives-and-experiences-of-formerly-orthodox/?utm_source=Sunday+June+26%2C+2016&utm_campaign=Sun+June+26&utm_medium=email. In seeking to determine why some Jews leave full observance, the survey proffers "findings" that accord with the "common wisdom" among the liberal literati, reporting that respondents attribute their slackened piety to such reasons as their pursuit of gender equality, concern over community hypocrisy, and such.
Back in the 1990s I had the honor and privilege to clerk for the Hon. Danny J. Boggs in the United States Court of Appeals for the Sixth Circuit. Among many skills I learned from Judge Boggs was how to read data and how to interpret surveys. Even before that time, I had become increasingly suspicious of Jewish Federation-sponsored surveys that regularly "showed" perpetually worsening demographic attrition in the Orthodox community or that "demonstrated" low or insignificant demographic gains among Orthodoxy.
For example, a Los Angeles Federation survey two decades ago had "found" sharply limited growth among the Orthodox community of Los Angeles. However, the data did not make sense to me because it was discordant from reality. All around me, I saw yeshiva elementary schools and high schools expanding their campuses or building new structures because they had exceeded physical capacity. The expansion phenomenon was near-universal. In addition, new yeshivot were opening to accommodate the increased demand. Likewise, Orthodox shuls were expanding dramatically throughout the area we call the "Southland." Perhaps most tellingly, kosher restaurants and kosher pizza shops were popping up all over. As I wrote some twenty years ago: When it comes to surveying Orthodox demography, figures can lie, but kosher pizza shops never do.
As a result, I started trying to discern where the survey mistakes lay. In most of those situations, I found crucial errors in the fact-gathering presumptions. For example, if survey phone calls are made over the weekend, then Orthodox Jews will be disproportionately excluded from data intake because we do not answer phones from Friday sunset until Saturday nightfall. Moreover, as anyone Shomer Shabbat can attest, we also reduce answering Friday calls all afternoon, and we certainly do not call surveyors on motz'ei Shabbat. Thus, as that one example among many, we inadvertently are undercounted. I believe these errors partly arise from surveyors' innocent ignorance of the Orthodox Jewish community and our traditions and practices — and partly from agendas driven by a not-so-innocent desire to undercount Orthodox Jews so that Federations, for example, can justify continuing to allocate funds in directions that would not be tenable if true census data were recognized.
There is more, much more. As one example of some past thoughts I have published on the subject of surveying American Orthodox Jews and gathering data, please see: http://www.cross-currents.com/archives/2011/03/06/census-and-non-census/ . However, here I focus primarily not on the data gathered but on the analysis thereof. Towards that end, I begin with an analogy to reflect how data can be analyzed incorrectly: If someone clips off a bird's wings and then instructs it, in a sharp and clear voice, to "fly," that bird will not fly. A wrong inference is: "When a bird's wings are clipped, it becomes deaf." Another false inference: "Birds do not speak English." By contrast, an honest and accurate inference is: "When a bird's wings are clipped, it no longer can fly."
We must not allow others to fool us into believing that which is false when they draw agenda-driven conclusions from data, even where the data are accurate.
SKI SLOPES. ALCOHOL. TEETH. BATONS.
A Modern Orthodox guy from a Modern Orthodox family goes to a wonderful liberal college. (With the rarest of exceptions, they all are liberal.) He still is frum as he begins his freshman year. One Saturday night he attends a party on campus. He meets a great female. She is gorgeous. She drinks alcohol freely. He never before — except perhaps at a Chabad Purim or a Chabad Simchat Torah — has seen a woman who drinks alcohol so freely. She can ski. As he talks with her, she tells him that she can twirl a baton that is on fire and yet not get singed. Her teeth are perfect and pearly white. She smokes dope and even has some extra weed in her dorm room. And he can tell, certainly by their fourth beer, that she is into him. He is overwhelmed and overcome. He never before has met anyone like her. She is everything he ever could have hoped to ask for — and never even dreamed of.
So he gets involved with her, or with her friends, or with all of them, or with others like them — the opportunities for such socializng and even "hooking up" on campus are beyond endless — and he soon accepts that his deepening relationship with her and with others like her requires him to become non-religious. (Hopefully, at least she is Jewish.) Either that girl changes his life, or she and others like her combine to change his life. I saw this happen frequently when I was an undergrad at Columbia University between 1971-1975. I still remember the names of the guys from yeshiva high school — there were 13 of us who wore kippot as Columbia freshmen in September 1971 — and only two of us still were wearing kippot by our senior years. I remember each of the fellows because they were my early inner circle of friends when I began college. I remember each of them, and I remember, en passant, many of the girls from Barnard and elsewhere who took them away.
Imagine if this fellow were interviewed then, forty years ago. Having given up frumkeit, the fellow is asked by an interviewer: "Why did you stop wearing a yarmulka at Columbia? Why did you become non-Orthodox?"
He has a choice. He can respond: "Because I met this gorgeous co-ed/gal/chick/lady/person of the female persuasion." [The noun is generational-dependent.] OMG! She drinks alcohol sofreely. She does weed. She can ski. She can twirl a fiery baton without getting singed. Her teeth are perfect and pearly white. Her eyes. Her nose. I am telling you, I never saw two such nostrils so perfectly meant for each other. And she is into me. She is everything I ever could have hoped to ask for. I think about her all day, and I think about her all night. I cannot get her out of my head. I cannot give her up, and — for goodness sakes! — there is no way she will observe Shabbat and limit herself to kosher restaurants and two sets of dishes and monthly mikveh when we marry — and she sure does not now."
He could offer that honest answer to his questioner. But he is not going to say that — not to the interviewer, and not to the mirror that he sees each morning. He knows that sounds so superficial. It is so self-demeaning. He is a brilliant Ivy League undergrad, and he is giving up everything in the world — his life, his tradition, his heritage, his eternal soul — for that? "That is why you are giving it all up? A heritage of 3,300 years and all the struggles of your ancestors, your great-grandparents in the Old World? For perfect white teeth and skis?" So instead he teaches himself to find a deep, philosophical, intellectual basis: "Well, Orthodoxy does not accord equality to women. And it is insensitive towards Gays. And the readings in my Contemporary Civilization course and the values I am being spoon-fed by my humanities professors do not accord with what I was spoon-fed by my parents and rabbis before I came to college. And the hypocrisy in the Orthodox community is intolerable — that is why I vote for Hillary."
So let us be clear: None of that reasoning he tells the interviewer is true to the reason he left. Rather, he left for the gorgeous baton-twirling skiier.
I have seen it. Many, many times. I lived through it all around me in college. It was like "Invasion of the Kippah Snatchers." One by one, the pods of gorgeous alcohol-drinking skiing baton twirlers with unswervingly linear septa took over the minds of my friends. I saw it forty years ago, and I have remained deeply involved with college youths through the generations. (And, if it gives heart, I also have seen other beautiful women lead other fellows to Orthodoxy. Indeed this is the simple message of Dvarim 7:3-4.) That is the reason. Not hypocrisy and not "gender quality."
BRAINWASHING. SOCIAL PRESSURE. MCGOVERN FOR THE BABY BOOMERS/ HILLARY FOR THE GEN-XERS / BERNIE FOR THE MILLENIALS.
There is a second factor. Many of today's OTD Modern Orthodox young people feel themselves utterly socially isolated when they initially arrive in college. I remember the loneliness, particularly for guys, that we few Orthodox fellows felt when we first settled in. We are so different, with our yarmulkas defining us and isolating us as outsiders even among the advocates of diversity. The culture of "Diversity" does not include the Orthodox. (It did not then, and it does not now. Last year I successfully attended a great university's voluntary program in Diversity Training, for which I now am "Certified in Diversity." I did so because I now am in my thirteenth year as an adjunct law professor, and I want to continue maximizing my value to my students, who come from all backgrounds, cultures, and orientations. I was struck by how the Diversity program's weekly group team-building gatherings always were on Saturdays, and they always included Group Lunches that were non-kosher.) Young Orthodox fellows are overwhelmed as they embark on the liberal contemporary campus environment. They are confronted by unprecedented social possibilities in front of them, and they are emotionally and psychologically unprepared to turn away so much social opportunity that they never before have had, in an environment where they are so free from parental oversight or restriction. It is one thing to turn away a non-kosher hot dog at a ball game or a non-kosher piece of cake at a party. It is quite another matter to face four years on the secular liberal campus, where the challenges are ubiquitous and 24/7.
Everyone around the Orthodox newcomer is having intercourse in their dorms. Literally, almost every room on the floor in the dorm. I still remember back forty years ago. I remember my dorm roommate in my freshman year asking me if I could find somewhere else for a night or two because he had a girlfriend coming over to sleep with him. Or, he said, I could stay in the room, and that would be OK with him; he thoughtfully gave me a choice. The Orthodox fellow walks down the hallway to his room, beginning to think he is alone in retiring privately with no "action." Meanwhile, in class their professors all extol the virtues of progressivism (formerly called "liberalism") and hedonism, non-judgmentalism and sexual freedom, while denigrating the backward values of their parents and religious mentors. All the classmates fall into line. I saw this; I experienced this. I similarly saw non-Jewish conservatives break and profess liberalism by the end of their freshman years. And these overwhelmed Modern Orthodox young people just cannot handle being alone — being Avraham ha-Ivri, where everyone is one side and they alone on the other. They cannot handle it.
Look at Sefer Melakhim — latter half of Aleph and all of Beit — to see how entire populations can change 180 degrees, on a dime, when the social direction changes at the top. That is how people are. It is a bell curve. A few will stick tight no matter what. A few will depart no matter what. In between, the milieu will impact most. Most people are weak. They tell themselves that they are brilliant and sophisticated. They tell themselves that they are changing ideologies to accord with the minds of others who are brilliant and sophisticated. But in fact they simply are weak.
Do you need to be persuaded that the underlying issue is Groupthink and Social pressure — not whether Orthodoxy is sensitive to gender equality?
When I was at Columbia in the early 1970s, a poll found that George McGovern had the backing of some 92% of Columbia-Barnard students — and Gus Hall, the head of the American Communist Party, was second, ahead of Richard Nixon. The rest of the country did not get that memo, and Nixon beat McGovern in 1972 in the biggest landslide in American history. How explain the dissonance? Here we had all these brilliant Ivy League college professors and students who grasped everything so clearly and believed that each had reached the same independent individual conclusion: McGovern, not Nixon. And yet such a large majority outside the Poison Ivy saw it the other way around. That dissonance is explained by the enormous, indescribable social pressure that results in Groupthink, the desire and compulsive need to be liked by others, to be accepted, and to fit in. It is this that defines everything from college students' politics to their religious associations and affiliations . . . to the behavior of people everywhere. Thus, it explains how intelligent corporate executives sitting on the boards of Savings & Loan associations in the late 1980s could drive them into insolvency, one by one, by approving extraordinarily irresponsible gambits. It explains how people behave on shul boards.
This Groupthink phenomenon that saw "everyone at Columbia voting for McGovern" in 1972 further is confirmed twenty years later and twenty years after that by the overwhelming support that Hillary enjoyed and still enjoys among those who attended such colleges by the late 1990s and who now are in their mid-30s and 40s. In their time and in their space, the social pressure was to iconify the Clintons over the Bushes. That adoration rarely has departed from them. And yet, twenty years later, instead of the Ivy League mindset remaining true to Hillary in the Millennial generation, it now instead is Bernie Sanders who enjoys near-universal adoration among Millennials. Millennials withdraw from and even despise Hillary; her supporters on campus actually feel compelled to hide their views from Bernie people. Yet those in their mid-30s and 40s cannot imagine trading in Hillary for Bernie. How explain it? They all made it to the progressive liberal colleges, so are presumed to be very smart, of a similar mind. Yet, a difference of fifteen years individuates the Hillary and Bernie worshiper.
This business of non-Orthodox or liberal Orthodox analysts interpreting survey data to advance their personal ideological agendas is something to which we must be smart. Even with their skewed analyses, only 11 percent say their views on religion are driven by Orthodoxy's views on gender roles. (Wait till they find out that only children of Kohen fathers may dukhen or get the first aliyah.)
Something similar is true of the female experience, although women tend to be more religious and more protective of preserving the culture and species. They also are not required to wear external defining symbols when they begin college, a sartorial factor that forces an OTD decision sooner, like deciding to stop wearing a yarmulka. For reasons dictated here by space considerations, I have focused here on the male phenomenon.
We do ourselves a terrible injustice if we fail to discern that the data are what they are because that is the way of the contemporary world, the life in the Exile, the era of the progressive and sexually unbounded campus. The premise that those Off the Derekh would be on the path if only we gave women aliyas and ordained women as rabbis, and brought LGBTQ+ advocacy into the temple, and demanded that Rubashkin rot for life in an Iowa prison, and if only we accorded "Palestinians" "equal rights" and "justice in Palestine" — well, no. Orthodoxy would be gaining nothing and losing everything.
ON ATTRITION RATES:
Surveys purport to report large attrition rates among Orthodox Jews, particularly among those over 40. Those conclusions help justify minimizing Federation allocations to Jewish institutions. However, attrition data would have more reliability if they were built on factual confirmation that respondents who report that they were reared as Orthodox really were. However, the actual way that people were reared is not investigated; rather, their assertions are accepted as fact. In reality, before the 1970s and 1980s — an era when greater Judaic knowledge was available and when Orthodox Jews emerged into the open from a century of hiding in America, so that non-Orthodox people could see what real Orthodox Jews are and thus could see that they themselves were not actually "raised Orthodox" — many people went through life thinking they were raised as "Orthodox" even though they were not. Many of their homes were not kosher — no two sets of dishes, non-kosher wine and cheese, often non-kosher meat. They traveled on Shabbat, turned on lights and TV every Shabbat, shopped at stores, conducted business and missed every moment of Shabbat except, perhaps, for a family Friday night dinner. Yet, they identify to survey questioners as having been "raised Orthodox" because . . . (1) the shul their fathers dragged them into for five minutes each Yom Kippur was an Orthodox one, (2) the shul where they were forced to have a bar mitzva was Orthodox, (3) the rabbi who buried their parents was Orthodox, and (4) the parents never ate pork or lobster. So they self-identify to survey questioners as having been "raised Orthodox."
Anyone who has been a shul rav and has met people who come by the Rav's office, whether to start reciting kaddish or to get married or whatever brings them in, and has met such people who speak of having been "raised Orthodox" — when, in fact, a brief warm conversation with them reveals that they in fact never were even in the same orbit as Orthodoxy — knows how common the mistaken self-identification is.
Thus, so-called "high attrition rates" away from Orthodoxy assigned to earlier generations has no meaning until we get to those who were reared as Orthodox in the 1970s and 1980s — the first American generation where "Orthodoxy" was identifiably Orthodox. The supposed "attrition" numbers among those over age 65, and among those between 50-64 are nonsense. They merely reflect the percentage of non-Orthodox people, people non-Orthodox all their lives, reared in non-Orthodox homes, who think they were reared Orthodox half a century earlier. Those data responders are no different from Navin Johnson, the character played by Steve Martin in "The Jerk," who explains that he thought he was Black until many years into adulthood.
.
Rav Dov Fischer, now concluding his second three-year term on the RCA Executive Committee, is Adjunct Professor of the Law of Advanced Torts and of Civil Procedure at two major Southern California law schools, and is rav of Young Israel of Orange County. Many of his writings can be found at www.rabbidov.com